Not gonna lie. Didn't see that ending coming, whether you're talking the literal score or how it was manufactured. Quite the lulu.
Three Good
Kobe Bryant
Before the game, I wondered if Kobe's recently efficient roll could be slowed by Eric Gordon checking him. Even acknowledging Kobe's three inches on the Clipper, that strength and overall defensive awareness struck me as containing the potential to make Kobe work. Well, as the saying goes, you can't teach height, and Kobe made great use of his to launch shots.
Often working against Gordon in isolation, Kobe wisely concentrated less on pushing the issue to get low position. Instead, his back typically faced Gordon just long enough to create space, then turn around and drain a J. Otherwise, the kid was worked in space while Kobe faced up or drove, and Kobe earned 13 trips to the line (not literally at all at Gordon's expense).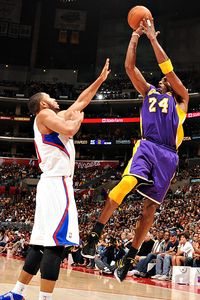 Andrew D. Bernstein/Getty Images
Kobe was able to get his shot off
against Gordon.
The game was a smart display of recognition by Bryant, who often made baskets look easy while matched against a quality defender.
The overwhelming majority of defense against Blake Griffin
Over roughly three and a half quarters, the marquee "Griffin vs. the defending champs" matchup fell short of the presumed fireworks. Similar to their first meeting, when Griffin finished six-of-17 from the floor, the wunderkind couldn't get much of anything going against the Lakers' frontcourt length and experience.
With three frames in the books, Griffin had missed nine of his 12 attempts, and found himself continually bothered by Lamar Odom, Andrew Bynum and especially Pau Gasol. Odom also drew a pair of personals against the rookie, and for most of the game, an early reverse thunder-dunk along the baseline was the extent of any true highlight reel moments provided by the franchise's new face. It even felt like his double-double streak was in jeopardy.
Unfortunately for the Lakers, this game also featured a fourth quarter, where Griffin exploded to rally a Clipper victory. And credit the youngster for keeping his head in a game giving him a brutal treatment. Not a lot of players -- much less wet as Griffin behind the ears -- would finally discover how to get such deep position after an extended period of flailing.
This attitude is exactly why he offered LO that push in the back with just 5.7 seconds left. You can argue the aggression was a little much (Odom certainly did), but bottom line, the kid doesn't stop playing. Period. And the mindset is endorsed by no other than one Mamba himself.
"It's just the right thing to do," praised Kobe. "You have to play all the way through. You play til the final buzzer sounds. That's the way I grew up playing... Blake just ran through us. We didn't have anybody that was going to put up a stand."
Defense in general, save a fourth quarter meltdown
By and large, the Lakers played a really good defensive game. Over three quarters, the Clips were held to 40 percent from the floor, 35.7 percent from behind the arc and 68 points. Shots were challenged with aggression. 24 second violations were forced. Around the rim in particular, I thought the bigs did an especially good job forcing misses. Save Gordon (22 points after three frames), nobody really caught a groove.
Of course, the Clippers had racked 34 second chance points to this point, perhaps an indication things weren't as smooth as they appeared on the surface. But in any event, the Lakers hardly seemed vulnerable to me. (And judging by some postgame self-criticism, not to themselves, either.)
Three Bad
First half awareness of DeAndre Jordan and Ike Diogu
With so many big names on hand, B-Listers are sometimes able to fly under the radar and make an impact. In the first half, Jordan and Diogu combined to snag 11 offensive rebounds, with Jordan collecting the total number of boards by himself. As I mentioned earlier, the Clippers were staying alive in part because of second chance points, and these two did their part in maintaining survival, especially before intermission.
Derek Fisher
Two points on just one-of-eight shooting, lowlighted by a horrendous pull up jumper in transition so early in the clock, I'm not positive it had even registered a fresh "24" yet.
The fourth quarter
The defensive lapse ultimately dooming the Lakers down the fourth quarter stretch felt anything but foreshadowed. The stout lockdown decorating the opening three quarters remained initially intact, as the Clips added just two points after 4:40 of play. Then, with a 77-70 lead and just over seven minutes remaining, everything crashed and burned in what felt like a blink of an eye.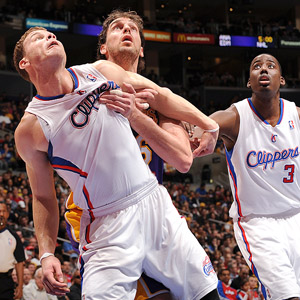 Noah Graham/NBAE/Getty Images
Blake Griffin could only be stopped by Pau for
so long.
Randy Foye drained a three over Kobe, followed by another triple from Gordon to answer Ron Artest's. Then Griffin, who'd been brilliantly bottled and suffocated to this point, suddenly began making his presence felt. Driving buckets against Gasol became "and one" opportunities, and another was canned against LO for good measure. Throw in Foye's block of a Fisher triple, and the floodgates were busted open, spilling over with red, white and blue water.
With 3:21 on the clock, the Clippers were up by three, and the momentum too strong in their favor. By the time the dust settled, they'd poured in 31 points for the final frame, and connected on nearly 59 percent of their shots. An absolutely stunning turn of events, although perhaps not without explanation.
"We actually played pretty defense and when we got the 12 point lead (to begin the quarter), we just relaxed," criticized Bynum.
Never a great approach.
Honorable Mention
Ron Artest getting ejected for essentially being Ron Artest. And by "essentially," I mean, "for literally no other reason, unless he was yelling things during the fracas so threatening, a police report was in order."