The NBA's collective ears recently perked after Jerry West proclaimed the Lakers "long in the tooth." Old enough, in fact, to prevent them from playing consistent defense. "If there's a loose ball now, how often do they get to it? The reason you can't play defense is because you can't," said the purple and gold icon.
Always one for allowing messages sent through the media, Phil Jackson offered a qualified agreement to the comments. "He's right. We have to do a lot of things right to be able to play defense the way we want to, and most of it is about controlling the tempo of a game.
"There's something about just speed. Outright speed. We're not the fastest team on the boards here in the NBA, but we can do it if we control things in the right way."
For their part, while certainly offering the Logo his requisite respect, players ranging from Kobe Bryant (who wasn't even aware of the comments until informed during Monday's practice) to Derek Fisher to Pau Gasol politely disagreed. They all vouched for the team's defensive skills, and Tuesday's dominant performance over the Utah Jazz certainly provided reason to believe.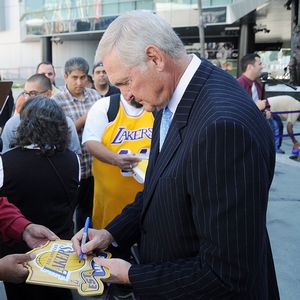 Noah Graham/NBAE/Getty Images
He'll sign Lakers swag, but that doesn't mean Jerry West is afraid to be critical of the champs.
The average age of the Lakers is 30.0 years, according to ESPN's NBA Statistics and Information research, making them the second-oldest team in the league. Last season, they won the title as the seventh-oldest team with an average age of 28.9.
Are advancing years preventing the necessary defense? The answer to this and some other frequently asked questions about the Lakers' defense can help shed some light.
1) Why are we talking about the defense so much?
When the Logo speaks, people listen. Also, defense has been a talking point because it was often cited by players as the chief problem during a December swoon. There were reasons to be concerned about the Lakers' offense -- two high-profile debacles (Miami, San Antonio) featured losses to opponents held below 100 points -- but championship-caliber teams hang their hats on their D. As the Lakers spoke frequently about the need for better lockdown, a sieve was created in Los Angeles.
And, quite frankly, the defense has stunk at times this season.
But that was also when the Lakers' biggest problem alternated between indifference and the absence of Andrew Bynum (more on that later). As we speak, things are trending in the right direction. Only three opponents have hit triple digits against the Lakers in 2011. The Knicks have been held below 90. The Cavaliers were held below 60. Seriously.
In the meantime, check out some numbers:
Points per game: 96.3 (11th)
Opponent field goal percentage: .437 (3rd)
Opponent field 3-point percentage: .340 (5th)
Rebound differential: +3.9 (T-2nd)
Opponent true shooting percentage: 51.7 (3rd)
Opponent points per shot: 1.14 (T-1st)
Not too shabby. There is a difference between being a good defensive team and playing good defense every game. The Lakers clearly haven't done the latter this season. Still, it hasn't exactly been a disaster.
2) Is age a factor?
To a degree, yes. But it's not automatically detrimental.
As 710 ESPN's Dave Miller pointed out in our recent look at the defense, avoiding transition defense situations (where the Lakers' age and slow speed typically hurts most) begins with offense.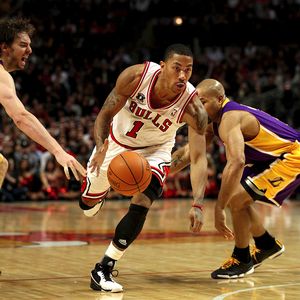 Jonathan Daniel/Getty Images
With Derrick "Fast Don't Lie" Rose, the key is cutting down his chances to run.
Taking good shots within the offense and avoiding careless turnovers are key. When the Lakers make a conscious, consistent effort, they do a great job of avoiding bad possessions. When they take short cuts running the offense or get lazy passing the ball, that's when backpedaling and scrambling happens. But that's an issue of focus, not their birth certificates.
Yes, opponents earn transition opportunities by forcing turnovers and tough shots, getting rebounds or simply tearing out of the gate after a made basket. And yes, the Lakers sometimes look bad defending in these situations. But looks can be deceiving: According to Synergy (per ESPN's NBA Statistics and Information), the Lakers are actually the league's 10th-best team at defending in transition, four spots higher than last season. They're surrendering fewer points in transition (15 vs. 16.9) and protecting the basket better while on the run (53.5 percent vs. 55.5).
I was admittedly surprised by these numbers, but there is often a tendency to magnify the problems of a team with everything to lose and a target on its back.
Bottom line, if foot speed and age really made transition defense impossible, would Fisher be the Laker most often disrupting a three-on-one fast break? Probably not.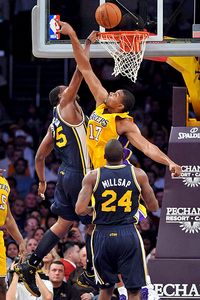 Ask Al Jefferson about Drew's impact on the defensive end.
3) How good are they defensively compared to other title contenders?
According to Hoopdata.com, the Lakers' defensive efficiency (points allowed per 100 possessions) scores out at 101.7 this season. That figure is just six-tenths of a point off last season's number and puts the defending champs behind Boston (98.3), Miami (99.3), Orlando (99.4) and San Antonio (100.3). On its face, this may feel discouraging, but the Lakers also lead all of those teams in offensive efficiency (109.2). As for how the differences are split, the Lakers are third for point differential (7.5), a smidge behind Boston and Miami and a hair in front of the Spurs.
This info underscores a larger point: The gap between the two-time defending champions and the competition has decreased. Every year, the title quest becomes more difficult, and this season is no exception. The Lakers recognize this, and while as they may dispute West's claims, nobody is satisfied with the defense. As long as that remains the case, there's certainly no reason to assume defense will prevent a third straight title.
4) What impact has the return of Andrew Bynum had on the Lakers' defense?
In a nutshell, big.
According to ESPN's Statistics and Information, opponents are racking 93.7 points since he suited up, down nearly five points during his absence (98.6). Per 100 possessions, 98.7 points with him vs. 102.5 without. And beyond Bynum's presence in the lane as a rim protector, shot blocker, rebounder and general deterrent, with him in the rotation Gasol and Lamar Odom are able to play more energetically and defend more aggressively (particularly Gasol, who was often handcuffed as a defender while serving as essentially the only center option). Bynum allows the Lakers to play more aggressively along the perimeter knowing he's there to help erase mistakes, and the act of funneling becomes more effective with Bynum lurking in the shadows. Jackson is also afforded more options defensively, which places all three bigs in a better position to succeed.
(The Lakers have even become more efficient on offense with Bynum on board, despite a pace considerably slower -- 110.3 points per 100 possessions vs. 109.3 before.)
5) What kinds of teams do the Lakers struggle against defensively?
Generally speaking, teams that run. As mentioned earlier, the Lakers may be better in transition than often given credit, but it's hardly their strong suit. When the Lakers are able to keep a team in a half-court set, they're generally pretty solid. Even taking into account the lapses on picks and rolls, the more an opponent is stationary, the better the Lakers perform.
Of course, success is also dependent on constant communication, crisp rotations, group dedication, Kobe being disciplined enough to avoid too much wandering, etc. Like any team, the Lakers must be mindful of playing to their strengths and executing at the highest level. But among their top six players, only Fisher would even be discussed as a defensive liability. These cries are overblown, but either way, the vet finds ways to offset possessions dusted, like collecting charges and breaking up passes. Ron Artest just did serious damage checking Carmelo Anthony. Odom is among the more underrated defenders in the league. When Matt Barnes returns, he'll form with Bryant and Artest an enviable tandem of wing defenders.
All things being equal, the pieces are in place, even if the warranty expiration date may be creeping up.