Thursday night, the NBA announced the starting lineups for February's All-Star Game at Staples. Kobe Bryant was among those named.
In other news, the sun rose in the east this morning, and taxes are due April 15th.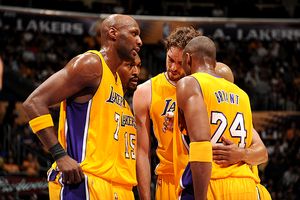 Andrew D. Bernstein/NBAE/Getty Images
Are these guys making plans for All-Star weekend? Yes for Kobe Bryant, probably for Pau Gasol... maybe for Lamar Odom. Ron's just eavesdropping.
Bryant led the balloting with 2,380,016 votes- his first win of the big popularity contest since 2006- almost 300K more than Orlando's Dwight Howard. It's the 13th straight season in which Kobe has been selected for the team. Only three players- Jerry West, Shaquille O'Neal, and Karl Malone- have played in 14 consecutive. Nobody has ever earned 15 in a row, but it's pretty difficult to picture a scenario in which Kobe doesn't get there. Even if he was hurt in the preseason and didn't play a game, he'd likely be one of the two leading vote-getters among Western Conference guards. Not that I'm advocating he test the theory, but at this stage of his career voting for Bryant has become reflexive for much of the basketball public, particularly among international fans, and deservedly so.
We'll have to wait a couple years to confirm, but the writing is on the wall.
Reaching the all-time mark for ASG nods is a taller order, but not inconceivable. He'll need six more after this year's festivities to catch Kareem Abdul-Jabbar, who made a staggering 19 mid-season classics, missing only one in a 20 year stretch. Kobe seems like a lock to earn his way on in the next few seasons, and if he's still playing at 38, the notion he'd still garner votes isn't far-fetched, even if his on-court performance isn't necessarily All-Star worthy. Particularly if he adds a couple more rings between now and then.
Still, that's a ton of ground to cover, and honestly I'd bet against it. Does the knee hold up that long? Does his career extend that far? I can just as easily see scenarios in which he walks away once it's clear he's no longer able to be Kobe Bryant as others where he has to be dragged off the floor with some sort of tractor. All questions to add to the growing pile of Kobe queries.
Of more immediate concern are the All-Star fates of Lamar Odom and Pau Gasol, and whether they'll fill two of the seven available slots for reserves on the W.C. squad- voted on by coaches in the conference- when the full teams are announced next Thursday. Earlier in the month I questioned whether Gasol was still a lock, thanks to his well-documented December swoon, but he's played well enough since to solidify what seemed automatic after first month of the year. My guess is he'll fill the spot at center vacated by the injured Yao Ming, though Gasol was too diplomatic to say so Thursday afternoon at practice. (I even asked if he thought, just between us, the starting center should be a non-seven foot Chinese fellow whose name still rhymes with "Trau." Still, he wouldn't commit, though Gasol did note his other All-Star nods came as a center.)
The signs look good.
Odom, though, could get squeezed.
The field is unbelievably crowded. Deron Williams and Russell Westbrook are basically locks to suck up two spots in the backcourt, Dirk Nowitzki is a shoe-in, and I have a hard time believing Tim Duncan won't make it, as will Manu Ginobili. That's five of seven right there. Given San Antonio's incredible start, Tony Parker is a legitimate candidate as well, since coaches tend to reward players on the best teams. Stick him in the hopper, along with Monta Ellis, LaMarcus Aldridge, Rudy Gay, Kevin Love, and Blake Griffin, and two or three other players I'm probably forgetting.
(Note: I'd earlier referred to Gay being suspended this afternoon, when actually it was O.J. Mayo. Brain cramp. Apologies.)
As a long time supporter of Odom, I genuinely hope he makes it, and still believe he will. He deserves a nod, given his numbers and the context in which he plays, plus his status as easily the most consistent player on what is (despite all the hand-wringing) still an elite team. But more than that, Odom's skill set has long been admired around the league. This is, likely, the best chance he'll have to be rewarded with the honor. Incredible as the seasons of Love and Griffin have been, they're both young and will have plenty of opportunities down the road.
It's an intellectual vote, as well, one based in all the "little things" coaches value. They'll feel good putting him on their ballots. Call it slightly sentimental, or something of a lifetime achievement award, but either way it's enough to get Odom on the team given the caliber of his play. Particularly since his most direct competition- Griffin, Love, and Aldridge- play on lesser teams. Coaches tend to reward wins.
That's my guess, at least. We'll know in a week.