With Matt Barnes sidelined by a knee injury, Steve Blake is the only Laker guaranteed action in Sunday's game against the Celtics who doesn't have any personal history in this storied rivalry recently renewed. And I mean this in the most literal way. Forget having just joined the team this season. Unlike you, me, and the rest of the basketball watching planet, Blake didn't even see the iconic train wreck that was Game 7.
"I got three kids and a wife, man," shrugged Blake after Thursday's practice in El Segundo. "You can't always watch all the games."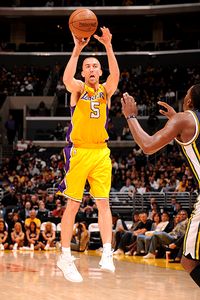 Andrew D. Bernstein/NBAE via Getty Images
Steve Blake is about to get a taste of the new Lakers-Celtics era.
Apparently, you can't always hear about them afterward, either. Talking with Blake, he was out of the loop on the most basic Game 7 details -- Defensive slug fest, Kobe Bryant's 6-24 clip from the field, Ron Artest being the calmest Laker throughout a skittish first half, etc. To clarify, he was aware the Lakers emerged victorious and retained their title. Beyond that, dude might as well have been living on Mars during the Finals.
With that in mind, I wondered what it was for Blake like to step into such a heated setting. Each team has recently won at title at the other one's expense, and I've gotten a distinct impression there isn't much fraternization between squads during the offseason. In today's NBA, there isn't a more charged and competitive atmosphere.
Is it possible to feel the emotional stakes having not been a part of them?
During Blake's professional career, he's never been a part of a team with so much inherent animosity towards a specific opponent. He did, however, spend three and a half seasons as a member of the Portland Trail Blazers, whose fan base got worked into a serious lather by the sight of a particular franchise.
The one Blake happens to play for now.
That Pacific-Northwest rivalry was "fun," Blake said, but "nothing like (Lakers-Celtics), as far as NBA goes." Also nothing like Duke-Maryland, for that matter, the greatest gauge Blake may have for the territory he's about to enter.
"It was pretty much right away," says the Terrapin of how long it took to feel the hate. "Because it's so personal for everybody. I guess like it probably is here, even outside the organization. Just the fans and the students at the time at Maryland. That's all they care about all year.
"Even when I first get there, (it was) 'I want you to beat Duke. Just make sure you beat Duke for me!' They're always making comments like that. You're like, "Wow, this must be a big deal, you know?' So you pick up on it right away."
I asked NCAA champion how he takes in Sunday's grudge match setting as a guy being tossed into it. As he revealed, there are two different elements in play: His own perspective and the perspective of his teammates.
"To me, personally, when you say getting 'tossed into it,' it's a still a ball and it's still a court. I don't really see it as anything different. I've played against Boston many times on different teams, so to me, it's just playing Boston again. I understand there's a huge interest because the teams have been so good lately, so there's a lot of hype around it. But for me, it's just another game.
"Nothing changes."
For the time being, at least. But the reality of what this game means for Blake's teammates boasting jewelry can't be overlooked. Thus, his own perspective eventually goes out the window.
"We're together so much, we feed off each other's energy," notes Blake. "So I'm sure when that time comes and I see how into it and excited and amped up they are for it, I'm going to be right there with them. I'm gonna have my teammates' back whether I've been here two years, five years, or it's my first year. It's gonna be the same thing."
Besides, as I noted, Blake tends to get in faces anyway, the most recent example his dustup with Earl Watson during the Utah win.
"Yeah, it doesn't matter to me," says Blake with a laugh.
Would being a big part of a win against Celtics matter, I ask? Blake insisted this wasn't on his mind. "The playoffs would be a different story. As hyped as everyone's gonna make this game or every game, it's still just one win or loss in the season."
Be that as it may, it would mean a lot for the Lakers if Blake turned in a strong performance. By his own admission, his acclimation period has been "up and down," with as many days he feels comfortable as not. Learning to play the point in a system where he "doesn't really bring the ball up a lot" has been an adjustment. For that matter, so has a quality percentage from the field with so few attempts. (I still contend he needs to shoot the ball more often.) A positive attitude has been maintained and I've witnessed the extra work putting up jumpers. But the results need to be there for this second unit to elevate the Lakers against a tough challenger.
Thankfully, Blake's impact and touch have been recently trending in the right direction, with his performance against the Jazz among his best games as a Laker. Continuation of this improvement on Sunday could go a long towards announcing Blake as "one of the guys," even having barely made his bones in this particular battle.