Before the season, Sacramento was widely considered an up-and-coming team. Not one that would challenge for a playoff spot this season, but an intriguing group with young talent and a very good chance to improve on their 25-win 2009-10 campaign.
Or, maybe they'd totally disintegrate as a team in the midst of serious questions about the future of basketball in our state capital. There's always that option.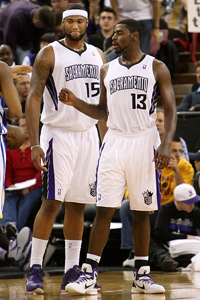 Greg Ashman/Icon SMI
Tyreke Evans and DeMarcus Cousins are talented, but haven't produced many wins for the Kings this year.
And it's the direction things have gone for Paul Westphal and Co. this year. They arrive for tonight's game at Staples with only 10 wins in 43 games, tied with Minnesota for the second lowest total in the league and only two ahead of a Cleveland that has lost, at last count, 298 games in a row.
To get a better feel for how and why things have gone so wrong for the Kings this season, we reached out to Zach Harper, host of Cowbell Kingdom (and ESPN's raucous Daily Dime Live chats). He was willing to answer our questions regarding a team with few answers these days:
1. Tyreke Evans didn't necessarily mesh all that well with Kevin Martin last year, and there have been struggles with DeMarcus Cousins (and the rest of the team) at points this season. While it's easy to question the maturity of a guy like D.C., is there any concern Evans might not be a great guy to build around? Talented as he may be?
I think the talent clearly isn't an issue with Tyreke Evans. The problem is figuring out how to use him. He's a lead guard (let's get rid of the point guard/shooting guard labels with Westphal's "system") who needs the ball in his hands to be effective. He hasn't learned to play off the ball yet unless he's posting up, and without a consistent it really limits the way you can attack the defense with Reke. I think you'll see a shift toward DeMarcus being the guy to build around and Evans will either end up fitting in or being moved.
2. Carl Landry made recent headlines criticizing the game plan. Is Westphal not doing a good job utilizing pieces, talent, formulating game plan, reaching players, etc.?
There was actually some clarification with the Landry comments you can see here. As far as the job Westphal is doing, the offensive attack of this team is very basic and very limited. It does turn into a lot of isolation plays and the only time it looks like an offense is when Tyreke hits the man on the wing off his drive or Beno runs the pick-and-roll. The team also typically falls apart in the second half when they have any type of lead, which reflects that whatever initial gameplan Westphal gives the team doesn't have any adjustments that actually work.
3. Halfway through the season, does the risk on Cousins seem wise?
It's very wise.
I think he gets a bad rap with how his mental stability is viewed. There's a difference between being crazy and being a loudmouth. Cousins is a very frustrated player when things don't go his way or when he screws up. It's not really him being a malcontent 24/7 as it is him being easily rattled by mistakes. Cousins could end up being a franchise guy in this league for sure. The talent is there. I just wonder if it will be for the Kings.
4. So seriously, what the heck happened to you guys this year? It was supposed to be a building block season for Sacramento...
There was a problem in evaluating this team in the off-season, that I myself fell into. There is a lot of potential talent with the Kings, but there is not a lot of substance at the moment. The shooting on this team is pretty awful and without shooters, they can't keep the defense honest. With Evans and Cousins as the focal points and guys like Omri [Casspi], Donté [Greene], and Jason Thompson as the complementary pieces, there is a lot of room for growth together. But if they're not all clicking on the same night, there just isn't enough talent and proper coaching to get this team over the hump - at least not yet.
5. How much has the uncertainty about the team's future impacted the team? The fan base?
It impacts the fan base a lot more than the team. The product isn't good right now and the arena isn't a place you'd want to visit. So the fan base is going to stay at home and watch the game on TV, rather than bring the energy back to Arco. As the arena talks get more complicated and less fruitful, it seems like this fan base gets more depressed. The team has done an admirable job or rebranding the team and adjusting ticket prices. But if they're not winning, nobody wants to waste their time supporting a team who may bolt after another failed arena venture.
Our thanks to Zach for all his input. Make sure to check out his work at Cowbell Kingdom throughout the year.