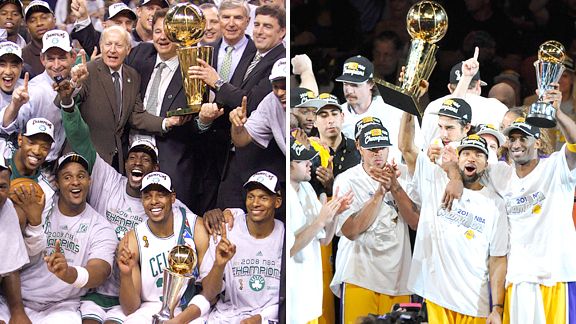 AP Photo/Getty Images
In '08, Boston celebrated at the expense of the Lakers. Last season, L.A. turned the tables. Is Sunday's game a precursor to a rubber match this June?
Earlier in the week, we took a look back at last June's epic Finals Game 7 with ESPNBoston's Chris Forsberg, host of the Boston Celtics Report. (Really, it's just a fancy name for Celtics Blog. Typical Forsberg to try and come up with some sort of quasi-clever name for his site. We would NEVER do that sort of thing.)
That was then. Sunday's game at Staples, the first meeting since the Lakers clinched their second straight title, is now. So once again, we join forces with Forsberg, this time to preview the festivities.
First question goes to Chris...
How do you account for how well the Celtics have managed to play this season, despite a string of injuries and several players not getting any younger? Other than Paul Pierce and Ray Allen, there's been a fair amount of key guys in and out.
Forsberg: If Games 6 and 7 of the Finals taught Boston anything, it's that they couldn't get by on the depth they had. Yes, it's hard to complain when you have a starting lineup featuring three surefire Hall of Famers, one of the game's best young point guards, and a still-underrated defense-first center, yet Boston's bench was frighteningly inconsistent last season (producing a Shrek & Donkey moment one night, then completely disappearing the next).
So Boston beefed up in the offseason, adding Shaquille O'Neal, Jermaine O'Neal, and Delonte West via free agency. Pay no mind to the fact they've missed roughly a season's worth of games between them, Boston has often been able to keep at least one O'Neal upright and, for those moments they're both in the shop, they brought over Turkish import Semih Erden, the Mr. Irrelevant of the 2008 draft who has exceeded all expectations while serving as a spot starter at times during his rookie campaign.
But more than anything, Boston's core five of Rajon Rondo, Allen, Pierce, Kevin Garnett, and Glen Davis have carried this team. Davis is in the conversation for Sixth Man of the Year, while playing starter-like minutes off the bench. Allen, Pierce, and Garnett (and Shaq, too) are flirting with posting career highs in field-goal percentage, and much of that can be traced to Rondo's distribution.
By avoiding big injuries to their biggest names (yes, Rondo and Garnett both missed sizable spans), Boston has been able to thrive. The whole "gotta get home-court advantage just in case we need it" is pushing them a bit, too, after how last season ended.
For you guys: The Lakers have 13 losses, but they seem to be coming in bunches. Anything to that? It seemed like Los Angeles also beefed up in the offseason, so any concern about not being the most dominant team in the West thus far?
Brian Kamenetzky: The clusters of losses were concerning in part because they were unprecedented in the Pau Gasol era. To see a three- and four-game losing streak -- particularly the set against Milwaukee, Miami, and San Antonio where they didn't just lose, but were totally obliterated -- was disturbing. Championship teams just don't do that sort of thing. (Literally. If memory serves, we got a stat in our inbox noting how one title winning team, the '77-'78 Washington Bullets, ever had a bad run like it, losing three straight by 15-plus. If the details are off, suffice to say it doesn't happen often.)
Generally speaking, even in their most complacent moments over the last year or so, the Lakers were always able to step up and win games to stop streaks.
The losses certainly served to magnify any questions, and given the microscope under which the Lakers operate as two-time defending champs with designs on a three-peat, it's not surprising. Red flags become redder and flaggier, for better or worse.
But it's important to note by losing 14 games to this point, including some against teams they have no business losing to (Sacramento Friday night, for example), particularly at home, the Lakers have set themselves up for a much tougher run in this year's playoffs than what they faced in the two previous seasons. The Spurs are legit, and aren't going to come back to the pack without sustaining some sort of injury, meaning the Lakers aren't going have the No. 1 seeding in the Western Conference playoffs.
Personally, I don't think they'll catch Boston, either. As I have the Celtics in the Finals, it means to win it all the Lakers will have to win at least two series as the road team. Historically, it's a tall order. They're good enough to do it, but the setup alone eats into their margin for error (in part because they've dominated at Staples). And while it doesn't necessarily mean much this year, fans haven't forgotten the only series in the last three seasons the Lakers have lost was the one where they didn't have home court.
So I think the concern isn't so much that they lost to Indiana at home, or twice to Memphis, or to the Kings (ugh!) but how the context of the season has changed going forward because of it.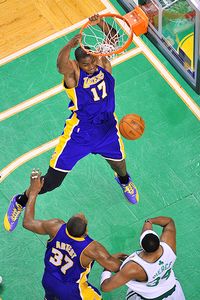 Steve Babineau/NBAE/Getty Images
A big day from Andrew Bynum would be huge for the Lakers.
Andy, the Lakers laid an egg in their first Big Hype! game of the year, X-Mas vs. Miami. Do you think they'll treat Sunday's game with more importance? Should they?
Andy Kamenetzky: Yes, I think the Lakers will treat this game with more importance and even yes-er, they should. I actually predicted a loss on Christmas (albeit not nearly so lopsided), in part because I think the home team is always disadvantaged. There are family obligations to juggle, which means waking up even earlier than an afternoon game would necessitate, and NBA players not named "Kobe" or "Bryant" generally aren't creatures of the morning. All of this makes focus even more difficult for a team not playing well or particularly dialed in at the time. Plus, the Heat had considerably more to prove in this game than the Lakers, as the contenders generally do in a high-profile game against the champions.
I'm not saying this to make excuses. Miami absolutely wiped the floor with the Lakers any way you slice the circumstances and the Heat deserve their props. But I do think the backstory played a role in the outcome.
This time around, however, I don't expect the same mindset. For starters, the Lakers are playing considerably better right now, in large part because Andrew Bynum is up to speed. This makes it easier for everyone, and in particular, Gasol, who was gassed physically and mentally in December. Plus, whether they'll admit it or not, this contest means something to the Lakers. As I mentioned in the most recent edition of "The Triangle," the Celtics are the one team the Lakers know darn well is a threat. This game will be viewed as a gauge for the three-peat quest, more so than probably any other regular-season game on the schedule.
Plus, and I don't think I'm revealing state secrets here, these teams don't much care for each other. Thus, I'm expecting the Lakers to come out excited and with purpose. I have no idea if that will result in a win, but I can't imagine them not showing up.
Downplay it as they might, I can't even imagine the wave of emotions that will sweep over the Celtics walking back into the Staples Center on Sunday afternoon.
Chris, how much does this game mean to the Celts, in your mind? Does the equation change at all with Shaq in the picture?
Forsberg: Coach Doc Rivers called the postgame locker room scene after Game 7 of the NBA Finals the "saddest" experience he's been a part of and, for the first time since that fateful moment, Boston will venture back in knowing that it's ultimate goal is likely to be sitting there again in June.
I wonder if Rivers will dip into his bag of motivational tricks again. You might have heard the story of how, after Boston's regular-season win there last season, Rivers collected $100 from every player and staff member and hid it in some ceiling tiles in the visitor's locker room. He said to collect, Boston would have to get back there in June (though, you know, they could have just grabbed it there this weekend had all else failed).
So how big is this one? It probably won't top the hype of opening night vs. the new-look Miami Heat, let's remember how much build up there was for the so-called Battle of the Big 3s. But this will almost assuredly finish as runner-up for Boston's Most Hyped Regular-Season Game of the Year.
In the end, I think Rivers will do a good job of reminding his team that, regardless of the outcome, it truly means no more than Tuesday's visit to Sacramento. Boston won the regular-season meeting in Los Angeles last February and, well, it didn't help them win Game 7.
The addition of O'Neal is an intriguing wrinkle. But it might ultimately be a bigger story line in Los Angeles than Boston given his history there. If Shaq can produce another turn-back-the-clock effort, Boston will be showered with "this is why they got him" praise. Regardless, having Shaq is certainly an upgrade after Boston leaned on what amounted to a combo of Shelden Williams and Brian Scalabrine when Perkins went down in Game 6.
So let me lateral that question to you, BK. What will the Shaq Effect be on the Lakers? How will the fans react? Aren't these "should they retire his number?" questions a bit shortsighted? Five years from now everyone will love him again regardless of what he accomplishes in Boston, right? (Well, unless he throws down a Rondo lob in the final seconds of Game 7 this year to lift Boston to Banner 18).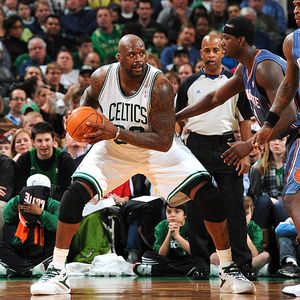 Brian Babineau/ NBAE via Getty Images
Shaquille O'Neal in a Celtics uniform has created plenty of ill will among Lakers fans.
Brian Kamenetzky: I suspect he'll get booed, particularly given the uni he'll be wearing. Joining the Celtics is a much greater affront to Lakers fans than, say, joining forces with LeBron.
Plus, Lakers fans -- like a lot of people around basketball, actually -- are pretty tired of Shaq's shtick. Can't say I blame them.
Still, I fully admit being flabbergasted (flabbergasted!) at the results of our poll data this week on ESPNLA.com, when we asked if Shaq's 34 belongs in the Staples Center rafters. Over 40 percent said no. Flat out, no? Seriously? Three titles, three Finals MVPs, a league MVP, and eight seasons of some of the most dominant center play the league has ever seen? Not good enough? Really?
Sure, I get he's grown into a caricature of himself, was pretty petulant on his way out of town, and certainly had a hand in the breakup oft the three-peat squads. But the bad is totally outweighed by the good. Even if he's now a Celtic.
Andy, I know you agree on this issue. In terms of Shaq's impact on the floor, what do you see? Especially with Kendrick Perkins back in the lineup? Going back to Game 7 last year, size, particularly the Lakers' ability to dominate the glass, was so important. Still a point of strength for the Lakers?
Andy Kamenetzky: I would also retire Shaq's number, but I want to preface that by stating that I'm not flabbergasted by the poll numbers. I also don't even think the nay-sayers are crazy. If you're a fan who thinks how a player treated the franchise should matter, that the honor and respect should be mutual, (a perfectly valid opinion), I understand the reservations. As a member of the Lakers and afterward, the attitude Shaq demonstrated toward the organization often left much to be desired. Again, I would hang No. 34 from the rafters, because his overall impact was incredible and the gesture also acknowledges history, which isn't always positive. But I get where the objections come from and I don't think they're entirely unreasonable, even if I don't agree in the end.
As for Shaq having an impact on the game, I'll give him the benefit of the doubt, shocked as I am to even type that. For starters, Rivers seems to have a better handle on how to use Shaq than Mike Brown. (It doesn't hurt that the Celtics' roster is considerably better than the 2010 Cavs.) And beyond that, Shaq was a bad fit in Cleveland but still managed to play well against the Lakers last season. His main job was to provide a physical presence, and he did. Perkins being back only helps O'Neal's impact, because less is demanded from him, whether physically or in responsibility, over the course of 48 minutes.
Having said that, I think the overall front court talent edge remains with the home team and after being collectively embarrassed Friday against DeMarcus Cousins, Carl Landry and Samuel Dalembert, I have to imagine Pau, Lamar Odom and Drew are geeked for a bounce back. As Brian notes, they'll have to work hard on the glass, the most consistent bellwether for the entire Finals last season. But the Lakers haven't been a dominant rebounding team this season by accident. (Heck, Gasol collected 11 against the Kings while playing pretty lousy.) Even with Perk and Shaq in the fold, they can win that board battle.
Chris, is there a matchup you find either particularly intriguing or particularly critical?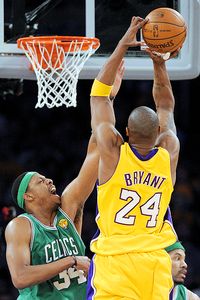 AP Photo/Mark J. Terrill
Kobe Bryant and Paul Pierce still have oodles of star power. Who shines brighter Sunday afternoon?
Forsberg: I think what makes this rivalry great is, unlike most nights, it's difficult to hone in on one matchup. That said, let's not dance around, most eyes are going to be on how the Lakers defend Rondo (presumably with Bryant and the typical sag-tastic approach).
Rondo has made tremendous strides with his mid-range game this season, really trying to make that elbow jumper a consistent weapon. According to HoopData, not only is he taking a career-high 2.9 shots per game from 16-to-23 feet, he's making a career-best 46 percent of those (up from 33 percent last season).
That's unlikely to alter Los Angeles' approach. With the Lakers' trees in the middle of the court, Rondo will have to loosen up the defense with his shooting. Otherwise, Bryant will simply roam around and make life miserable for Boston's other starters.
On the other side of the ball, it's easy again. Did Boston shore up its defensive rebounding and can they keep Los Angeles off the defensive glass. It would seem to me that, like Los Angeles desperately trying to prove in last year's Finals that it wasn't as soft as it got labeled in 2008, the Celtics almost have to make rebounding the No. 1 focus in order to get past the mental hurdle that could linger after Los Angeles' domination on the glass in Games 6 and 7.
What about your, Brian? What's the key matchups on the Lakers' side? Is there a weakness that's emerged this season that Boston should exploit?
Brian Kamenetzky: Transition play.
I realize the Celtics aren't exactly the fastest group on the planet up and down the floor, but when they can push into the open court, they should. Particularly since they're adept at forcing bad shots with their tight D, and are among the league leaders in opponent's turnovers per game. In the half court, the Lakers are a strong defensive team, but they're prone to mistakes and when they make them can be made to pay. So that's the matchup I'm curious about: How the Lakers' offense maintains patience against a strong Boston D. The Celtics thrive against teams who make themselves one-dimensional through their stars, as the Lakers sometimes do with Bryant. Because they're so disciplined, Boston makes the occasionally easy on-floor decisions for Bryant a lot harder. Their rotations are crisp, doubles sharp, etc. Kobe will have to be on point Sunday afternoon when he's working on the ball, to avoid traps and turnovers (he has a tendency to get stuck in the air without a plan).
Conversely, his teammates can't stand around and watch him play. Off ball movement when Kobe initiates a possession will be vital, and when he doesn't, the way the Lakers are able to free Kobe up for shots later in possessions with off ball screens and weakside action is key. The Celtics are too good for him to concentrate heavily on isos to score.
Should be a great one, I think.
Last round: Predictions?
Forsberg: Just like last year, I think the Celtics win in Los Angeles and Lakers atone next month in Boston. That seems appropriate given all the hub-bub about the importance of homecourt advantage. More importantly, it (hopefully) sets up another seven-game rubber match in June.
But why Boston this time around? Simply more motivation. I think they need to win this game to finally start the healing process and if you think the whole "Celtics would have won Game 7 with Kendrick Perkins" was annoying before, wait until after. It won't be pretty, but Celtics win the battle of the boards, and squeak out a narrow win.
The wildcard here is Rondo. He's had back-to-back poor outings -- 13 turnovers and 11 assists in his last two games -- and Boston has struggled in both games. No surprise there. Rondo will be challenged to shoot and needs to make shots to loosen things up. Don't expect a scoring binge, but an effort similar to his 14-point, 11-assist performance in Boston's win at the Staples Center last February would probably be enough to help Boston emerge in what's likely to be a Game 7-like slopfest with emotions high on both sides.
Andy Kamenetzky: When we began this exchange on Thursday, I predicted Boston's presence would spark the best in the Lakers. After the egg laid Friday against Sacramento, I'm even more convinced. Plus, they've played the Celtics quite well over the last few seasons. Beyond the outcome of the Finals, their average margin of victory during the series (9.2) was higher than Boston's (7.2). They won a regular season game in Boston and almost won at Staples without Kobe. In 2009, they were 2-0 against Boston. Obviously, new personnel and the fuel added to Boston's fire adds different wrinkles, but a template has been established in L.A.'s favor. Plus, Boston is a little more banged up at the moment, which could mean their better shot will come on February 10th at home.
During Thursday's practice, Lamar Odom reminded us about the Lakers' tendency to show up in big games. With two consecutive titles, that's hard to dispute, but the virtue is more "recent" than "current" these days. The team is aware of a need to put their money where LO's mouth is, and this feels like as good a time as any.
Lakers 96, Celtics 92.
Brian Kamenetzky: I remember Christmas Day in '08, when the Lakers beat the Celtics in what was a critical and galvanizing win for a then pre-championship team. L.A. needed to prove they could handle big, bad Boston, who (as always) tried to push them around.
I don't think the C's, who have a championship identity already, need this game as much as the Lakers needed that one, but they likely have a little more edge, given what happened the last time they visited Staples. On the other hand, the Lakers have played well in their last two "test games" at home, vs. Oklahoma City and Utah. Very well, actually. And they won't sleep through this one.
Boston has the emotional edge, but I think the Lakers are also sick of the whispers about lacking a true "statement win" against the NBA's elite. It's enough to make them my pick. Not a confident one, but a pick nonetheless.
Lakers 94, Celtics 91.
Thanks to Chris Forsberg for his participation. Make sure to check out ESPNBoston.com and the Celtics Report to keep up with the C's.