After the 109-96 loss to the Celtics, Phil Jackson was asked if Ron Artest, who scored just three points on one-for-10 shooting while struggling to check Paul Pierce, "got lost" on the way to Staples Center.
"No, he was on time," Phil replied. "(But) he got lost on the court."
Artest did, however, manage to locate the bench during the second half. He played fewer than six minutes over that duration, none of them in the final quarter. explained Jackson, "They started off with Pierce, what did he get, nine points right off the bat. Three three-pointers. (AK's note: Only six points, but in less than three minutes.) And Ron took a couple shots that I thought were perhaps not in the context of what we were trying to do, so I thought maybe it would go in another direction, but it didn't seem to work."
No, it didn't, and this was a very big problem for the Lakers.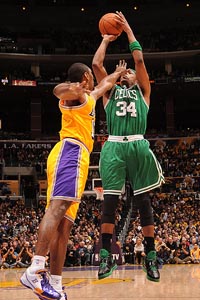 Noah Graham/NBAE/Getty Images
As a change of recently established pace, Paul Pierce got the best of Ron Artest.
That Artest has struggled throughout the course of this season isn't exactly a government secret. It's been acknowledged countless times over this season, and by no less a critic than the man himself. A lack of understanding has been expressed about his role, and while he refrained from complaining about the situation, losing crunch time minutes to a then-healthy Matt Barnes clearly wasn't sitting well.
There have, however, been recent signs of life since a knee injury sidelined Barnes, most notably his utter destruction of Carmelo Anthony during a lopsided win in Denver. With the exception of rebounding, his January splits have also trended in the right direction. There's still improvement needed, but the Lakers don't really need Artest to play at an All-NBA level to thrive. His contributions simply must be tangible, especially on the defensive end. At the very least, he can't stand in the way of success.
Tonight's performance fell squarely into the latter category, and the effect was drastic. At its most basic, his nine misses from the floor-- four in under two minutes during the first quarter -- equaled nine empty possessions, and some of these bricks were just bad ideas. There was an off-balance baseline jumper fading left. A layup where he hesitated under the rim, allowing Shaq even more time to set up a swat everyone but Ron saw coming ten miles away. And his ineffectiveness against Pierce was pointed and surprising, considering how well he shut down the Inglewood native last season.
Beyond Artest's lagging numbers and Pierce's explosion, there was the butterfly effect. His benching led to Kobe sliding to small forward and check the smoking-hot Pierce, despite already carrying more than his share of the scoring load. (We saw this movie a lot between 2005 and 2007 and the ending rarely satisfied.) That's a lot of responsibility on Bryant's shoulders, and you have to wonder if a two-for-six clip in the final 5:18 of play* wasn't due in part to a heavy load catching up.
Artest's issues also effected The Zen Master's lineup decisions. Down the fourth quarter stretch, Jackson opted for a backcourt tandem of Steve Blake and Derek Fisher, two players who've barely shared any floor time this season. I asked Jackson why and he said simply "matchups," refusing to elaborate any further.
With all sincere respect to probable All-Stars Ray Allen and Rajon Rondo, I doubt their skills sets are so wildly unique PJ felt no choice but to think way outside the established box with an outcome in the balance. As I tweeted during the game, I believe this was Phil's way of saying he wasn't happy with Artest, Shannon Brown, or Luke Walton, but five men are required on the court at all times. Thus, Artest's inability to stay on the floor semi-directly led to an unfamiliar floor combination which coincided with Boston running away with the contest for good.
Obviously, the failure of Luke or Shannon -- or pretty much the entire team, really -- to contribute much isn't on Ron's shoulders. But at the same time, more is expected from Ron than those subs and this was a game where the Lakers were really banking on Artest's particular skill set. Tonight we saw just how much Artest struggling on both ends of the floor, combined with Barnes' absence, can hamstring the Lakers against an excellent team with an excellent wing player.
Mind you, the finger isn't squarely at Artest -- who refused to let a collision with Shaq to his thigh serve as an excuse -- for this loss. Pau Gasol disappeared. The Laker bigs were out-rebounded 29-18 by their enemy counterparts in an overall rebounding battle lost 43-30. Fisher made some good defensive contributions but offered just five points. And on down the line. Gold stars will be on short supply during tomorrow's film session. Plenty of blame to go around.
But Artest arguably stood out most in the sea of disappointment. In part because he arguably played the worst, but even more because this was arguably his afternoon to shine the brightest.
* - Courtesy of ESPN Stats and Analysis