Over the last 12 seasons, the Lakers and Spurs have combined for nine NBA championships, 21 seasons with a winning percentage of .600 or better, and a grand total of one losing campaign. They're easily the two most successful franchises in the NBA over that time.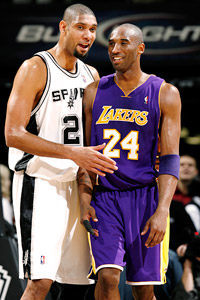 Chris Covatta/NBAE/Getty Images
These two have dominated the NBA for over a decade.
It's not even a competition.
In some ways, the franchises, who have met in the postseason six times since '99 and swapped their share of iconic moments, couldn't be more diametrically opposed. The Lakers are by design part basketball team, part Hollywood attraction, playing in front of star-studded crowds at home and sold-out arenas on the road. Phil Jackson has been the NBA's highest-profile coach for about two decades. Kobe Bryant may no longer be the lightning rod for controversy he was as a younger player, but is hardly a wallflower. Dude jumps over cars, rides horses and sells everything from watches to tasty beverages to airlines. Tim Duncan, on the other hand, has made a life's pursuit out of vanilla-fying himself, operating with a sort of low-key, ruthless efficiency appropriate for a franchise never demonstrating much interest in having people pay attention to them.
The Lakers are rich, the Spurs more middle class. A Finals appearance for the Lakers is ratings gold, while a berth for the Spurs has TV execs rubbing their temples. Still, the basketball -- fundamentally sound, long on execution and intelligence -- leads both teams to the same place.
"I think the Spurs and the Lakers have shown that it's not necessarily just about salary numbers or coaching styles or which offense you run. It's really about your ability to have the right coach, the right management and leadership styles, the right personnel to fit what you're trying to do, but the organizations have done it in totally different ways," says Derek Fisher, finding in his admiration for both franchises a nifty (and handy) example of equity in the current labor system.
That the differences are in the end cosmetic explains in part why the rivalry between the teams is different than any other the Lakers have had over the years.
I've never felt from local fans the same strain of dislike piled on, say, the Blazers, Nuggets, Kings (when they mattered), or Mark Cuban (and therefore the Mavs). Not from the players, either. Respect rules over animus.
"I think a lot of it is just the guys they have on that team. They're not nasty kinda guys, trash talking kinda guys. They just go out there and do their job," Kobe says of San Antonio. "You understand how hard it is to stay on top for so many years. The amount of effort that you have to put into it, the amount of focus and work and togetherness. It's tough."
Kobe seems to endorse franchises in the same way he might a teammate. No wonder he appreciates San Antonio. The Spurs scout and draft incredibly well, rarely making mistakes with their money, clearly put in the time, and are all about winning.
So are the Lakers. The glitz may steal some headlines, but this is a franchise missing the playoffs twice since 1977. Twice. Joke about Dr. Buss' hair or dating habits, but his commitment to winning is unparalleled.
Brian Shaw has seen the rivalry as a player and coach, and understands how both teams have remained so good for so long. "There's a lot of pressure, or I should say not pressure, but expectations, to play to win. To win it all." he told me Wednesday afternoon. "I think both organizations feel it's a failure if anything comes less than a championship. So you may be down for a little while, but it's not going to be for long because those organizations are used to winning, and understand what it takes to put teams together to win."
In a sports culture in which players change teams like socks and we circle the successful like vultures waiting for the first sign of vulnerability, the metronome predictability of San Antonio and L.A., plus the consistent presence of guys like Duncan, Gregg Popovich, Tony Parker, Manu Ginobili, Bryant, Jackson and so on is comforting. Whether you like both teams, just one, or neither, as fans we want them on that wall, we need them on that wall.
So I can't possibly be the only person who thinks, more than a decade after it began, it's still pretty cool to be in the era of Lakers/Spurs, right?