The All-Star reserves have been announced and in what probably qualifies as "no real surprise" territory, Pau Gasol made the cut, while Lamar Odom is on the outside looking in. A few quick thoughts:
While I'm happy for Gasol on a personal level, there was a part of me rooting for him not to make it (particularly not if it meant pushing Odom out). In part, because it's debatable to me whether he really deserved the nod, particularly if he ends up the starting center. Such placement would be the result of injuries to Yao Ming and Andrew Bynum, and that Nene apparently doesn't count. Yes, Pau has logged plenty of minutes at center and has often excelled. The man's highs were often exceptional, especially at the start of the season. His inclusion is hardly outlandish. But there were a fair amount of ineffective lows, and it's more than a little strange to a see a guy prompting so many "What's wrong with ____?" questions land an All-Star bid.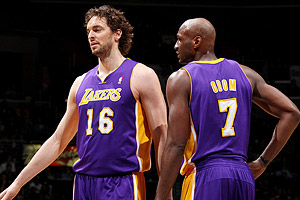 Ned Dishman/NBAE/Getty Images
Smiles for Pau, frowns for LO.
I also think it could have served as a fitting message to the Lakers if Gasol failed to land an honor widely presumed. At the start of the season, it wasn't merely a given he'd represent the West during the weekend, but people were talking about him as a dark horse MVP. Later, once it was known Yao needed a replacement, everyone assumed Gasol would be the man tapped. And when you consider the concerns about complacency and overconfidence permeating throughout the locker room of a certain back-to-back champion team, a reminder nothing is preordained could have been (at worst) symbolic and (at best) valuable.
As for LO, I'm pretty disappointed for him. Not that his omission qualifies as a true "snub" in a Western Conference comically loaded. But Odom's enjoying a career-year in what I've felt is an under-appreciated NBA life, and it would have been nice to see one of the real good guys join a party in his backyard. Particularly when the consensus is he's finally worthy of such decoration. But when you think about it, this day is just a continuation of the spirit of Odom's basketball existence: Expectations turned on their head.
He's a 6'10" power forward with the handles and vision of a point guard, which somehow never translated into becoming a franchise player. He was never Scottie Pippen to Kobe Bryant's MJ, but became a more effective, prolific player the further down the perceived pecking order he fell. He accepted a move to the bench in a contract year. (Name five NBA players who've done that.) He grew more focused after getting married to a reality TV starlet. For that matter, his marriage to a reality TV starlet appears the exact opposite of the publicity stunt most people predicted. He's peaking in his 11th season, far past when most players hit their stride.
And now, when everyone seems to agree he should be the All-Star everyone cursed him for never becoming, he still isn't one. And if it's not now, it's just as likely never.
Some dudes just aren't meant to be All-Stars, you know?