Saturday night, the Lakers kicked off their seven-game roadie on a winning note, handing the Hornets their sixth home loss of the season. It wasn't perfect, but these things rarely are. Style points matter considerably less than the final score when it comes to playing good teams on the road.
Meaning they'll take a back seat this week, too. Four games, all against playoff teams, starting tonight in Memphis. Here's how it lays out ...
Game of the Week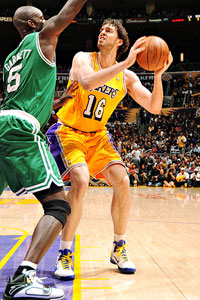 Noah Graham/NBAE/Getty Images
Pau Gasol was overmatched in the first meeting between Boston and L.A., and for the Lakers to win Thursday's rematch will need to be better.
Lakers at Boston -- Thursday, 5 p.m. PT.
Is there another choice?
After the Lakers lost to the Celtics at Staples last week, all hell seemed to break loose. Mitch Kupchak slapped the (Potentially) Open For Business sign on the front door, and Magic Johnson declared the team lacking. It was a game basically serving as the embodiment of everything seen as wrong with the Lakers this season, from defensive questions to toughness (mental and otherwise) to an opportunity to simultaneously debate whether Kobe Bryant's teammates (Ron Artest and Pau Gasol in particular) will step up in big games and if the offense becomes detrimentally Kobe-centric down the stretch. (For a refresher on my take, click here.)
Particularly when mashed together with a horrid loss two nights earlier to Sacramento, fair to say it made for a rather angst-filled Monday morning for Lakers fans.
The good news is a strong showing at TD Banknorth Garden on Thursday night will go a long way toward undoing a few '10-'11 talking points for the purple and gold, starting with the ability to beat an elite team away from home. Anywhere, really. To do it, they'll need the sort of ball movement and distribution seen in the first half against New Orleans. Kobe was a monster early against the Celtics at Staples, single-handedly keeping the Lakers in striking distance. Boston, though, is too good defensively for that approach to work again. The supporting cast has to be better. From there, shoring up the boards would be a welcome next step. Boston was plus-13 in the rebounding battle at Staples.
Other Games
No dogs in the bunch, starting with...
Monday at Memphis, 5 p.m. PT
Had the Grizzlies merely defeated the Lakers in both of this season's matchups, this game would be intriguing enough. That Memphis is among the hottest teams in the Western Conference, winning eight of their last 10 to grab a rung on the playoff ladder, makes it intriguing and dangerous. In November's 19-point home debacle, the Lakers turned the ball over 20 times. Not a total shock, given Memphis forces more giveaways than any team in the league. So there's one place to start. Another? Keep a lid on Zach Randolph. In the first two games, the Lakers did a reasonable job on Z-Bo, but of late Randolph has been on a streak torrid enough to earn him Western Conference player of the month honors in January.
Only a supremely crowded field (and perhaps his history and low-profile team) kept him off the All-Star roster.
Plenty more coming on this game later in the afternoon.
Friday at New York, 5 p.m. PT
Despite winning the Gotham half of a home-and-home against the Sixers, the Knicks are in a big-time slump. Mike D'Antoni's crew has lost three-of-five in the short term, 10-of-15 overall. Amare Stoudemire continues rolling along and will play in L.A. later this month as an Eastern Conference All-Star, but his supporting cast hasn't held up as well. Particularly Raymond Felton, who suffered through a tough January, easily his worst month of the season. Wilson Chandler also came back to earth after a couple of monster months.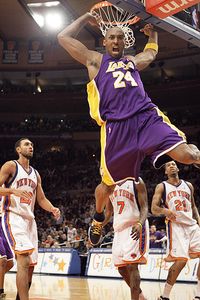 AP Photo/Kathy Willins
Two of Kobe's MSG record 61 in February of '09.
In reality, the Knicks are probably somewhere between the team rising like a rocket in the E.C. and the team sinking like a stone (fortunately, even stones can float when it comes to that playoff race). They'll have a date with the Clippers, too, between now and Friday to help build on Sunday's win. It shouldn't really matter, since the Lakers have the exact same advantages inside as they did back on Jan. 9,when Gasol, Lamar Odom and Andrew Bynumcombined for 51 points and the Lakers dominated the paint, creating high-percentage shots and helping slow New York's break.
But while another dominant night from L.A.'s bigs likely means a second win over the Knicks, it won't be the evening's main attraction: Kobe Bryant is back at the Garden, where he tends to make big things happen.
Sunday at Orlando, 12:30 p.m. PT
Before the season, when people pointed to Boston and Miami as the overwhelming favorites in the Eastern Conference, a certain brand of smartypants (like me) liked to say, "Don't sleep on Orlando!" I saw the Magic, winners of 59 games in each of the last two seasons, as serious contenders not getting their due. Shows what I know. While Orlando (currently 32-20) hasn't been a complete disaster, having fallen behind Atlanta in the Eastern Conference, the Magic have rightly fallen out of the Finals conversation. 16-11 before the big trades bringing in Gilbert Arenas, and Jason Richardson, and bringing back Hedo Turkoglu on Dec. 19, Orlando has gone 16-9 since, but only 7-7 over its last 14.
In terms of tests against the E.C.'s best, Orlando just lost at home to the Heat, and Sunday on the road to the Celtics.
From an efficiency standpoint, the Magic are certainly credible both offensively and defensively, but the feeling is they don't do either particularly well against good teams (again showing our narratives in L.A. are other city's narratives, too), aren't elite in either area and the offense meant to be juiced by the blockbusters hasn't improved enough. One big reason? Arenas has shot only 35 percent in pinstripes.