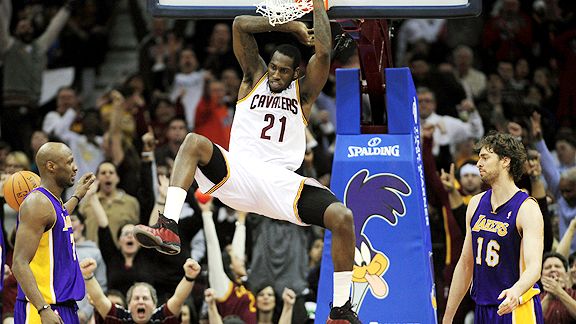 Jason Miller/US Presswire
Even Road Runner is taunting the Lakers following Wednesday's loss to the lowly Cavaliers.
After four strong wins to start their seven-game trip, a setback against a talented and increasingly desperate Orlando Magic team Sunday afternoon was fairly easy to swallow.
Losing by 20 the next evening in Charlotte, the Lakers' fourth game in five days and sixth in a long trip, with a flu-ridden Kobe Bryant in a place they (for reasons scientists will spend the next three decades trying to determine) historically struggle was undeniably ugly, but at least able to be explained away. This despite a 122-character, fully tweetable postgame media meeting in which Phil Jackson said he was "embarrassed" by the team's performance.
But in a season already marred with more losses against sub-.500 teams than in all of 2009-10, with only two wins in eight tries against the NBA's top five squads, nothing papers over Wednesday's 104-99 loss to a Cavaliers squad that entering the game had dropped 37 of its previous 39 games, including a 55-point loss to the Lakers at Staples Center. Even the most purple and gold of Pollyannas probably were throwing shoes through their flatscreens.
Forget worst loss of the season. Tonight's result lands squarely in the conversation for worst loss of the past decade.
Coincidentally, it came on a day when Jerry Buss, showing in a rare public appearance why he's the most successful owner in professional sports, stuck up for his team and its potential despite the leg-weariness accompanying three straight trips to the NBA Finals. "I think right about now everybody senses that we have to get busy," he said during 710 ESPN's Lunch with a Legend. "This is going to be our time. The pride begins to set in, not the fatigue. The fatigue begins to float away, and now they say, 'Wait a minute. This is our championship; you're going to have to take it away from us before you can call yourselves champions.'"
Perhaps Buss should have been more specific, since pride apparently doesn't kick in until after the All-Star break, a five-day intermission the Lakers seemingly thought too short. "I think they took the break before the game started," Jackson told reporters afterward.
In so many ways, the game was a microcosm of the inconsistency plaguing the Lakers throughout the season. After falling behind in the third quarter, the Lakers clawed their way back into the game. When Derek Fisher canned a corner 3 tying the score at 82 with just more than six minutes to play, it looked as if the Lakers would pull away and, albeit too slowly, take a game they should have dominated throughout. Instead, Cleveland ripped off nine straight points. When L.A. improbably pulled to within three with 43 seconds remaining, Shannon Brown inexplicably fouled Ramon Sessions about 90 feet from the Lakers' basket, sending an 83 percent free throw shooter to the line and robbing the team of an opportunity to make a critical defensive stand.
Fitting on a night the Lakers turned the ball over 19 times, generating 23 points for the Cavaliers, in a season in which the Lakers seem unable to forge any sort of identity.
They now have 35 games to find one. Before beating the Celtics last Thursday at TD Banknorth Garden, a game widely considered L.A.'s best of the season, Jackson said of his team, "I still think when they're playing their best, they're the best team in the league." They still can be but clearly aren't yet. And bad as things are, determining where they are relative to the past two seasons is similarly tricky. Despite a handful of abysmal losses -- at home to Milwaukee, Indiana and Sacramento, for example -- the Lakers remain on pace to finish somewhere near the 57 games won in '09-10, a number that would have been lower had Bryant not hit seven game winners over the course of last season.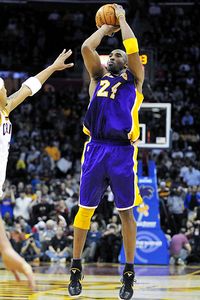 Jason Miller/US Presswire
As he did Monday in Charlotte, Kobe Bryant struggled with his shot and turnovers Wednesday night.
This season's issues -- defensive consistency, a lack of perimeter shooting, a lack of predictable production from the bench, an apparent unwillingness to play to their strengths -- were last season's. Today's questions about complacency and focus were front and center a year ago, as well. In a season in which anything short of a title will be viewed as a failure, there's a natural tendency to overstate the woes of today and paint an overly rosy picture of yesterday's path to success. To a man, the Lakers will remind us -- and themselves -- an 82-game season is naturally filled with highs and lows. Titles aren't won in February.
What they have -- a coach with 11 rings, an MVP with five, a point guard with more big-game/big-moment experience than any other in the NBA and crew fully tested in the heat of the playoffs -- can't be ignored.
Except this season isn't last season. As it is with the stock market, past results shouldn't be used to predict future gains.
Already, the Lakers have ceded the top seeding in the Western Conference to a San Antonio squad showing no signs of slowing (not that the Lakers have shown any ability to catch them even if they did). Wednesday's loss drops the Lakers two games back of Dallas for the No. 2 seeding in the West. They'll enter the break 3 1/2 games behind Boston and Miami, teams playing better ball than L.A. despite more extensive injury issues, and a game back of a Bulls team still lacking Joakim Noah. The Lakers earned their title last spring but were fortunate along the way, benefiting from a favorable draw to land a spot in the Finals, where they once again landed home-court advantage despite falling short of the league's best record.
It seems unlikely fortune will smile so widely again this spring.
If the Lakers can't elevate their game before April, all the three-peat talk becomes moot. Even if they do, are they capable of taking two, maybe three series on the road? History says no.
There is a reason so few teams reach four straight Finals, why teams don't routinely rip off three straight titles. What the Lakers are trying to do is exceedingly difficult. The already significant challenges of a particular season are weighed down by the success of seasons before. The 2010-11 campaign is its own but doesn't occur in a vacuum. Except these are big-picture concerns, the sort of postmortem analysis trotted out if another team hoists the Larry O'Brien Championship Trophy this June. Today, it's still about this season, and this title, one that has never looked more distant for the Lakers than it does in the wake of Wednesday's debacle.
The Lakers will spend the All-Star break at rock bottom, surrounded by infinitely more questions than answers at the end of a trip once filled with promise. Their problems are diverse, and not limited to well-worn totems such as complacency and focus. Heck, they can't even explain away a loss properly.
"We knew they were going to come out and beat us," Andrew Bynum said Wednesday night, "and we just didn't play any D."
Surely there was a "try to" missing from the top of that sentence or an "if we didn't play any D" left out. That the Lakers assumed they'd lose to an nine-win team seems a stretch. Or maybe not, because while this season's Lakers have yet to prove they can beat the league's elite with consistency, they've demonstrated with great effectiveness the ability to lose to anyone.