Like I mentioned in our Week in Preview, this game against the Hawks is important. Beyond providing reassurances to fans and even to themselves of an improved path, the window to get in gear is slowly shutting. Even as someone who remains a believer in the ability to keep the O'Brien in L.A., there's no denying the urgency at hand. The proverbial "play time" ended a while ago. Now it's a matter of proving this team isn't living on borrowed time.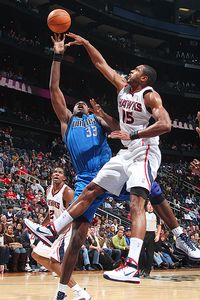 Scott Cunningham/NBAE/Getty Images
Al Horford does his best to help on D, but the backcourt doesn't hold up its end of the bargain.
To get a better idea of how the Hawks operate, we reached to Bret LaGree of the True Hoop Network Hoopinion blog. Here are a few items to keep an eye on once the ball is jumped:
Q: The Hawks were playing .500 ball in the last 10 games heading into the break. How would you assess their current state as they head into the home stretch? What are the strengths and weaknesses?
Bret LaGree: The Hawks are coming to terms with how difficult it is to send the same team out on the court and get different results. Given a possibly impossible task (improve on 53 wins without an improved roster), Larry Drew hasn't really settled on a rotation and tinkers with the starting lineup depending on the opponent.
The crux of the problem is Mike Bibby and Jamal Crawford are poor defenders and Joe Johnson, when pressed into duty against opposing point guards, isn't much better. Josh Smith and Al Horford do tremendous work on the defensive end to keep the Hawks an average defensive team but when either big man is out of the game, the Hawks are pretty porous defensively.
Q: Josh Smith has put up monster numbers in February, and several stats on the season have been career highs. He's also looking more comfortable (and proficient) from behind the arc. Has he taken that proverbial "leap" as a player? Even with maturity, often the biggest tag against him?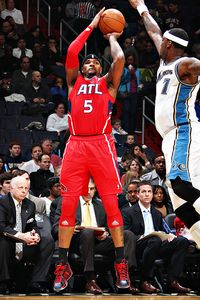 Ned Dishman/Getty Images
Josh Smith's improved jumper has been a double-edged sword.
LaGree: He's improved his shooting from the perimeter (and the free-throw line). But because he's responded to that improvement by taking six jump shots a game, he's taking just 34% of his shots at the rim this season (as opposed to 54.3% of his shots last season) and getting to the line less often. His willingness to spot up on the perimeter has led to a decline in offensive rebounding rate, a drop in his assist rate, and he's turning the ball over slightly more often than he did last season.
So, his improvement could lead to him making the leap but he hasn't really integrated his jump shot into his game, he's just shooting jumpers instead of doing his best Josh Smith stuff too many nights.
Q: How has Horford looked since returning from a back injury and how do you anticipate him faring in what could be a big matchup against Andrew Bynum and/or Pau Gasol?
LaGree: Al Horford has looked like he has a sore back. It hasn't affected him too much offensively as he mostly plays pick-and-pop but he's looked more stiff than normal defensively and has had trouble reacting quickly to potential defensive rebounds. I presume Larry Drew will go big and start Jason Collins against Bynum so Horford (who limited his minutes in the All-Star game because of lingering soreness in his back) will have his hands full defending Gasol without getting into foul trouble (real or imagined) and keeping Pau off the offensive glass.
Q: Is there an X-factor player for the Hawks? A "lesser" name who can sometimes swing the team one way or the other?
LaGree: Marvin Williams is far and away the team's best wing defender and his presence on the floor in the fourth quarter usually means the Hawks aren't trying to come back or hold on despite Bibby and Crawford struggling to stay in front of anyone and everyone. Plus, if Williams is involved in the offense it typically means the Hawks are creating transition opportunities and/or getting unusually frequent trips to the free throw line.