Man alive! Has this been a crazy 24-48 hours or what? Kobe Bryant said during Thursday's practice it's the most active trade deadline day he can recall, and it's hard to argue. Some pretty big names have swapped unis, and the NBA looks awfully different now.
Well, except for the Lakers, who stood pat.
Whether because of confidence, a lack of options or both, save perhaps a free-agent big man to play the "Theo Ratliff" role, the team that beat Portland Wednesday is the team that will defend its title. How does today's zaniness affect that quest, or simply reshape the Western Conference? Let's take a look at some of the major deals.
Thunder get Kendrick Perkins, Nate Robinson (plus Nazr Mohammed in a separate deal with Charlotte). Celtics get Jeff Green and Nenad Krstic.
Without question, this is the transaction creating the most shock waves. It's a doozy, steeped with potential to alter the playoff landscape. And in particular, how it affects the Lakers.
For the Thunder, the move reflects commitment to a serious run. Not to mention fighting fire with fire. For all the hand-wringing over OKC's athleticism and speed, the Thunder have lost seven of the last 10 games against the Lakers, playoffs included. The Lakers' size has been too much to handle, so Perkins (and Mohammed, to a lesser degree) addresses that issue. Perk is among the best in the biz at bodying the likes of Pau Gasol and Andrew Bynum, and his ability to operate without help allows Serge Ibaka (the new starting 4) freedom to block from the weak side. He'll also set some big screens to free up Durant and Westbrook. In the meantime, Robinson takes some second-unit scoring pressure off James Harden, and Lakers fans are plenty familiar with the harm he can inflict.
Plus, Green's career splits reveal wretched shooting against the Lakers. Considering how bad a defender he is (Krstic, too, for that matter), if Green's not making shots, his value is marginalized. I've written before about OKC's need to upgrade from the Georgetown product if it really wants to get serious against the Lakers. Perkins fits that bill.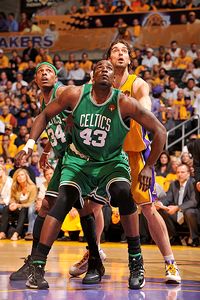 Garrett Ellwood/NBAE via Getty Images
Kendrick Perkins' move from OKC is important to the Celtics, Thunder and Lakers.
Is it foolproof for OKC? No. Perkins and Ibaka form a wicked defensive tandem, but offensively, they're somewhat redundant. Ibaka is solid from 10 to 15 feet, but pretty mediocre farther out. Perkins' range is roughly 17 inches, and neither has ever really been counted on to score. Ditto Nick Collison. When Mohammed is the closest thing to a scoring machine among big men, that's not a good thing. Durant will be asked to provide even more frontcourt points, and his load is already pretty big. The Thunder have also slipped defensively this season, and it remains to be seen whether Perkins will be as effective in a system with more leaks than Boston's.
All in all, I think it's a very good move for the Thunder, but any urge to crown them should be slowed.
From the Celtics' perspective, I'm mystified. Maybe it's a proactive move after Perkins declined an extension offer. Maybe they don't trust his balky knees (although I'd bet on Perk before the O'Neals). Maybe they're not as concerned about Orlando (i.e., Dwight Howard) and don't feel obligated to retain Perkins for one player. Maybe they think Perkins will help the Thunder eliminate the Lakers, providing even less need for beef. And from a practical standpoint, Green and Krstic will stretch the floor and with Delonte West and Von Wafer, provide a nice punch for the second unit.
But considering the obvious impact of Perkins' absence during the Finals, and the way Doc Rivers reminds people every five seconds the Celtics have never lost a series with their ideal starting five (Rondo-Pierce-Allen-KG-Perk), the move feels curious. Boston's defense will undoubtedly suffer from Perkins' absence. Between this move and the side deal moving Semih Erdin, the Celtics have transformed themselves from one of the league's biggest teams to one lacking reliable size. I also wonder how the tight-knit -- and often moody -- Celtics veterans will respond to one their core players being moved. My guess? Not too favorably, even if it doesn't torpedo their enthusiasm toward the season.
Of course, as a Lakers fan, what do I care? You're a genius, Danny Ainge! A genius!
Gerald Wallace to Portland. Joel Przybilla, Dante Cunningham, Sean Marks and draft picks to Charlotte.
There had been rumors about the Blazers going into fire-sale mode, which would have been a disappointing conclusion to a competitive campaign in the face of injuries. Instead, they decided to reload. Wallace represents a major (and pricey) commitment, plus a terrific hedge in case Brandon Roy can't finish out the season.
"Crash" is an athletic, versatile wing capable of getting up and down the floor in a flash. As the Lakers learned the hard way on Wednesday, Portland can be a deadly team in transition with Andre Miller running the show. A natural small forward, Wallace is comfortable at the 4 if the Blazers go small, which is often the case when LaMarcus Aldridge plays center. Plus, he joins Nic Batum (likely to play off the bench) and Wesley Matthews as capable defenders to throw at Kobe Bryant. Teams can never have enough of those sorts.
Are there risks? Sure. With Przybilla and Cunningham out the door, the options down low become Aldridge and ... well, Aldridge, unless Marcus Camby is healthy, which is always a crap shoot. I mentioned how the Blazers often go small with Aldridge at the 5. This swap might make this a permanent lineup, which could be taxing for a player who was paint-allergic before this season. Maybe the Blazers find a street free agent, but the replacement options of impact are likely few and far between. Unless Camby can pull his weight, their frontcourt vulnerability will inevitably present issues.
Still, the Blazers have given the Lakers fits over the years and the Bobcats, led by Wallace, have done the same. Those elements combined could make for an interesting first-round series.
Knicks get Carmelo Anthony, Chauncey Billups, Renaldo Balkman and Anthony Carter. Nuggets get Danilo Gallinari, Timofey Mozgov, Ray Felton and Wilson Chandler.
The Nuggets, a team the Lakers ousted in two of the past three postseasons (with these playoffs an opening-round possibility) are now a radically different team. They no longer feature a go-to scorer in Carmelo, nor a go-to leader in Billups. On the court and mentally, it's a huge adjustment. Who the offense will now revolve around is a mystery -- J.R. Smith and Ty Lawson feel like the most logical candidates -- but nobody remaining is an established, dependable option.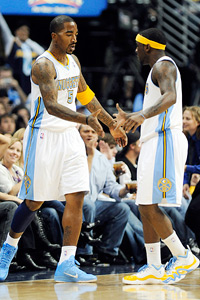 AP Photo/Jack Dempsey
Can Swish and Ty carry the load?
Given the tight race among seeds 5-9, it's hardly impossible for the absence of Melo and Mr. Big Shot to drop Denver -- currently the sixth seed -- out of the playoff race.
Then again, there may be a cathartic benefit from escaping the saga that was Carmelo Anthony's painfully slow relocation. This felt like a never-ending story from the outside looking in, so one only imagines how much it drained the actual players involved. Being able to breathe again might pay dividends, offsetting some of the inherent chaos. Along those lines, it also may be helpful that four of the players arriving have spent nearly 60 games together. Or a few seasons, in the case of Chandler and Gallinari, who also spent two seasons playing with Al Harrington in New York. Continuity is a huge asset for chemistry, and that many players familiar with each other could be the difference between some semblance of order and 48 minutes of bumping heads.
Either way, I can't see the Nuggets posing any threat to the Lakers in an opening-round series, but it would be inspiring to see them salvage the immediate post-Melo aftermath.
Nets get Deron Williams, Jazz get Devin Harris and Derrick Favors, plus draft picks and cash
The Bizarro-Melo trade. Nobody, and I mean nobody, saw this one coming.
Mikhail Prokhorov's stealth move is fascinating on several levels. It's a shot against the Knicks, who Prokhorov openly admits paid an asking price for Melo that his franchise purposely drove up. Feuds between owners are rare, but it's officially on between the Russian and James Dolan. Williams alone isn't enough to make the Nets contenders (or even get them into the playoffs this season), but his presence makes them that much closer. Not to mention, a potentially more desirable landing spot pre-Brooklyn. I'm very curious to see how the offseason treats them.
And for Lakers fans who felt Jordan Farmar looked a gift horse in the mouth, he's gone from backing up Derek Fisher on a championship team to backing up Harris on a lousy team to backing up Williams in a role likely to decrease. The triangle ain't looking so bad right about now.
As for the Western Conference implications, Utah is already on the outside of the playoff race, and I can't picture the Jazz making a push without injuries plaguing the teams they're chasing. Harris is good, but nowhere remotely in D.Will's class. I suspect Favors may play better while existing as more than trade bait, but he's still an inconsistent rookie. The Jazz have lost four games since Jerry Sloan resigned and this latest development can't make life easier. My guess is they're toast for the playoffs.
Considering how easy an out they've been for the Lakers in three consecutive postseasons, is that necessarily a good thing?
Clippers: Mo Williams, Jamario Moon
Cavaliers: Baron Davis, an unprotected first-round draft pick
Wow! Just ... wow!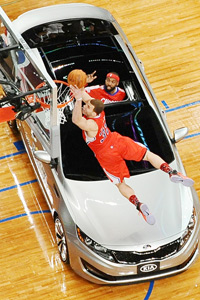 Noah Graham/NBAE/Getty Images
At least Baron left on a high note.
Similar to how I've touted Blake Griffin as MVP by virtue of making Davis try again (so many tried and failed), Neil Olshey is the GM of the Year by virtue of trading an exceptionally unappealing commodity. Even crazier, to a horrible team that's an awful match. The Cavs are horrible, knee deep in a rebuild project destined to take years. Byron Scott butted heads with Davis in New Orleans. Cleveland offers zip in the way of the glitz he loves. Davis will hate being a Cav, and the last two seasons in L.A. provided an ugly snapshot of his reaction to such situations. I wouldn't be shocked if he's already gained 15 pounds from "spite" eating.
Yes, Cleveland landed a high draft pick, but the 2011 class is regarded as weak and the Cavs are already guaranteed a quality pick by virtue of their lousy record.
As for the Clippers, they now truly belong to Blake Griffin and Eric Gordon. This was a necessary step, impossible to make with Davis still on board. Part of that transition involves a bigger stage for Eric Bledsoe, but really, it's about cutting bait. Baron is too big a personality to remain happy with an increasingly marginalized role, and too unreliable even if content. It's one thing to be injury-prone. It's another to let your body go like clockwork every offseason. Davis' conditioning issues were arguably the biggest reason for a 1-13 start likely dooming any playoff chances. Would you count on him learning his lesson and putting this summer to constructive use?
Neither would I.
Williams has been a horribly overrated player, the most egregious All-Star since Jamal Magloire in 2004. In terms of pure talent, he's a downgrade from a motivated Davis, particularly when it comes to throwing alley oops for Griffin. But he will adjust and bigger picture, less is more. If the addition by subtraction doesn't improve the Clippers this season, I think it will pay dividends next season and beyond, which obviously affects the Hallway Series moving forward.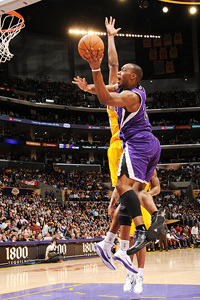 Andrew D. Bernstein/NBAE/Getty Images
Can Carl Landry elevate the Hornets? Or CP3's spirits, if nothing else?
Kings get Marcus Thornton/cash, Hornets get Carl Landry
The Kings are a bad team at the moment, and Thornton's arrival won't change that. And unless he has long fostered a desire to play in Anaheim, this could mean nothing tangible down the road. Who knows how long he'll even be around.
Landry in the Big Easy, however, will get the attention of the Lakers, who'd meet the Hornets in the first round of the playoffs if today's standings held. This was a really nice pickup for New Orleans, immediately improving a bench coach Monty Williams conceded was "one of the worst" in the league. The reserves now have an established scorer, a guy with a particular proclivity for fourth-quarter points. Landry is also famously tough. Chris Paul appreciates these types of dudes, and everything in New Orleans these days revolves around making CP3 happy.
Landry's arrival is the latest example of the Hornets' commitment to building a winner around the All-Star. Perhaps enough of these gestures will prompt Paul to resist moving, which would obviously affect the Lakers.