When Kobe Bryant passed Hakeem Olajuwon last January on the all-time scoring list, it wasn't just a climb up the ladder. It marked the start of quest to slay giants. With the exception of a certain two-guard compared to Bryant roughly every six seconds, the remaining targets are all big men. Kareem. Malone (Karl). Wilt. Shaq. Malone (Moses). And now Elvin Hayes, brushed aside by a floater banked off glass at Nick Collison's expense.
Two all-time greats, with commonalities beyond their ability to fill up a bucket. Like Bryant, Hayes was no stranger to controversy over the course of his career, and according to his NBA.com bio, several issues ran parallel with problems plaguing Kobe at some point.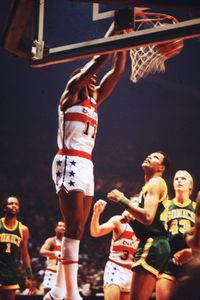 Kevin Reece/Icon SMI
Elvin Hayes was a great player, if not always the easiest to deal with.
Hayes had a horrible reputation for clashing with coaches (including Tex Winter, who certainly knows a thing or two about Kobe's strong willed nature). Upon getting traded to the Washington Bullets, his relationship with Wes Unseld (who beat Hayes for 1969 Rookie of the Year honors) was productive enough to secure a 1978 championship, but the two didn't get along away from the hardwood. Kinda reminds you of two L.A. superstars between 1996 and 2004, but with more hardware. The war of words between Kobe and Shaq sometimes got ugly. Hayes had harsh things to say about Unseld, along with most of his teammates, whom he often alienated throughout his career. The guy had a habit of blasting shortcomings in a way that made Kobe's 2007 Radio Tour look tame. Hayes could be obstinate at times seemingly for the sake of it, which detractors have certainly said about Kobe over the years. Ditto the criticisms about shooting too much.
Of course, the comparisons between The Big E and The Black Mamba don't form entirely parallel lines. Hayes never really shook his problematic reputation. Bryant reinvented his.
Kobe did more than simply bury the hatchet with Phil Jackson. He built an exceptionally strong relationship. Hayes doesn't seem the type who could eventually becomes confidants with a coach who described him as "uncoachable" in a book.
Kobe's "Black Swan" comments about Pau Gasol struck some as a bit of a dig, but there's no denying the uptick in El Spaniard's performance after this conversation, one of many this season where Kobe has taken time to remind his power forward how great he can be. He's championed Lamar Odom as an All-Star. He's taken Shannon Brown under his wing. Matt Barnes and Raja Bell were recruited, despite high profile dust ups. He's not a perfect leader, but there's no denying his evolution. Likewise, Kobe will never be everybody's universal cup of tea to play with, but he's now an easier teammate to relate towards.
Greatness isn't simply about talent, but how talent is applied. Year by year, Kobe and this reality enjoy a bettered coexistence.