Four in a row. The Lakers should have lobbied for the All-Star break to commence in January. We'd have gotten some worries out of the way a long time ago.
The Good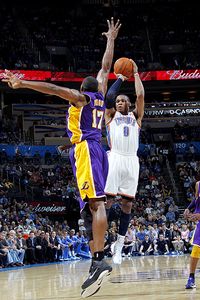 Layne Murdoch/NBAE/Getty Images
The long arms of Andrew Bynum were a force defensively Sunday afternoon. He blocked five shots, and altered countless others.
Pau Gasol
It was a terrific all around game for El Spaniard, who was key in helping the Lakers remain in the game after the Thunder got off to a hot start. 13 points and six rebounds, with baskets coming from inside, outside and all points in between. He finished the game with 18 points and 11 boards, five of which came on the offensive glass. His impact was also felt on the defensive end. Shots were contested all night, and he drew a massively important charge against Russell Westbrook under the rim with 17 seconds left in regulation.
Andrew Bynum
Among the best two-way games Bynum has played all season. Not to mention the most alert. 16 points and 10 boards are terrific stats, but they don't tell the story of Bynum's active intelligence. He made a point of maintaining continual motion towards the basket, a big reason teammates kept finding him for buckets or a team-leading eight visits to the stripe. And defensively, he was off the charts. Five blocks, including a spectacular swat of a Serge Ibaka jumper in space. Even for a player of Drew's length, Ibaka ain't the easiest player to send back. And when Bynum couldn't touch the ball, his wingspan successfully managed to alter other shots.
Kobe Bryant
It wasn't always the prettiest of games for Bryant, who missed 14 of his 22 shots, got stripped on a few occasions while over-dribbling, and seemed too caught up at times with the proverbial battle within the battle. In particular, the obsession with proving James Harden couldn't guard him was obvious.
But at the same time, Bryant racked seven assists and played a big part in the Lakers taking 18 free throws. His passes were often the ones leading teammates towards the cup for fouled shot opportunities, which offset being awarded zero himself. (Kobe's visible frustration over the lack of love was certainly warranted on a few possessions.) Defensively, he drew a big charge against a driving Russell Westbrook (slowed to better effect in the second half) and did nice work checking Durant on a few occasions in the fourth quarter.
Oh, and that turnaround jumper to ice the game? Pretty sweet. Kobe remains a pretty handy dude to have in your back pocket.
Congrats are also in order for passing Elvin Hayes for seventh place on the all-time scoring list.
Ron Artest
His "Dribble-Dribble" persona surfaced at unfortunate points, but all in all, it was another strong effort from a key player showing steady signs of life. 10 points on 50 percent shooting, which will always be gladly accepted from Ron-Ron. In the meantime, the defensive presence he's expected to provide was in full effect. Once again, Durant simply can't explode against him. 21 points on 20 shots, with a reasonable six trips to the line. More importantly, Artest really messed with the scoring machine's rhythm as the game wore on. According to ESPN Stats and Information, Durant missed six of his eight shots in the second half with Artest the primary defender.
Artest also got a huge steal with 49 seconds remaining, and did a nice job harassing and deflecting passes. More and more, Ron is looking like himself again.
Lamar Odom
His overall performance featured some hiccups, most notably two missed free throws with 10 seconds left, which allowed the Thunder one last shot to stay alive. But he also took the game over in the second quarter after the Thunder built a double digit lead in a flash. A baseline J and a buzzer-beating trey were canned. After corralling an OKC miss, he hit Shannon Brown in stride for a layup in transition. Another bullet pass inside set up Andrew Bynum for an easy make at the rim. And after a few possessions where Harden got the best of him on drives to the rack, a charge was drawn against the bearded reserve.
The rest of his afternoon featured good moments, but his work in that second frame prevented a bad stretch from spiraling out of control. Don't let a relatively modest 9/7/5 line fool you.
Second half defense
After a first half allowing their hosts far too many scoring opportunities (more on that later), the Lakers clamped down to make life uncomfortable for the young upstarts. The Thunder finished the game shooting just 44.7 percent, a massive drop from their gaudy first half numbers. Big plays were made throughout, especially in crunch time when they counted the most.
The Bad
First half defense
Interestingly, for a game feature several great individual performances on lockdown, it added to very little in the first half, especially over the opening 24 minutes. The Thunder scored 56 points over the first two frames to the tune of 61.1 percent shooting from the field. The three point line was also left vulnerable, allowing Thabo Sefolosha and Daequan Cook to do damage.
In particular, Russell Westbrook was going wild, controlling the action like a puppet master with strings. 17 points on seven-of-10 shooting, with particularly fruitful residence taken on the right elbow. Five assists. The sustained ability to scramble the first and second line of Laker D. It's no coincidence that once he slowed down in the second half, so did the Thunder.
Even the positive aspects of their first defense weren't exploited. The Lakers forced nine turnovers, but earned just five points from the new possessions.
Outside shooting
The scorching success from downtown after the All-Star break shouldn't necessarily be expected, but then again, neither should 26.7 percent success. Failing to meet somewhere in the middle prevented the Lakers from pulling away after the defense was finally cranked up.