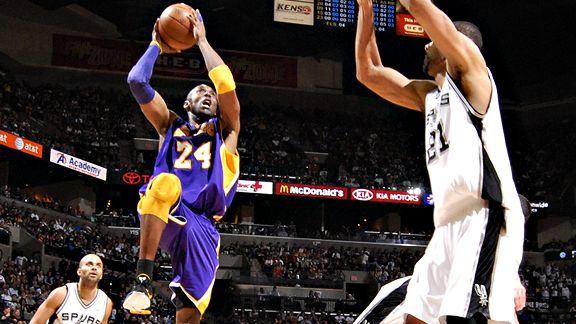 D. Clarke Evans/Getty Images
Kobe Bryant busted out of his season-long slump vs. San Antonio, and the Lakers delivered a dominant defensive performance Sunday against the Spurs.
It's a stretch to say the Lakers have somehow been written off in the national conversation about this year's NBA champion, not when seemingly every opposing player and coach, along with substantial portions of the media, consistently refer to them as the team to beat. Still, for much of the season, the "What's Wrong With the Lakers?" drum has taken plenty of abuse.
Happily enough for the purple and gold, the answer since the All-Star break has been "Not much." Certainly not Sunday afternoon in San Antonio, when the Lakers went into AT&T Center, a building in which the Spurs have lost twice this season and not at all since November, and totally obliterated them to earn their seventh straight victory.
There have been plenty of times this year when the Lakers have played well -- road wins in Boston and Oklahoma City come to mind -- but none in which they managed together the total package on offense and defense quite like this. Particularly in the first half, when they shot 56 percent while holding their hosts to 35. More importantly, whether it was Ron Artest flexing to the crowd and kissing his biceps after swatting a George Hill corner 3 or Kobe Bryant exchanging some words with fans after sticking a 3 of his own in Manu Ginobili's face, L.A. showed genuine swagger for the first time this season.
It was the sort of attitude springing from top-shelf play on the floor, as opposed to the assumption it would come (the type too often displayed earlier in the season).
Bryant rejected the idea his team sent a grand message to the Spurs. "We know we're capable of having games like this, and I think San Antonio knows we're capable of having games like this. It just as easily could go the oother way around," he said. "We know each other extremely well. We know what we're capable of, we know what they're capable of. I don't think it was that big of a message that we sent today." As Bryant notes, both teams are too smart, too veteran, to read that much into one game, even if that game is a potential preview of the Western Conference Finals.
But does indicate the high level of play put forth by the Lakers since the break isn't a mirage. This looks very much like a team rounding into playoff form.
Here's how it broke down:
Highlights
1. Andrew Bynum. Friday night against Charlotte, in grabbing 17 boards, blocking five shots, and altering countless more, he showed how capable he is of controlling games even without scoring much. Sunday, Bynum proved the same point to San Antonio. On the afternoon, he scored four points on two shots, and didn't shoot a free throw. Still, Bynum was the team's catalyst early, rising for an offensive rebound off a Derek Fisher miss and throwing it down for L.A.'s first points. On the other end, he blocked Ginobili inside, then quickly earned more offensive boards for Lakers second-chance points.
Over the first 12 minutes, Bynum grabbed eight rebounds (four offensive) and blocked two shots, and was a major reason the Spurs shot only 27.3 percent. He'd finish with 17 rebounds and three blocks. Best of all for Lakers fans, Bynum's mobility around the basket continues to improve, as does his ability to make that "second jump" -- getting back off the floor after an initial contest or attempt at a rebound.
Most encouraging for Lakers fans, Bynum seems to embrace the role he's played so well over the last seven games, trading scoring for presence. "This team is going to win regardless of if I get 15 points or if I get four points. That's the kind of team we are," he said. "But this team won't win if we don't have defensive toughness on the inside. I just think that's the biggest thing I can bring."
2. Kobe Bryant. When he missed his first three shots, it looked like San Antonio might shut Bryant down again, as it had done in the two previous meetings between the teams. Then, he ripped off four makes in his next five tries to scuttle that notion. Bryant was effective outside and inside, frequently working Hill on the block when the Spurs were reluctant to send help. He hit tough jumpers with hands in his face, and stuck them from different spots on the floor. And while Bryant didn't spend much time at the line -- L.A. didn't need the stripe this afternoon, shooting only 10 free throws as a team -- he moved effectively off the ball, and the Lakers found more ways to get him the ball later into possessions, rather than relying solely on isolation or pick-and-roll sets in which he initiates the offense.
One particularly clever trip saw Bryant run off the baseline from the weakside, using screens from Pau Gasol and Bynum to rub out any potential interference in his catch-and-shoot jumper. He was great in the pick-and-roll, too, moving the ball well and finding open teammates, but when the Lakers can deploy him with variety and Bryant hits his shots, they're tough to cover.
Add in some very aggressive work on the glass, and it was a strong afternoon for Bryant. 26 points on 12-for-25 shooting, plus seven rebounds, five assists, and a steal.
3. Pau Gasol. He showed the full range of skills Sunday. When his man conceded the elbow jumper, Gasol took it without hesitation, and generally converted. When help came, Gasol found the open man, as it was near the end of the first half when he took the ball in the high post, dribbled left into the lane and floated a great pass over the top to a wide-open Derek Fisher for one of L.A.'s seven first-half 3-pointers.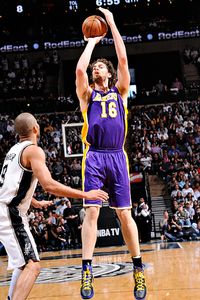 D. Clarke Evans/Getty Images
Pau Gasol was sharp with the jumper, and moved the ball well Sunday afternoon.
And in perhaps the best sign the game belonged to the Lakers, Gasol opened their second-quarter scoring with a clean 3 from the right corner, his first triple of the season.
He finished with 21 points and five assists, plus six boards, a block, and a steal.
4. Defense. I mentioned already San Antonio's first-half shooting percentage. Some of that is based on poor shooting -- almost always in the NBA when figures get that low it means a team missed open shots -- but give serious credit to the Lakers. They closed on shooters, generally did well limiting second-chance points, and while Tony Parker was reasonably effective as a scorer, the Lakers completely eliminated Ginobili and, as it was in the last meeting at Staples Center, Tim Duncan as factors in the game. Those two combined for only four buckets on 17 tries.
More importantly, the Lakers were able to take one of the league's best offensive teams and totally remove any flow and ball movement from its attack. San Antonio finished with only 14 assists. Even better, by taking great care of the ball at the other end (six turnovers) the Lakers limited easy run out opportunities for a Spurs team having a great deal of success this year in transition.
"We were very unselfish defensively. We covered for each other. We didn't care about guarding our man individually," Bryant told ABC's Lisa Salters after the game. "We did it collectively, and that was the key."
5. And so on ... I don't want to offend anyone on such a happy afternoon for Lakers fans, but working under a deadline means whipping through some other numbers like an actor might names in an Oscar speech: 26 assists on 42 field goals. Shannon Brown rediscovered his jumper, hitting 6 of 10 shots from the floor. Lamar Odom was great, scoring 15 points and adding six dimes. Matt Barnes, in his first game back following knee surgery, seemed to move well, showing his trademark hard cuts to the bucket.
Lowlights
1. Late Letdown. Phil Jackson had his starters in late, ostensibly to send a flagging second unit a message. Other than that? Hard to argue with anything the Lakers did Sunday.
Much more to come ...