Welcome home, purple and gold.
The Lakers very successfully worked their way through a tough four-game road trip, winning three and peforming reasonably well in the other. They've ripped off nine wins in ten tries since the All-Star break, generally against very high level competition. Now they won't play a game outside Staples Center until next month, a seven game run of home cooking providing an opportunity to boost their place in the standings.
The schedule doesn't just favor them in terms of location, but timing. The Lakers get three days between Monday's game against the Magic and Friday's tussle with Minnesota. Not a bad way to start a homestand. Here's what to watch for...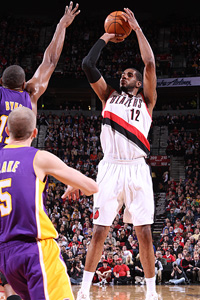 Sam Forencich/NBAE/Getty Images
LaMarcus Aldridge has been spectacular for Portland this season, filling the void created when Brandon Roy's knees went south.
Game of the Week
Sunday vs. Portland, 6:30 pm PT
Since the break, the Lakers have taken a tour of possible playoff opponents, from potential Finals foe (Miami), Western Conference Finals (San Antonio), Western Conference Finals, Upset Version (Oklahoma City), second round (Dallas), and first round (Portland). Sunday afternoon, the Lakers get another crack at the Blazers, following an epic OT battle at the Rose Garden February 23rd. In that game, L.A. got 24 points from Ron Artest and 37 from Kobe Bryant, offsetting 29/14/3 from LaMarcus Aldridge.
That night, though, Portland was without Marcus Camby, and more importantly hadn't yet acquired Gerald Wallace from Charlotte in a huge deadline day deal.
Portland is 4-4 with Wallace in the lineup. He's had great games, and clunkers. Currently, Nate McMillan has him coming off the bench, and while the minutes have been reasonably large (around 32 in Portland after averaging 39 on a weaker Charlotte team), Wallace is adjusting to teammates adjusting to him, all while Portland adjusts to losing size up front in Joel Przybilla, sent east to the Bobcats in the exchange.
It's a lot to take in so late in the season, but by Sunday Portland will have had three more chances to iron out the wrinkles with home games against Dallas, Cleveland, and Saturday night vs. an increasingly impressive Philadelphia squad.
The re-made Blazers don't have much depth remaining in the frontcourt. Aldridge has been absolutely unbelievable over the last few months, and Camby, when healthy, remains a weakside shotblocking presence and serial eater of glass. But after those two, their only remaining player over 6'9" is Jarron Collins. They are, however, rich in versatile wing and backcourt players offering McMillan a variety of available lineup combinations. Wallace and Nicolas Batum are both athletic, long armed defenders, and while he's not the tallest guy in the world, Wes Matthews is very strong on that end, as well. All are likely to see time against Kobe Bryant.
Andre Miller still gets it done at the point, and Rudy Fernandez has had strong moments this year. At this point, Brandon Roy, back but still recovering from surgery on both knees earlier in the season, needs only to contribute, not fuel the engine.
It'll likely to have the feel of a playoff game, not just because the teams could meet up next month or because both are still jockeying for position on the Western Conference playoff ladder. No team in the league plays slower than the Blazers (88.4 possessions per 48 minutes), who grind down games helping protect middle-of-the-road production in both offensive and defensive efficiency. Like the Lakers, Portland is effective on the offensive glass (4th in ORB%) and takes care of the ball (5th in turnover percentage).
Other Games
Monday vs. Orlando, 7:30 pm (ESPN)
It seems like a long time ago, but L.A.'s visit to Orlando before the break started a three-game losing streak capped by the Cleveland debacle fans found, oh, we'll say "upsetting," as the Lakers hit the break. Just as it was heading into the first matchup, the Lakers are playing better ball. This time, though, it seems more sustainable.
The big question, of course, surrounds Bryant, and whether he'll play after spraining his left ankle Saturday in Dallas. Sunday afternoon, Phil Jackson said Kobe will suit up if he's capable, but we may not have an answer until game time. Last season, the Lakers went 6-3 in nine games without Kobe. I asked Jackson how they were able to find success without him.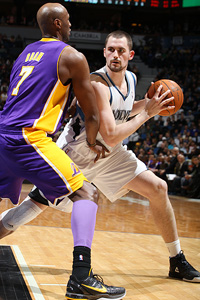 David Sherman/Getty Images
The Lakers have had their way this season with Kevin Love.
"We ran our offense," he said. "It's that simple."
Whether Bryant plays or not, the Lakers will look to rebound from one of their worst offensive performances of the year. 75 points, highlighted- if that's the right word- by a two-of-16 performance from beyond the arc. A pre-renaissance Andrew Bynum had a strong first half and overall line, but wasn't much of a factor over the final 24 minutes. His matchup against Dwight Howard will likely be the focal point, whether Bryant plays or not.
Much more on this one to come.
Friday vs. Minnesota, 7:30 pm
The Lakers kicked off March with an ugly win over the Wolves at Target Center, one in which the Lakers struggled mightily to score against arguably the worst defensive team in the league, but D'd up among the NBA's higher scoring, fast paced (though totally inefficient) offenses. Not much has changed in the two weeks or so since the last meeting, save perhaps an increase in chatter regarding Kurt Rambis' job security. The Wolves are still very bad at just about everything done on a basketball court, save rebounding generally and offensive rebounding specifically, thanks to Kevin Love, their fast pace, and the fact they miss a tremendous amount of shots.
Unfortunately, one of the more potentially interesting side plots of a game not exactly ripe with them won't come to fruition. The Lakers have been extremely effective against Love this year, making a double-double for the UCLA product no sure thing. Alas, Love's epic 53 game streak came to an end Sunday night against Golden State.