The post-All-Star victory train, she continues chugging along. Here's a look at the next three scheduled stops.
Game of the Week
Sunday vs. Hornets, 6:30 pm
This contest doubles as the best competition the Lakers will face and, should the standings hold, a preview of their first round matchup. As we discussed in the most recent podcast, among the potential candidates (the Blazers, the Grizzlies and potentially the Nuggets), N'Awlins strikes me as the most ideal draw for L.A. In nearly every facet, the Lakers have them bested.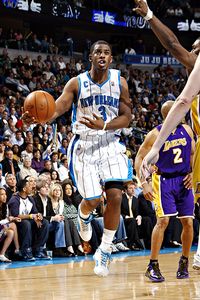 Layne Murdoch/Getty Images
CP3 would have his work cut out for him carrying a playoff upset against the Lakers.
- David West is an All-Star caliber power forward, but Pau Gasol is an actual All-Star and more accomplished. In their last meeting, El Spaniard matched West bucket for bucket in a first half shoot-out before eventually getting his adversary into foul trouble. Skilled as he may be, over the course of an entire series, Gasol's superior size -- much less the skill set -- should be too much for West to handle.
- Emeka Okafor is solid rim protector and rebiunder, but nowhere near Andrew Bynum's class. And once you factor in respective capabilities with the ball in their hands, the matchup grows quite lopsided.
- Newly acquired Carl Landry provides an oasis for a bench previously bone dry of scoring options, and he's given the Lakers fits in the past. But in a battle of sixth men, wouldn't you rather have Lamar Odom?
- Trevor Ariza plays quality defense, but doesn't change the entire tenor of games the way Ron Artest can. And in the meantime, his work offensively -- 38.6 percent from the field. 29.5 from behind the arc -- has been disastrous. (For those still trumpeting the 2009 Finals to perpetuate the myth of Ariza being a great shooter, it's time to let go.) Ron-Ron may be a blocked layup waiting to happen, but if nothing else, he takes fewer shots and drains more.
And so on and so forth...
At the end of the day, the Hornets live and die by Chris Paul, and as great as CP3 is, it's hard to imagine him carrying 4-7 victories against the Lakers. (Yes, D.J. Mbenga knows the defending champs inside and out, but even that ace in the hole may not be enough to tip the scales.) With the season series 3-0 in the Lakers' favor, New Orleans has one more chance to disprove my calm nerves towards a postseason showdown.
Other Games
Tuesday vs. Suns, 7:30 pm PT
Throughout his time in Orlando, Marcin Gortat openly insisted he was capable of doing more than spell Dwight Howard for 12-15 minutes a night. That Orlando opted to match an offer sheet from Dallas only exacerbated The Polish Hammer's frustrations. But upon getting shipped to Phoenix this season, Gortat has made good on his confidence.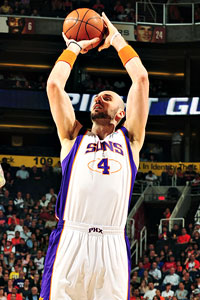 Barry Gossage/NBAE/Getty Images
It's been nothing but sunshine (literally and figuratively) for Gortat since getting traded to Phoenix.
Robin Lopez has been reduced to a starter-in-name-only at center, with his PT gobbled up by his reserve. Gortat is averaging a career-high in minutes (28.1), along with personal highs for points (11.9), rebounds (8.6), blocks (1.2) and most pertinent stats. Defensively, he leads the team in defensive plays per game (1.87) and his defensive rebounding (28.3) rate towers over his fellow Phoenician's. With those numbers laid out, it's no surprise his PER ranks just behind Steve Nash among current Suns.
Plus, Gortat is not afraid to absorb great vengeance and furious anger from Blake Griffin. Few if any players in the league attempt to pick up that particular charge. Huevos personified.
Does any of this put Gortat in Gasol's league? No, but The Hammer is probably playing well enough to make the Spaniard break a quality sweat. Bynum's suspension also aids Gortat's quest. Gasol is more or less the lone man in the middle come Tuesday, and as he admitted after Sunday's win over Portland, nearly 45 minutes of run ain't easy. On the plus side, International competition has familiarized Gasol with Gortat beyond the limited exposure in Orlando:
"I played against him last summer once and he had a good tournament there with his team. He's a solid player. He brings a lot of energy. He's got size. He's got pretty good skill and he can finish around the basket. Works hard. He plays good D. So he's a guy that you have to pay attention to."
Friday vs. Clippers, 7:30 pm PT
Despite the departure of Baron Davis, the arrival of Mo Williams (shooting 40 percent from behind the arc with his new team) and Eric Gordon healthy-ish again, the story will always center around Blake Griffin. Let's just be honest with ourselves. But as long as we're sharing truths, despite any inherent excitement provided by the inevitable Rookie of the Year, he's struggled mightily in games against the Lakers. Griffin's splits reveal a steady struggle in Hallway Series competition: 36.4 percent from the field. 18.7 ppg (nearly five below his average). An assist-to-turnover ration of 1:1.
Yes, he famously got the best of Gasol and L.O. down the stretch of the Clips' lone win this season against the champs, but on the whole, the Laker bigs (Bynum included) have done a fantastic job limiting Griffin's efficiency and effectiveness.
This track record lends itself nicely towards what's already been a tough March for Griffin's shot. That he's played often without Gordon may partially explain a 43.4 percent field goal percentage and 18.5 points (the worst of his monthly splits since November), but Sunday against the Suns, he sported a 33.3 percent success rate with his two-guard on hand. That absent touch should allow the Lakers to continue making him work extremely hard for whatever points.