Another week, another chance to keep the Victory Express a-rollin'? We shall see.
Game of the Week
Thursday vs. Dallas, 7:30 pm PT
The "both teams are jockeying for 2nd place in the west and a win Thursday essentially cements the Lakers' hold on the spot" angle has already been heavily examined and will undoubtedly be revisited before the tip off. Instead, I wanted to touch upon a pair of potential battles within the battle.
With the regular season chugging towards the finish line, that means awards talk is in full bloom. Some voters on the fence for various honors will often let a head-to-head matchup break the tie. I remember how a mid-April game between the Lakers and Hornets was cited by many in 2008 as the tipping point to vote for either Kobe Bryant or Chris Paul as MVP. Personally, I consider this approach an illogical and naked cop out for the undecided, as one game shouldn't take precedence over a seasonal body of work. But as a non-voter, I don't makes the rules. I just get to periodically shake my head at their application.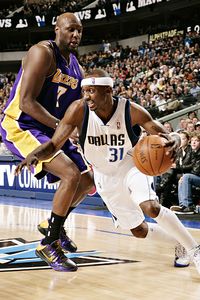 Glenn James/Getty Images
Could 6MOY honors be decided by this game? It's not out of the question.
With that in mind, Lamar Odom and Jason Terry are the respective leaders of the Lakers' and Mavs' benches, and considered serious contenders for sixth man of the year. Terry's pedigree includes the 2009 award and Odom's 34 games as starter for an injured/suspended Andrew Bynum will undoubtedly hurt his chances with some voters. However, LO's campaign seems to be gaining steam, and deservedly so. Lamar's numbers off the bench compare favorably to the prominent names (Terry, Jamal Crawford, Glen Davis, etc.), but his versatility and overall impact arguably bests them all. Plus, unlike anybody else in the field, he was in the conversation for the actual All-Star team, which should count for something.
In my opinion, LO should win, but I get the impression it's still a fairly wide open race. Absurd as it may be, outplaying Terry could swing momentum in Lamar's favor.
This game could also perhaps shift a few minds regarding Kobe in this season's MVP race. The general consensus seems to have him on the outside looking in, but should the Lakers maintain their torrid run since the All-Star break, it wouldn't shock me if Kobe -- your new Western Conference Player of the Week -- gained traction as a more "viable" candidate. Were this the case, a great performance in an important rubber match will certainly speak well to his credentials.
Other Games
Friday @ Utah, 7:30 pm PT
The Jazz are free fallin' like Tom Petty. As of this writing, they have three wins in March and riding a five game losing streak. Devin Harris and Andrei Kirilenko are both nursing injuries and their availability come Friday remains a mystery. Al Jefferson got (perhaps intentionally) tossed against the Mavs on Saturday, reflecting whatever frustration must be building over this tumble down the rabbit hole. My man Kyrylo Fesenko is logging sporadic minutes, despite his flair for comedy (intentional or otherwise) being needed now more than ever during these times of despair.
It's hard to think of any contest at Energy Solutions Arena as a potential "trap game," but that's the way things are shaking out at the moment. The Jazz are a mess, but the Lakers need to avoid viewing them as such.
Sunday vs. Denver, 6:30 pm PT
To put matters mildly, the Nuggets have been en fuego since jettisoning Carmelo Anthony. 32-25 before the All-Star break, they've since gone 12-4 and look increasingly like a team you'd just as soon avoid in the playoffs, thank you very much.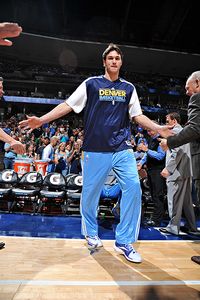 Garrett W. Ellwood/Getty Images
It's a new starting lineup and vibe for the Nuggets.
As I wrote at the time of the trade, the Nuggets surviving without their iconic superstar (not to mention their leader/quarterback in Chauncey Billups) wasn't impossible. The 'melodrama was draining everyone, and being able to breathe again increases functionality. Plus, a haul of (primarily) Wilson Chandler, Ray Felton and Danilo Gallinari isn't exactly chopped liver, and more importantly, it's a trio boasting familiarity with each other, as opposed to a bunch of random players joining up for the first time. Factor in how Al Harrington played with Chandler and Gallinari during his New York stint, and the "getting to know you" period is lessened that much more.
Having said all that, I never dreamed the Nugs would jump out of the gate this hot, nor improve themselves so dramatically. A gander at some splits reveal just how astronomically better things are going in Denver:
Denver pre-All-Star break
Points per game: 107.6
Field goal percentage: 47.4
3 point field goal percentage: 38.9
3 point field goals attempted: 20.6
Assists per game: 21.2 (17th)
Assist-to-turnover ratio: 1.50
Rebounds per game: 40.9 (19th)
Denver in March
Points per game: 109.3
Field goal percentage: 48.8
3 point field goal percentage: 41.6
3 point field goals attempted: 22.4
Assists per game: 25.5 (1st)
Assist-to-turnover: 1.76
Rebounds per game: 45.2 (2nd)
Obviously, this dramatic uptick doesn't mean Carmelo was holding the Nuggets back. He is, after all, an elite player who led Denver on a deep playoff run as recently as 2009. But at the same time, the improvement is not not about Anthony gone, either. After all, he took the most shots (19.3 per game) while connecting at just 45.2 percent from the field and 33.3 percent from behind the arc. In the meantime, his usage rate (32.58) was easily the highest, while his assist rate (10.83) ranks unfavorably across the entire NBA among folks getting significant run, much less his former team. (For that mater, he hasn't exactly greased the wheels for his new team, either.)
This increased team-wide efficiency reflects how the Nuggets now flourish as an ensemble. Assuming Chandler is healed up from an ankle injury by Sunday, the rotation runs ten deep, indicative of the way everyone has successfully pitched in without a true superstar player. Success against the Nuggets previously centered around how well Anthony could be defended, with the rest falling into place from there. These days, the Lakers will need to treat everyone on the court as a threat.