Because the Hornets are on the short list of potential playoff opponents for the Lakers, Sunday's game at Staples took on a little extra meaning. Pundits and fans alike looked for clues. For meaning. For lessons.
And I think it's fair to say we all learned a very important one: In a seven game series, the Hornets don't have a prayer of beating the Lakers.
Here's how it broke down...
Highlights:
1. Pau Gasol. Particularly with David West on the sidelines, the Lakers have an enormous advantage inside against a team like New Orleans. Emeka Okafor and Carl Landry are both undersized, and while Aaron Gray is bulkier off the bench, he's not very good. It's a game Gasol should dominate, and he did. In the first half, he scored in just about every way possible, whether running the floor to finish on the break, hitting from mid-range, or- best of all- absorbing contact inside from Landry and Okafor earning a pair of and-one opportunities. By the break, he'd converted six of his nine shots for 15 points, but perhaps more importantly hauled down nine rebounds on a night Andrew Bynum struggled to stay on the floor (see below).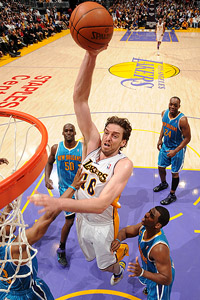 Andrew D. Bernstein/NBAE/Getty Images
Pau Gasol led the Lakers with 16 rebounds, adding an efficient 23 points and three blocks in Sunday's win over New Orleans.
Gasol was equally strong after the half, grabbing another five rebounds and scoring four points in the third, and finishing with 23 points on nine-for-14 shooting, plus 16 rebounds, 11 more than his closest teammate.
Defensively, Gasol was a factor, blocking three shots in the first half and altering many more.
2. Kobe Bryant (first half). Poor Trevor Ariza. He never seems to play all that well returning to L.A., and if his ugly history over the last two seasons wasn't burden enough, Kobe opened the game looking to light him up like a video game. After hitting a 21 footer to kick off the scoring night for L.A., Bryant worked things from mid-range, off the dribble, and stuck a couple J's in Trevor's grill. Bryant finished the first quarter with 11 points and a pair of assists. In the second quarter, Bryant aggressively attacked on the dribble, earning himself four three throws, while hitting a 16 footer and a nice turnaround off the glass from 12 feet. Eight more points, leaving him with 19 at the break on a tidy seven-of-12 from the floor.
Bryant also chipped in with one of the night's more memorable plays defensively, leaping to deflect then intercept a Chris Paul lob with the Hornets on the break.
Whatever mojo Bryant had in the first 24 minutes, he apparently left it in the locker room, as the third quarter was something less than the dictionary definition of efficiency. Even one of those bad dictionaries where words are misspelled. Two makes in 10 tries, including three bricks from downtown. That sort of thing will trash a guy's shooting line, and without question if one player is going to suck up so much offensive oxygen- as a team, the Lakers only had 24 FGA's in the quarter- he's obligated to make a few more. To his credit, though, Bryant made up for it down the stretch after re-entering the game with just under five minutes remaining in the fourth. Bryant converted inside, drawing the foul from Okafor, had a slick drive and dish to Lamar Odom for the baseline jumper, and drew Ariza's fifth foul to get himself back to the line.
I'll say Kobe has built up enough goodwill around these parts to let a bad quarter slide. He finished with 30 points on 11-of-25 shooting, and five assists.
3. Turnovers. Only nine for the game, helping keep an otherwise ordinary Hornets offense in check. As is always the case against inferior teams, taking care of the ball goes a long way towards securing a win. Tonight was no exception.
4. Defense. Had they done a better job securing the offensive glass- New Orleans finished with 24 second chance points on 17 ORB's, including eight for Okafor alone- the Lakers probably win by 28 instead of 18. But that aside, the Lakers did very solid work on their end. As a team, the Hornets shot only 40 percent, and while the Lakers had their standard problems containing Landry (a surefire HOF'er given 82 games a year against L.A.), they did a great job bottling up Paul.
With West out, containing Paul means containing the Hornets, and that's what happened. 10 points on 10 shots, only two trips to the line, and nine assists, below his average on the season. Add in only four points for Ariza, and a seven-of-26 night for the combination of Marco Bellinelli and Willie Green at shooting guard, and the near total lack of production from the Hornets backcourt becomes clear.
Lowlights:
1. Outside shooting. I noted NOH's problems on the perimeter, but the Lakers weren't any better. Three-of-17 from downtown (17.6 percent to you and me) had a dampening effect on L.A.'s O, particularly on a night where they were able to press their advantage inside. Knock down a couple more J's, and the path to the basket gets a lot wider.
2. Focus. In and out much of the night, and while the Lakers never relinquished control by any stretch, they allowed the Hornets to stay closer than required. L.A. seemed content to play from ahead, and hit the gas when necessary.
3. Andrew Bynum. He wasn't bad while on the floor, but just couldn't stay out there enough. Bynum lost time in the first half after drawing his third foul, then picked up his fourth in only 31 seconds into the second half, putting him on the bench for the duration of the third quarter. In the fourth, Bynum picked up his fifth foul on a flop from Gray so egregious soccer players around the world shared a collective chuckle.
Silver lining- that play seemed to motivate Drew, who basically abused Gray the rest of the way, scoring seven points in a decisive 9-2 run. Bynum finished with 13/5, plus a block, but it could have been a monster night.
4. The Bench. Odom was pretty good, but couldn't stay on the floor. After him, though, the performances weren't strong. Shannon Brown hit four-of-10 from the floor, but his shot selection was wonky and he frequently overdribbled. Matt Barnes missed four of his five shots, Steve Blake three of five. More significantly, the reserves weren't able to extend leads (too often doing the opposite).
It wasn't a disaster by any stretch, and to their credit the reserves, given an opportunity to do so by Phil Jackson, put their foot down in the fourth in the face of a dwindling lead, pushing things back out and allowing the starters to get a couple more minutes of rest. But overall, they were a weak point on an otherwise solid night.