It would have been nice to enter tonight's contest contest up two games in the loss column, but unfortunately -- and stop me if you've heard this one before -- the Clippers didn't handle their end of the bargain Wednesday at Staples. (I've never been the world's biggest Mo Williams fan, but as last night's ejection demonstrated, he's much better at keeping things organized during crunch time than Eric Gordon or Randy Foye.) Still, the Mavs will be playing the second end of a back-to-back while the Lakers compete on three days rest. Assuming rust isn't a factor, that edge in energy should be a nice asset for the Lakers.
As for other matters, here are a few other items to be mindful of once the ball is jumped.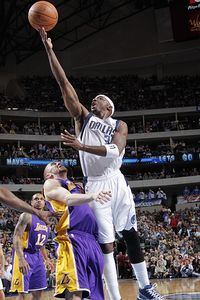 Glenn James/NBAE/Getty Images
Blake's ability to harass Terry could swing the final result and LO's 6MOY campaign.
Steve Blake's defense on Jason Terry
While examining this game in our "Week in preview," I mentioned how this game could be the tipping point for voters undecided between Lamar Odom and Jason Terry for Sixth Man of the Year. However, LO theoretically outplaying The Jet isn't simply a matter of his own numbers. Someone has to limit Terry's stats, and matchup-wise, that task doesn't fall on Odom's shoulders.
During times when it's second unit vs. second unit, checking Terry could fall on Steve Blake's shoulders. Based on the most recent meeting, the Laker reserve will be able to answer the call of duty. Blake's pesky defensive effort was a big reason Terry finished with just 13 points on 16 shots. He also stripped The Jet on a drive to the cup and generally discombobulated his rhythm throughout the night. This showing against Terry was indicative of Blake's game in general, which may have been his best in a Laker uni.
Mitch Kupchak recently appeared on The Stephen A. Smith Show and offered the following assessment when asked if he had faith in Blake for the postseason:
"Yes, I do. I know he's been criticized a little bit. Maybe for not scoring as much as people thought... (But) I think maybe the fact that Blake is out there looking to move the ball and do the little things has allowed Lamar to have the type of season he's had this year because Lamar brings the ball up the court a lot and acts as a guard."
It's not the first time the intertwined relationship between Blake and Odom has been acknowledged, and Kupchak is correct about the way subtleties often get lost in the shuffle when evaluating how teammates improve each other. Still, it would be great if whatever assistance Blake offers LO -- much less the Lakers -- is of the decidedly more tangible variety.
Versatile defense from Ron Artest
Dirk Nowitzki. Shawn Marion. Peja Stojakovic. Jason Kidd. All very different players with different body types, skill sets and on-court responsibilities. But despite those variances, There is another common bond between these Mavs: They're all players I could envision Ron Artest defending over the course of one game. And to great success.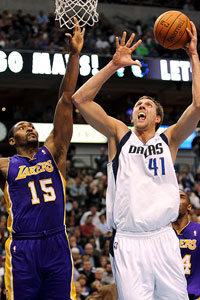 Win McNamee/Getty Images
Don't be surprised if Artest is challenging shots from Dirk.
There are several traits allowing Ron-Ron to be such a great defender: Smarts. Body control. Size. Strength. Lightning-quick hands. Respect from the referees. An intimidating reputation. These enviable weapons all rolled into one also explain why Ron is among the few players in league capable of shutting down dudes so varied as Eric Gordon, Carmelo Anthony, Michael Beasley and Blake Griffin, as has been the case this season.
Examining the Mavs roster, only the super-quick Roddy Beaubois and J.J. Barea (both too quick) strike me as scorers Artest wouldn't be asked to take a crack at. (Terry could be iffy with all the action run off screens, but a showdown still isn't out of the question.) Everybody else is fair game, both as an assignment and someone Ron could at least make work very hard for their points.
Defensive rebounding
In their last meeting, an outstanding defensive effort was tremendously offset by poor work on the defensive glass. The mavs netted 15 offensive rebounds, and the issue was particularly problematic in the first half.
Yes, by definition, holding a team to 43 percent shooting means misses, which means multiple chances for offensive rebounds. However, the Mavs are a bad team on the offensive glass -- whether measured by grabs per game or offensive rebounding rate -- which leads one to believe the problems centered more around the Lakers. There is simply no reason Brendan Haywood (for example) should grab four offensive rebounds in seven first half minutes, as was the case on March 12.
The Lakers can't allow a team fighting desperately for playoff seeding to hang around via second chance opportunities.