The axiom, applicable in politics and law alike, is never to ask a question if you don't want to hear the answer.
Apparently, this is the working principle for Kobe Bryant, as well.
After wrenching his left foot and ankle in the fourth quarter of Sunday's Game 4 loss to New Orleans- the team officially calls it a sprained ankle- Bryant sat out practice Monday afternoon to receive intensive levels of treatment (ice, massage, electrostimulation) and indications are he'll pass on any further testing, be it x-ray, MRI, blood sugar, or urine. "We're trying to convince him it might be a good idea," Phil Jackson said with a smile of the diagnostic exams (the first two, not the latter pair).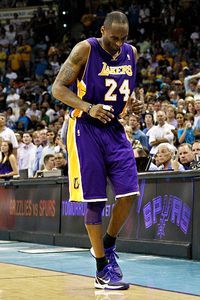 Derick E. Hingle/US Presswire
Apparently, Kobe can't be injured if pictures aren't taken to confirm it.
Is it one of those deals where Bryant doesn't want to know the answer?
"It doesn't matter. He's going to play anyway," Jackson said. "That's his answer."
For Kobe to eschew the doctor's office at the very least combines some of the more notable personality features of Dalton ("Pain don't hurt.") and The Black Knight ("It's just a flesh wound" mixed with a useful sense of denial). At the same time, rather than thinking Bryant believes the tests unnecessary because, as a guy who gets hurt all the time, his internal physician says nothing serious happened, I'm left with the opposite impression. He doesn't want them precisely because of concern the results would reveal a less-than-rosy diagnosis.
I certainly could be wrong- Bryant didn't speak to the media Monday, so we couldn't ask- and frankly would prefer to be. But we received no indication his condition had improved (Jackson said it was the same as Sunday night), and remember Bryant left the arena on crutches after Game 4.
Either way, it begs the question: How is this a good idea? I'm not saying the guy needs to spend the week at Cedars as a precaution, but how does it benefit anyone, Bryant included, for him to refuse information regarding the extent of his injury? Kobe is too important to the Lakers to screw around with something like this. Sure, short of really awful news, he'd likely try to suit up anyway, but why play the hand blind? What is gained? How does it help the training staff best prepare him for Wednesday's game, or treat the injury over time?
There are bigger picture questions. It's certainly possible he could take a relatively minor injury and turn it into something major either by playing on it, or even in not fully understanding the scope of the problem. A more significant injury could be made chronic. Keep in mind, beyond holding L.A.'s title aspirations in his hands for the next few seasons, he's also scheduled to earn over $80 million from the Lakers over the next three seasons. It's only fair to make sure he's not putting that cash and the organization's future plans at risk.
In the world of elite level athletics, feet are not to be trifled with.
If I'm correct, Kobe doesn't want to let doctors determine his availability for what is undeniably a critical Game 5 Tuesday night. I certainly respect his ability and willingness to play through pain, but quite frankly the Lakers are capable of winning this series without him. It wouldn't be easy, but they have the talent and have been successful in his absence before. What they can't do, though, is complete a title with Bryant in street clothes.
Again, there's nothing preventing Bryant from getting pictures taken, hearing the news good or bad, and deciding to play anyway. But willfully depriving himself of important medical information impacting not just him, but his teammates and the organization cutting his checks makes very little sense. There is no upside. It's not a commentary on Kobe's already unassailable dedication to winning a title, but a reflection of more stubborn aspects of his makeup.
I truly hope Kobe makes this whole essay moot by getting the foot looked at. Tonight. By a doctor (circumstances seem to demand I be specific). He doesn't even need to share the results- remember, Kobe managed to keep last season's playoff knee drains a secret for weeks, so it's certainly possible he could do something similar with this.
Just get checked out.
Click below the jump for today's practice video, including moving pictures from Jackson, Pau Gasol, Andrew Bynum, and Derek Fisher.
Bryant wasn't the only topic of conversation. Jackson also hit on a few other issues, from the team's defense in Game 4 on Chris Paul- their work (or lack thereof) in the first half on Carl Landry and Trevor Ariza bothered him more- to problems on the defensive glass, and the team's mental makeup.
They are, he said, a bunch with a tendency to use any available margin for error, but responding well once its gone.
Fisher, on losing Game 4, looking ahead, and seeing the first four games as part of a larger process:
The problems on the defensive glass, Bynum said, can in the end be attributed to effort:
Gasol, on the Game 4 loss, what needs to change, Kobe's ankle, and the challenges Landry and Ariza bring: