It was like a car crash, except nobody on hand wanted to watch.
Lowlights (and there were an awful lot to choose from)
First half defense
At times, the issues were understandable. For example, the overwhelming majority of shots Dirk Nowitzki drained. Pau Gasol, Lamar Odom and even Ron Artest each took cracks at The Big German, often with a legitimate body against his back or hand in his face. The dude has just been unconscious in this series, as one would typically label a guy hitting fade-away J's off one leg. At times, you just gotta tip your hat.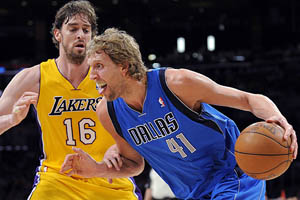 AP Photo/Mark J. Terrill
Kobe said after the game stopping this cat is the least of the Lakers' defensive problems. Scarily, he's right.
Then, of course, there were the possessions defending the pick-and-roll like it was the NBA equivalent of a Boise State football trick play. Or the time Odom left Dirk wide open at the arc to help Steve Blake trap Jason Terry along the sideline. The resulting trey was as predictable as your garden-variety Adam Sandler movie. Or the breakdowns resulting in uncontested Tyson Chandler thunder dunks. Or Pau getting caught in the air with two seconds on the clock, allowing Jason Kidd to pause, then absorb the contact for an easy three trips to the stripe.
The latter examples did a lot of damage, despite the tight score heading into intermission.
Bench
Well...
Shannon Brown had a first half sequence where -- on three straight possessions -- he got screened off while shading Jose Barea and was extremely slow to recover (Dallas bucket), then got called for an offensive foul trying to create space, then got screened off again while chasing Barea and recovered slowly (Dallas bucket). There were a few nice sequences for Brown, but all in all, he played so badly, he essentially got benched for...
Steve Blake, who had consecutive missed treys on two different second chance possessions, missed the rim entirely on another three-ball, and seemingly forgot how to pass. The degree to which he grew tentative with the ball was downright disturbing.
In the meantime, Matt Barnes had as many fouls (two) as shots attempted and missed, and Lamar Odom may have worked hard, but he also worked ineffectively.
Aside from that Mrs. Lincoln, how did you enjoy the play?
Offense
As the game continued, I kept rubbing my eyes and double checking to make sure that wasn't bunch of headless chickens in Lakers unis. Turns out, it was in fact the actual players, growing more disorganized and on tilt. During the second half, a combination of generally improved defense and sloppiness from Dallas created a chance to get back into the game. But as the old saying goes, defense wins championships, assuming you can actually put the ball in the bucket.
Pau Gasol
A few weeks before Kwame Brown was eventually jettisoned to Memphis in a game-changing trade for the Lakers, he was booed viciously inside Staples Center during a game where his play was incompetent even by his low standards. Even with Kwame, as walking a punchline as the NBA has seen in recent years, the moment was jarring, shocking and uncomfortable to watch.
Well, things done come full circle.
After missing a free throw line jumper, the boo birds let an All-Star suffering through his worst playoffs as a Laker hear it. (This after a first half where a buzz could be heard whenever Pau touched the ball, the fans clearly losing patience waiting for a break out performance.) Like Kwame, Gasol appeared to notice the jeers and played like a guy jarred by the reception.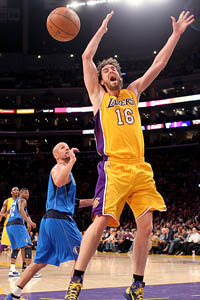 Stephen Dunn/Getty Images)
This visual pretty much sums up Pau's night and postseason.
Truth be told, I thought Gasol's first half was decent enough. He wasn't playing particularly well, but the focus and aggression often MIA throughout the postseason were there. But as the game continued, the disturbing sight of El Spaniard unglued resurfaced yet again. He couldn't hit jumpers. He couldn't hit anything at the rim. He couldn't even hit free throws. And the bad body language was simply off the charts. Gasol's teammates kept feeding him, especially at the game's outset, and he just couldn't deliver.
I asked Phil before the game if he was concerned about Gasol's state of mind, given his waning presence through the entire postseason (plus his regular season inconsistencies). PJ insisted this wasn't an issue. I didn't believe him then, and I certainly don't believe it now.
Free throws
Um, kids, they're called "free" because they're an opportunity, not because they're a gift horse to be looked in the mouth due to a low cost. Nine misses in 20 tries, indicative of a team tightening up.
Outside shooting
Congrats to anyone who picked "Kobe at the 2:42 mark of the fourth quarter" for the first Laker to hit a three-pointer. Until then, nothing but clangs. But on the plus side, at least they took 20 during a game where the inside attack initially paid dividends.
The Staples Center faithful
Look, y'all paid your money, and thus have every right to razz your two-time defending champs if you feel so inclined. But considering how out of sorts they were, the stakes at hand, and the obvious effect from the lack of support, I have to question the wisdom of crowds in this case. What exactly is being accomplished by turning your back on the team? If you're hoping the Lakers would eventually make a game of things, support is needed, even in the face of crappy results.
Maybe it's because I'm not a booer by nature, but I think a team coming off three straight trips to the Finals and two consecutive titles deserves better, even acknowledging how horrible they played. Especially since the effort wasn't in question. The Lakers may have been played poorly, but nobody phoned it in.
Again, I get it, but I don't get it.
Ron Artest's smack to Barea's face
Totally unnecessary, pretty bush, and given Ron's rep, it wouldn't shock me if he got suspended. Not what the Lakers need if they're gonna attempt to pull off the impossible. The incident completely undid what was an otherwise fairly solid performance.
Phil Jackson
I've seen teams that looked well prepared heading into a crucial playoff game. These Lakers weren't among them Tuesday night. Whenever a team collapses at such an epic level, the coach can't possibly go blameless. Phil has always been known as a master of motivation and reaching players. Clearly, he fell short heading into Game 2.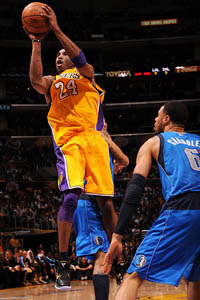 Andrew D. Bernstein/NBAE/Getty Images
Kobe's support tonight was disappointingly low.
Highlights
Kobe Bryant
A fantastic effort, whether measured by results (23 points, 5 steals, three assists that should have been at least doubled), approach (shots largely from 18 feet and inside, created effortlessly) and or intensity (easily the highest of any Laker). If the Lakers are going down --and that certainly appears to be the case right now -- Kobe was definitely up for an exit with his fists a-flying.
There are many folks who can be blamed for this loss. Bryant is not among them.
(Bonus points are also in order for the suit Kobe wore during the postgame presser, one of the best Brian and I have ever seen. Just incredible. Impeccable tailoring. Exceptionally fitted. I'm not even that into clothes, yet my envy of those threads could barely be contained. Well done, Mamba.)
Andrew Bynum
On a night where Kobe's designated "Robin" didn't show, the potential heir apparent for sidekick duties came on like gangbusters. 18 points on eight-for-11 shooting, plus 13 rebounds, seven of which came on the offensive glass. Drew also caught my attention on a possession where, in his best effort to play defensive captain, screens were enthusiastically called out behind Blake in a pick-and-roll situation. Why he only received three shot attempts in the second half is beyond me, and probably beyond him as well.
Still, the kid bounced back from a quiet Game 1, and was basically the only Laker not named "Kobe" or "Bryant" who truly came to play.