I come not to praise Pau Gasol, but I'm not here to bury him, either.
He was completely, unequivocally, and unacceptably bad throughout the postseason for the Lakers, not simply in a statistical sense, but in his ability to impact games, grease the offense, contribute on the defensive side, and more. In nine games, Gasol failed even once to meet his season scoring average, and shot an unbelievably un-Pauian 42 percent from the floor. Gasol is a four-time All-Star, a two-time champion, and a guy working towards a Hall of Fame career. It demeans him not to expect more than what he gave over the 10 playoff games the Lakers played this season.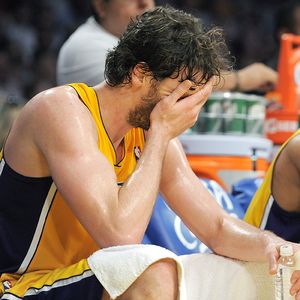 AP Photo/Chris Pizzello
The postseason for Pau Gasol was tough to watch. Even for him.
It's certainly nothing he doesn't understand, and why he knows the storm is here.
"With the player that I am and that I consider myself to be, there's going to come a lot of expectations, a lot of demands, and once those expectations are not exceeded or achieved then there's going to be criticism," he said Tuesday in El Segundo during his exit interview. It's also not his primary concern. "The thing that makes me the angriest is me not playing at my best. Me not being able to help my team accomplish its goals. That's what makes me the angriest."
Apparently not angrier than the torch and pitchfork crowd, clearly ready to storm the castle. At ESPNLA.com Tuesday afternoon, our "Hot Button" poll question asked, "Should the Lakers trade Pau Gasol?" Should. Sans qualifiers. No "If the perfect deal comes along, should..." or anything. Just "should," as in it ought to be done.
Wow.
I realize "Bust it up!" fever combined with still-molten anger over Game 4 and the Dallas series, plus legitimate disappointment with Gasol's playoffs skews the numbers, but still, half think he should go? Keep in mind, Gasol is a player who, in his most inconsistent, confounding season as a Laker still averaged 18.8 points, 10.2 rebounds, 3.3 assists and 1.6 blocks per game. He is a guy who, as Luke Walton told me Tuesday, busts out moves so quality guys watching from the bench have "Holy s--- this guy is good" moments with regularity.
A bad postseason undoes all the good work he's done for the Lakers?
Tuesday afternoon, Gasol delivered the most vehement denial of circulated girl-trouble rumors. He and his girlfriend are fine, and certainly haven't broken up thanks to Vanessa Bryant, he said. She's been with him, she's been at games. The pervasiveness of the rumors upset his girlfriend, stressing him in return, Gasol said Tuesday, but the stories, or at least The Story, aren't true. I believe him, while still believing through whatever combination of basketball and non-basketball related issues, he was mentally and physically fried following three straight seasons playing into June, on top of his international commitments, and the wear coming with it.
The signs were present almost from the start. One of the genuinely pleasant and genial people you'll meet anywhere, Gasol seemed for most of the season to be more distant and impatient. He felt deep into the grind long before guys usually get "that look." Much of this, though, misses the point. In the last 48 hours or so, we've spent far too much time trying to figure out why it happened- the gossipy theory serving not only to embarrass and weaken Gasol, but also promoting the concept of a badly fractured locker room- instead of trying to determine if he's capable of recovering.
To that end, we've all been here before.
Gasol took an enormous amount of abuse following the team's loss to the Celtics in '08, becoming the poster child for everything wrong with the team in that series (despite having a better run than people remember). Game 6 in particular stained Gasol, externally in the public perception of his game, but internally as well. He used it to his advantage. "I just kept that feeling of frustration and anger, and I kept it inside of me pretty much all next season long," Gasol said of that summer. "It helped me just push through things, and get myself working even harder and being 100 percent devoted and tuned in to what I need to do in order to help this team win a championship."
The next season, "he came back and was a beast," Walton said. Gasol averaged 18.9 points, nearly 10 boards, shooting nearly 57 percent. That postseason, those numbers rose to nearly 20 points per game and 11.1 rebounds, and he thoroughly outplayed Dwight Howard in the Finals.
This season's embarrassment could do the same. "I believe it'll help me come back a lot stronger, and come back ready to play some real basketball," he said.
Gasol referred to himself Tuesday following his exit interview as "an easy target." Can't imagine why. He's lanky, European, checks for blood reflexively on contact, and carries a pervasive "soft" tag only reluctantly set aside by some even after Gasol helped lead L.A. to three Finals appearances and a pair of titles, and quickly slapped back on whenever he has a bad game. Gasol is thoughtful and introspective. He's a well-rounded, technically proficient, skill based player in a sport favoring flash, and an intellectual in a culture preferring its athletes be cold blooded killers.
He's also one of the elite big men in basketball. Such players do not grow on trees.
No player is untouchable, including Gasol, and if the Lakers were presented with a deal too good to pass up, they should pull the trigger. However, the idea it's imperative the Lakers move him, that Pau Gasol is broken and cannot be fixed, is absurd. What better player could they get in return?
VIDEO...
Gasol, expressed his disappointment in how he performed individually and as a team: "Obviously I'm not happy. I'm disappointed that I wasn't able to perform at my usual high level. But obviously I'm not playing alone, but again it's time to analyze, to sit back and see what actually happened out there. Not just through this last stretch, but throughout the year. I think we really have to look deep into how we started, the stretches that we had, ups and downs, the meaning of them, and what we could have done better individually and as a team to be able to get stronger at certain times when we needed to."
Gasol on the rumors, how they impacted him, and his bad postseason:
On his disappointment in failing to provide a better exit for Phil Jackson:
On playing for his national team this summer:
Finally, Derek Fisher offered an impassioned defense of Gasol yesterday during his exit interview. "I feel like we- I don't read as much and listen to as much- no disrespect to any of you guys- as much of the news and articles and blogs and the radio and all those things, so I don't think I or we as a team fully understood the things that were being said about what people thought was going on with Pau. And so if anything I regret, I regret the fact that I was unable to fully understand it and appreciate it and speak up sooner on his behalf, to say that just I think it was ridiculously wrong to assume some of the things that were being assumed, and place the burden of how successful we were or were not on his shoulders."
Fisher said he didn't think it was fair to judge Gasol purely on his statistical output and decide he didn't play well (in that, I sort of agree... he can be judged in things that did and didn't appear in the stat sheet, all of which equal a very, very poor postseason), but also that it's not fair to blame the whole of the team's postseason's failings on him.
"Had we just kept winning, there wouldn't have been much for people to say. I don't know Jason Kidd ended up shooting for the series [vs. Dallas] but nobody's talking about htat because his team won four games. Statistics don't always tell you what's going on out there. I just think that Pau got way too much heat for statistically what he was or wasn't doing, and I just wish as a team we could have done more around him so that the burden wouldn't have just been all on his shoulders the way that it was," he said.
Here, his point is stronger. Gasol was a huge reason why the Lakers failed, but he wasn't the only one.