Even when the Lakers were playing well and a title felt possible, "Dwight Howard to L.A.?" was a common talking point among media and fans. So you can only imagine the traction this topic has gained since the Lakers were unceremoniously bounced by the Dallas Mavericks one round later than the Orlando Magic were eliminated. The din has grown so loud, Howard recently tweeted complaints about the Orlando Sentinel trying to "push him out of" town. (Sentinel writer Mike Bianchi acknowledged the paper's speculation about Howard's future, but correctly noted how several outlets, including ESPN, have also busted out Tarot cards.) Like it or not, the big lug has officially reached "water cooler" status.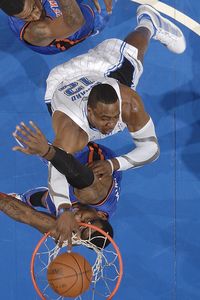 Win McNamee/Getty Images
Dwight Howard better get used to hearing his name pop up in coffee klatches.
With that in mind, here's a look at some of the commonly asked questions regarding a potential acquisition of Howard by the Lakers.
Conceptually, is Dwight Howard a good addition?
Well, let's see. He's the best big man in the NBA. He's the Defensive Player of the Year three seasons running. He placed only behind Derrick Rose in this year's MVP voting. He's coming off a postseason averaging 27 points on 63 percent shooting while essentially getting quintuple-teamed, plus 15.5 rebounds for good measure. He's only 25. And his body is every bit as indestructible as it looks. Of the seven games missed in seven seasons, two were due to a stomach virus and two were due to suspensions.
If you haven't guessed by now, that question was more rhetorical to create a headline than asked in earnest.
Obviously, Dwight isn't perfect. He shoots free throws like Orlando's last iconic center, is turnover-prone, and picks up T's like they're drinks at an open bar. But focusing on these traits is the equivalent of pointing out an angle where Gisele Bundchen merely looks like a model, rather than a supermodel. Even acknowledging Howard doesn't solve every issue (outside shooting, point guard, perimeter speed), his presence helps mask weaknesses. On paper, there's no reason the Lakers wouldn't want Dwight Howard.
So just get Superman, no questions asked?
Slow down. Nothing is ever that simple.
If the Magic are willing to move Howard, they'll want the maximum return possible, either in talent or cap flexibility. I'd hesitate to surrender too many useful Lakers. Depth is an important commodity. Maybe Miami winning it all this June can sway me on the potential of an exceptionally top-heavy team, but I don't think gutting the Lakers of its talent beyond Kobe Bryant for Howard gains much ground. Conversely, I imagine the Magic will try to pawn off some bad contracts, which could be a deal breaker. For example, unless a time machine set to "2007" is part of the package, there's no way the Lakers should consider absorbing Gilbert Arenas and the $62 million remaining on his deal. At $10-12 mil yearly, Hedo Turkoglu isn't as dicey, but still fairly undesirable unless the Lakers also get to trim some fat. A deeper descent into cap hell isn't worth it for a team already pretty good.
Otherwise, my biggest concern would be Kobe's willingness to sacrifice some of his offense for Howard. During his exit interview, I asked Kobe about the feasibility of expanding Andrew Bynum's offensive role to match recently expressed wishes. Bryant's response wasn't terribly ambiguous:
"It's tough to do on this team. Ultimately, he'll have to fall in line. I'm gonna shoot the ball. We all know that. Pau's gonna get his touches, so he's number two in command. Drew's gonna have to fall in line with that."
Regardless of whether you endorse Kobe's pecking order mentality, it's application is one thing with Bynum and quite another with Howard. I'd like to think he'd also recognize this difference and adjust accordingly. But if Kobe truly believes in a pie sliced just so, obtaining Dwight is arguably pointless. You're not getting the maximum return on your investment and practically begging for a situation where stars clash. Better to look elsewhere for improvements.
Do you make a deal for Howard with Andrew Bynum as the centerpiece?
In a nanosecond.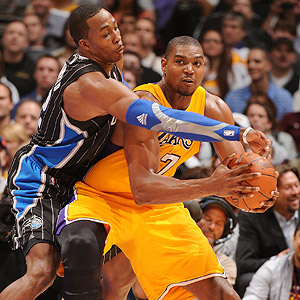 Andrew D. Bernstein/NBAE/Getty Images
There's no question who's the better player between these two.
Talented as Bynum is, Howard's better, and his odds of attending games in a uniform rather than street clothes are considerably higher. He and Pau Gasol would complement each other exceptionally well, almost the perfect yin and yang. For that matter, Howard and Lamar Odom could co-exist nicely. Plus, I get the distinct sense Bynum desperately (and even understandably) wants to spread his wings, which may not be happening any time soon. The longer he maintains this role, the more dissatisfied he could grow, which could mean an eventual departure anyway. Throw in the legitimate questions about committing to a player with Bynum's injury history, and Howard makes even more sense if feasible.
Do you make a deal for Howard with Pau Gasol as the centerpiece?
Not unless there's another deal in place to move Bynum to fill a different need, with Odom the new starting 4.
I'd still be reluctant to move Gasol, wretched postseason, inconsistent regular season and his impending 31st birthday acknowledged. But beyond my confidence in a 2012 bounce back, teaming Howard and Bynum makes no sense. Their skill sets are too redundant, and trying to convert one into a power forward is unrealistic and silly. Even if one accepted a bench role (don't hold your breath), that scenario prevents either from making the biggest possible impact. There's really no way around the impracticalities.
By definition, Howard's arrival guarantees Drew's departure. In turn, Gasol would (and should) more likely stick around.
How realistic is Howard actually landing in L.A.?
My instinct is always to downplay blockbuster scenarios. Beyond the complicated nature of such deals, the conversations are often driven more by rumor mills and media hype than conceivability. However, this one at least passes some degree of smell test.
It's believable Howard would doubt the Magic's ability to deliver him a title. G.M. Otis Smith has tried everything short of fixing games, but the team's nonetheless gone backwards. It's also believable Howard would want to be a Laker, since every player other than Jordan Farmar wants to be a Laker. In the meantime, Howard makes sense for the Lakers, and it's believable Bynum could be a tantalizing consolation prize. None of this means a swap is imminent, but if I heard talks were heating up, I'd probably buy in more than when the Carmelo Anthony circus briefly "visited" Los Angeles.
Still, don't count your chickens yet. There's still a chance Smith could find the perfect roster for Howard. There's also destinations Howard could deem acceptable beyond L.A., with pieces the Magic could want more than the Lakers'. And there's always a chance Mitch Kupchak seconds the sentiments expressed by various Lakers about this core's championship viability. It's a genuinely intriguing scenario, but for the time being, hold off on adding the "Superman" theme once again to the Staples Center P.A. system.