The failings of the Lakers' bench (non-Lamar Odom portion) during the 2010-11 season were well documented, particularly when measured against the optimism surrounding the group heading into training camp. Like a lot of people, I figured the Lakers finally had the sort of depth they'd enjoyed in previous seasons more by appearance and reputation than when measured by actual production.
Unfortunately, it didn't work out that way.
In the first of our Lakers 2010-11 report cards, I take a look at the backups in the backcourt.
STEVE BLAKE
It seemed like a good idea at the time.
When the Lakers signed Steve Blake last summer, it appeared to address one of their major weaknesses from last season, namely a backup guard who could fit into L.A.'s system willingly (unlike a certain reserve PG in New Jersey whom Blake replaced) and knock down open jump shots, of which there would likely be plenty given all the talent around him requiring so much attention. A rock solid catch-and-shoot guy, he'd be a pig in poop, so to speak, and at the same time could cut down on Derek Fisher's minutes, something management has been hoping to see for a couple years.
Add in a good mind for hoops, a willingness to scrap on D, and the marriage seemed ideal.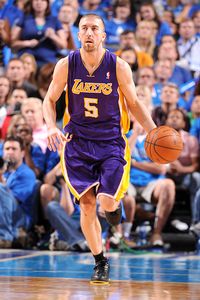 Andrew D. Bernstein/Getty Images
Steve Blake arrived with high hopes, but his performance didn't live up to the billing.
The reality of it all didn't play out so kindly. While defensively Blake certainly put in the effort, on the other side of the ball he was a major disappointment. After shooting no worse than 39.5 percent (and as high as 42.7) from beyond the arc over the three previous seasons, Blake hit only 37.8 percent this season -- this after a very hot start to the season -- including 33.3 percent in the playoffs. His production closer to the bucket was worse. Never the strongest finisher at the rim, Blake was nonetheless worse than he's been since playing with the Bucks back in '07, registering a very low 41 percent FG percentage. The story was the same moving away from the basket, as Blake's percentages were as bad as they've been in recent memory. Put together, it helps explain why the Lakers tended to suffer with Blake on the floor, as measured by 82Games.com's on/off stats.
Moreover -- and I realize this is akin to the old line about hating the food at a restaurant while simultaneously complaining about the portions being too small -- Blake wasn't nearly aggressive enough finding his own shot. Seven shots per 36 minutes played, a career low. As he noted in his (very brief) exit interview, Blake never really got comfortable. His first game as a Laker was a great one, but from there it was generally downhill.
Next season could very well be a different story, since Blake's career norms say he's capable of so much more. He's better than what he showed, but for the time being the return on Mitch Kupchak's investment wasn't good.
GRADE: C-/D+
SHANNON BROWN
Brown spent last summer working hard on his shot, after being hampered the season before by a bad thumb on his shooting hand. Early returns were strong. He hit almost 57 percent of his 3-point attempts in November, and was at 48 percent from the floor.
Through the first six weeks of the season, Brown stood up and forced the league to take notice. Which may have been part of the problem, because once defenses paid closer attention to Brown, limiting his catch-and-shoot opportunities and forcing him to make tougher decisions with the ball, he struggled.
Following the stellar November, the best Brown shot from the floor in any given month was 43 percent, and generally hovered closer to 40 percent. From beyond the arc, Brown suffered through three straight months of sub-30 percent performance. Perhaps as a result, inconsistency crept into his shot selection, and there were too many plays in which he pounded the ball into the floor while formulating a plan, an unwelcome contrast to the quick decision making displayed at the start of the season. More mid-range jumpers off the dribble crept into his game. Meanwhile, his assist rates went down.
Defensively, Brown increased his steal rate, nice on the surface but actually indicative of too strong a willingness to take chances on that end of the floor. While Brown would periodically guess correctly, jumping a passing lane or forcing a turnover from his man, more often he created holes in L.A.'s defense. Despite his athleticism and willingness to put in the work, Brown wasn't a particularly effective defender, whether measured in one-on-one situations or his role in the system.
There are few players in the league easier to root for than Shannon. He works hard, is a great teammate, genuinely wants to improve, and more. Nonetheless, this year was not a step forward. His future with the Lakers is tied to a player option worth about $2.4 million. Last summer, after Brown opted out of his deal, the Lakers worked diligently to bring him back, and Shannon left money on the table to return. At his exit interview this week, Brown said he loves being a Laker, being attached to a winning franchise, and the opportunity to learn from Kobe Bryant.
I believed him.
Still, he has a business decision to make, as do the Lakers. Should Brown opt out of the second year of his deal for a second straight year, I don't think the Lakers would make as strong a push to re-sign him again.
GRADE: C/C-