We continue our series of Lakers' report cards. Next up, the reserve forwards of note (which means no report cards for the sparingly used Derrick Caracter, Devin Ebanks, Joe Smith and Luke Walton).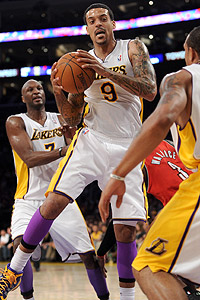 Harry How/Getty Images
Before getting injured, Barnes was always in the middle of the action.
Matt Barnes was, for me, a prototypical case of expectations turned on their head. Before this season, memories that stood out included Barnes operating like a lunatic during the Golden State Warriors' upset of the No. 1 seed Dallas Mavericks in 2007. Or his ball fake at Kobe Bryant's face last season -- a hilarious, ridiculous bit of bravado. Or this "screen" set on Rafer Alston. Factor in how a player of his caliber had been unable to stick anywhere, and my perception of Barnes the person wasn't too favorable.
As it turns out, that was just Barnes' fire on the court. Away from the hardwood, the guy is almost jarringly soft spoken.
Similarly, I never realized the scope of Barnes' skill set until watching him on a regular basis. From the outset, I thought his ability to move without the ball and hit the offensive glass would fit well into the Lakers' system. But perhaps because he's always been labeled an "energy player," I figured his contributions would be more "hustle" oriented than anything tangible. Barnes revealed far more ability as a ball handler and play-maker than I ever would have guessed.
With all that in mind, it's only fitting he'd end up the biggest surprise of the season.
Before his knee injury, Barnes was having one of the best seasons of his career, possibly the team's most consistent reserve during the period when Lamar Odom was a starter filling in for Andrew Bynum. His November was particularly strong: 9.2. points on 50.5 percent shooting from the field, 40.5 percent success from 3-point range, 5.1 rebounds -- with nearly two a night on the offensive glass -- and 2.2 assists. Barnes' admitted lack of triangular knowledge was offset by his perpetual motion, which consistently placed him in the right place at the right time.
If anything, the biggest negative about Barnes during November and December was the way he inadvertently messed with Ron Artest's head. These strong performances coincided with a rudderless slump for Artest, often resulting in Barnes getting the crunch-time, fourth-quarter minutes. This development seemed to plunge Artest further into a basketball abyss.
But then the wheels came off for Barnes. A torn meniscus in his right knee sidelined the forward for 26 games between January and March, plus another two in April upon experiencing irritation. He rarely looked like the same player again, and aside from a dust-up with Jason Terry that landed him a one-game suspension, his presence steadily decreased.
That ineffectiveness truly stood out during the playoffs. There were scattered positive moments, but all in all, there was a failure to make any impact. Scoreless in four of the 10 playoff games, Barnes shot just 35.3 percent from the field against Dallas and missed 10 of his 12 postseason 3-point tries. Even his energy was noticeably low, as bad health slowed the former whirling dervish.
I've wondered on several occasions whether his March 6 return was too early. (Barnes, eager to get back on the floor, declared himself ready even earlier, but Phil Jackson had other ideas.) During his exit interview, Barnes insisted everyone signed off on his bill of health. He also noted how he waited eight weeks, which was the minimum time expected to be missed, and the round-the-clock treatment after the return. Still, I've seen other guys return from meniscus surgery with far more comfort and fluidity, so it's hard to shake the notion he might have rushed it.
In any event, Barnes will be healthy when next season rolls around. I'm also about 99.9 percent certain he'll exercise his player option and stay with the Lakers. Presumably, he can pick up where he left off before injury. He also looked quite angry during his exit interview about the postseason flame out, ready to destroy those standing in the way of a championship.
That is a good thing.
Grade: B-
Previous report cards