In a lot of ways, the 2010-11 season was a perfect encapsulation of Andrew Bynum's professional career.
It was framed, as things always seem to be with him, by injury. Surgery on his right knee last summer eventually costing him the first 24 games of the season. Missed games born from a gritty, pain-filled run through the 2010 playoffs (a great and deserved boost to his professional reputation), but missed games nonetheless.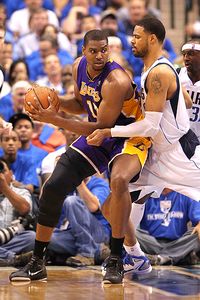 Matthew Emmons/US Presswire
Andrew Bynum was one of the few Lakers to play well through most of the postseason.
From the injury came controversy and frustration, as Bynum's dedication and work habits were called into question, since Bynum delayed his procedure to attend the World Cup in South Africa. Unfair, I thought, particularly since the Lakers were on board with his schedule, and the damage doctors saw when opening him up was more extensive than anticipated. Then at media day, after announcing his return date would be delayed, Bynum said he'd have done things the same way, even knowing the injury would require additional healing time, and he'd miss a lot of games.
That, I thought, was worthy of criticism.
Finally, there was his performance on the court. Bynum's first 32 games were solid enough, particularly given how hard it is to hit the ground running after a major injury. But motivated by whatever alchemy created by the embarrassing loss to the Cavs in Cleveland, (yet another) heart to heart with Phil Jackson, or a little shove from sports psychologist George Mumford, Bynum emerged from the All-Star break a changed man. Against Atlanta on Feb. 22, he was arguably the most influential player on the floor, ripping down 15 rebounds and blocking three shots while altering countless others. The Hawks shot under 37 percent, thanks in large part to Bynum's dominance.
Dude was a beast, all while taking three shots and scoring five points.
The Lakers ripped off a run of 17 wins in 18 games, during which Bynum was awesome. Particularly so in 11 March games, in which Bynum finished with fewer than 12 rebounds twice, and had eight multi-block games. As a team, the Lakers allowed only 91.3 points a game for the month, holding opponents to 42 percent shooting -- their best marks of the season. Again, this was the influence of Bynum. He was changing shots to the point ESPN.com's J.A. Adande actually invented a stat for him (S.A.B.O.A., or Shots Altered by Bynum's Outstretched Arms). Scoring became secondary (though he still did enough of it), as for the first time in his career, Bynum truly committed to the idea of dominating defensively and on the glass, something the Lakers had implored of him for years.
Turned out, he kinda liked it.
In April, Bynum had a three-game stretch in which he snagged 56 rebounds. Overall, following the break, Bynum shot over 60 percent from the field, and averaged 12.4 rebounds in only 31 minutes per game. Huge numbers, in terms of boards per minute. In the playoffs, Bynum posted 15 points and 10.3 boards, with nearly two blocks in six games against the Hornets, and had two very productive games against the Mavs, which is more than most of his teammates could say. Overall, Bynum graduated from "guy who elevates L.A.'s title hopes simply by being present and extremely tall" to "guy who elevates L.A.'s title chances because he's a bad, bad man." It was the best run of sustained success seen from Bynum since the start of the 2007-08 season, before suffering the knee injury opening the door for Pau Gasol's arrival.
We never got a chance to find out how much of a difference this Bynum could make over a sustained playoff run, because the rest of the team crumbled around him, all failures well documented.
Put together, it was everything about the risk/reward associated with Bynum. Moments of great potential and performance mixed with questions of health (you can't forget the missed games) and maturity, less regarding his jaunt to South Africa and more about worrisome, suspension worthy fouls delivered to Michael Beasley and J.J. Barea, the latter costing him the first five games of next year, whenever it rolls around.
Nor is his future in L.A. iron clad. Bynum's trade value will never be higher than it is right now. The Lakers have needs, and a serious financial decision to make on him. Add in hints he may not be so satisfied with third-to-fourth banana status going forward, and there are plenty of questions.
As for his '10-'11 campaign, based purely on on-court performance, his 54 games probably merit an A-. Unfortunately, he's graded on all 82, whether there or not.
GRADE: B