As ESPNLA.com's Dave McMenamin and ESPN.com's Marc Stein report, the Lakers are neck deep in talks to hire former Cleveland coach Mike Brown to succeed Phil Jackson as head coach.
My thoughts off the news are here, but while I have my opinion on Brown and how he'd fit in L.A., it's admittedly one without the depth of someone who followed Brown and the Cavs on a nightly basis through his tenure there. Someone like John Krolik, frequent contributor to ESPN.com and NBC's ProBasketballTalk.com, and the author of Cavs: the blog, TrueHoop's outpost in Cleveland.
He was kind enough to answer our questions about Brown, adding insight about the quality of Brown's offensive schemes, why his teams posted solid defensive numbers, and whether he'd mesh well with L.A.'s personnel, and with Kobe particularly.
Good stuff, providing a fuller picture of the pros and cons surrounding Brown as the next man in charge.
1. Brown has been roundly criticized for his lack of creativity offensively in Cleveland. How much of that was about him, how much was about personnel?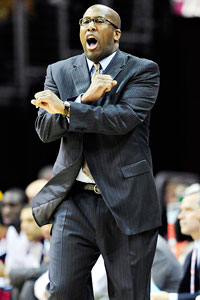 Jason Miller/AUS Presswire
Mike Brown ran up a solid record in Cleveland, but would he do the same in L.A.?
Krolik: It was almost entirely about the latter. The Cavaliers were very good offensively in Brown's last two seasons -- in fact, they had a better offensive efficiency mark than the Lakers did in '09-'10, and finished one tenth of a point per 100 possessions in '08-'09.
Brown developed a reputation as a bad offensive coach when his starting backcourt was Eric Snow and Larry Hughes. Show me a coach who can run a good offense with that backcourt, and I'll show you a miracle worker.
In later seasons, Brown was criticized for having his offense be too LeBron-centric, but if LeBron wasn't being featured in every possession offensively in some way, that would have been idiotic. What was he supposed to do, rely on Mo Williams, Anderson Varejao, or an ancient Shaquille O'Neal as his primary playmakers? As we saw this season, there was not a lot of offensive talent on that roster, and the loss of Shaq, Zydrunas Ilgauskas, and Delonte West didn't make a ton of difference, either.
Also, in a lot of ways Brown used Lebron more efficiently than Erik Spoelstra has in Miami, despite Spo having more offensive talent around James. Under Brown, LeBron got more assisted opportunities at the rim, and more of his passes led to dunks, layups, and three-point shots as opposed to mid-range jumpers.
Also, the Cleveland offense was more complex than most give it credit -- there were back-screen threes on corner dives, scissor-cuts out of the high post, post sets that involved LeBron drawing a double and passing back out to force rotation, and an unstoppable decoy pick-and-roll play I nicknamed "The Kracken." So Brown's offense wasn't actually simple, it was just built completely around LeBron, and the reasons should be obvious. The bottom line is Brown developed a bad offensive reputation when there was no shooting or playmaking around LeBron in his first few seasons as a head coach, and it stuck because reputations tend to stick. Show me the players who have become significantly better offensively after leaving a Mike Brown team. Here, I made a list. (Scroll down a bit.)
If Brown was so bad at using the tools he had, why didn't any of those tools play better after escaping from his offense?
2. What made Brown so successful as a defensive coach in Cleveland? Could it be replicated in L.A.?
Krolik: First off, the Cavs were overrated defensively in 09-10. They were good defensively, but not great. What made him successful overall was getting LeBron to buy in and turn himself from a non-factor defensively to one of the best defenders in the league, having West to guard the other team's best scorer for most of the game, and using Varejao's mobility to stop pick-and-roll sets out at the perimeter, allowing Ilgauskas to stay under the basket, block shots, and rebound instead of having to, you know, move.
I don't know if Pau Gasol will be able to rotate and recover on pick-and-rolls the way Varejao was able to, but I think he'll be able to do some really fun things with Bynum as a starting center instead of Ilgauskas or ancient Shaq.
Brown's real gift, particularly on the '08-'09 team, was getting everyone to buy in and go 110% every night, especially on defense. That's how they won 66 games, and only lost one game at home in which LeBron played. However, that defense was built around the young legs of Varejao, James, West, and Ben Wallace, who had found the fountain of youth defensively, before he broke his tibia. With the Lakers, there are a lot more miles on those ankles, knees, and backs, and getting that kind of full buy-in and nightly effort, especially considering the team doesn't have that no-ring hunger, might be harder.
3. It seems relatively likely the Lakers will enter next season with a roster that looks relatively similar to the one finishing this year. How well does Brown's style mesh with what the Lakers have?
Krolik: Not at all. He had a drive-and-kick offense built around driving to the basket, using pick-and-rolls, spacing the floor, and freeing up shooters with screens, which the Lakers don't do. That doesn't mean he won't be able to coach the Lakers offense -- nobody this side of Spolestra looks at more film than Brown -- but we've never seen what he can do with the kind of personnel the Lakers have. I'm interested to see if they keep Brian Shaw and/or try and keep the triple post offense, because it suits this team's strengths better than the offense Brown was running in Cleveland.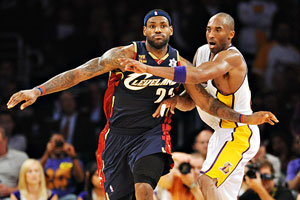 Noah Graham/NBAE/Getty Images
Things didn't end well with LeBron James and Mike Brown in Cleveland, whether Brown's fault or not. How would he handle Kobe Bryant?
As I mentioned, I'm curious to see what he does with Gasol as a starting PF instead of Varejao, although I think he'll have a lot of fun with how he uses Odom, particularly on defense.
4. By the end of his time in Cleveland, LeBron didn't exactly seem to be dripping with faith or respect for Brown. How do you think Brown would do with Kobe?
Krolik: That's kind of my big question, too. Kobe's been in the triangle offense for about a decade, and Brown has no experience with it. I don't know if Kobe will trust him. Brown's reputation, however undeserved, could bite him if Kobe isn't ready to buy in. Kobe may be the most complete and cerebral one-on-one offensive player in the league, but he's not really an offensive coordinator all the time.
I think the worry is that Kobe, who does appear to be slowing down a bit, will break off from the offense a lot and look for his, not respecting Brown enough to listen when told to cool the jets and feed the bigs. I mean, Kobe didn't always listen to Phil Jackson when that happened, and Phil has 11 more rings than Brown. So that's the big concern from where I'm sitting. Still, they're both grown men who want to win championships, so I imagine they'll come to some sort of understanding.
I just worry about whether or not Brown is prepared to be a pinata when the Lakers lose and Kobe broke off the offense time and time again to go ISO.