The Southland is still buzzing after the news that Mike Brown will succeed Phil Jackson as coach of the Los Angeles Lakers. A surprising hire, to say the least, and also one relatively unfamiliar with Lakers fans, since Brown has only been a head coach in the Eastern Conference. Obviously, there are questions, and we're trying to provide as many answers as possible.
Earlier, we got some insight from John Krolik, host of "Cavs The Blog (True Hoop network). After, we talked to ESPN.com's Brian Windhorst, who covers the Miami Heat for the Heat Index. Before taking his talents to South Beach, Windhorst spent several seasons covering the Cavaliers for The Cleveland Plain Dealer. During that time, he got to know Brown well as both a coach and a person.
Windhorst was very candid pointing out Brown's strengths and weaknesses -- no punches were pulled about the necessary likelihood of hiring an offensive coordinator -- but made it abundantly clear how much he respects the Lakers' new coach. Here are some excerpts of our conversation with Windhorst, which can be heard in its entirety by clicking on the module to the right.
Windhorst, on the Lakers hiring Mike Brown
"I'm kind of surprised by it, because I don't know how good the fit is for Mike. I'm not thinking about it from the Lakers' perspective. I'm more thinking about it from Mike's perspective, because he's a guy that I know. I always thought the job he was sort of targeting was the Warriors job. The Lakers are a team that's a veteran team that's trying to fight decline, that's probably set in its ways. What Mike did so effectively and well in Cleveland was he took a team that needed to be molded and kind of young and turned them into a championship contender by sort of breaking them down and building them back up.
"He's sort of a process coach. The Lakers are looking for someone to keep it going. I don't know if they're looking for someone to retool everything... He's taken the reins of a 747, so to speak, that's mid-flight. It's gonna be a real challenge for him. I don't really know how good that's all gonna go.
"What I will say is I'm not surprised at all that he probably impressed the Buss family during the interview process, because he is a very impressive guy to talk to. If you just pay attention to his interviews that he did in Cleveland, you won't think that. You'll sort of think that he's a little bit goofy and sometimes looks aloof. That is not Mike Brown. Mike Brown is one of the most prepared and intelligent basketball minds I've ever been around. His character is literally impeachable."
On how well he'll work with a veteran team with strong personalities
"Let's just be dead honest. He's not a guy that commands respect. He did not play in the league. He did not play even at a high level in college. He actually played two years at University of San Diego, so he does some California experience. But he didn't coach as a leader as much as he coached as a partner. He was a big believer in getting his team to buy and take ownership of the decisions. He didn't rule with an iron fist.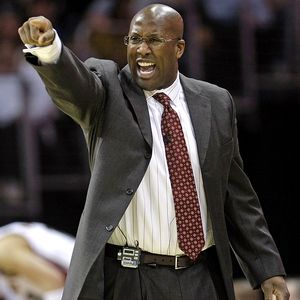 AP Photo/Tony Dejak
Judging by Windhorst's comments, Mike Brown is likely yelling out some form of defensive instructions.
"He and I have talked about this a lot earlier in his career. He doesn't have the cache of a guy who's been in the league a long time, has rings, or has played in the league. These guys didn't know who he was. I remember Ira Newble, who played with the Cavs when he was hired, and he had that stint with the Lakers. Ira had worked with Mike in San Antonio when Mike was there. I remember the day Mike got hired, I called Ira to ask him about Mike. He said, 'I can't believe this guy is the coach. He was, like, our third or fourth assistant who'd rebound the ball and fed me shots three years.'
"He's not a guy who's going to come in all of a sudden and grab the room. And he knows this and it's important that he knows this. He coaches differently than Phil Jackson. It's going to be a major adjustment to the way the team operates and that's again, why I'm surprised [by the hire]... I really was surprised, not that the Lakers wanted him, because he really does have a very good resume. It's not like there are guys with rings sitting out there waiting to get hired unless you wanted to hire Larry Brown. But I'm kind of surprised Mike thinks he can come in and really keep it going with this group. It's going to be real interesting to see how it plays out."
On what makes Brown such a good defensive coach
"He is a great, and I'm going to emphasize, he is a great defensive coach. He's elite defensively. The Lakers will improve defensively. I will guarantee it.... He absolutely lives, breathes, sleeps defense. There were games early in his Cavs career where the Cavs would lose a game 88-85 and they'd shoot 37 percent or whatever. You'd be asking Mike about the offense and he'd say, 'I don't know about the offense, but we should have given up 84 points instead of 88.' Absolutely everything he does is defensively based.
"During his tenure in Cleveland, it was sort of the rise of the Phoenix Suns, when the Suns had a 60 win season. I remember having conversations with him where he said, 'If the Suns win the title or another one of these run-and-gun teams win the title, I might have to reevaluate things. But as long as I've been in the league, the teams that win a title are defensive based teams. So he absolutely from day one of training camp on makes his team think defensive first, second, third, fourth, fifth.
"I'm telling you, it'll wear the media out. It'll wear the fans out. But it gets results."
On whether the Lakers have the personnel for the schemes Windhorst pictures Brown running on either side of the ball
"He was a part of the Spurs organization when they won [a championship]. He goes back to when they operated with [Tim Duncan and David Robinson]. He'll probably go to some of those principles that were very successful. I think, offensively, I just don't think you'll hear anything from Mike. It'll all be defense. He believes in what's known as in the league now as 'the shrink the floor philosophy.' A lot of teams have adopted it. It's been one of the most popular defensive philosophies over the last five or six years since the rule changes that have prevented you from putting your hands on the guards. He wants to pack the paint in. He wants everyone to collapse and protect the middle.
"As far as offensively, I know that's what everyone wants to know about, because the triangle is so embedded and [Andrew] Bynum and Pau [Gasol] fit in. I just don't think that will be a focus of Mike Brown at all. The Mike Brown I know will not worry about the offense at all. He will say, 'You know, in that [Western Conference semifinals] against the Mavericks, we absolutely, positively could not get stops. And you're giving up all these 100 point games. We're not going to play that way. We're going to be a great defensive team that wins with our defense.'
"That's what you're going to hear from Mike Brown to day one to day 180 all the way until he is no longer the coach, because that's who he is."