I'll cop to some healthy skepticism about his skills, his overall qualifications and, particularly, his fit with the current roster when I learned Mike Brown would be the next head coach of the Lakers.
Admittedly, it was based on an outsider's viewpoint. I certainly watched a fair share of Cavs games when Brown was the coach, but at no point was I a dedicated follower of the day in, day out, insider business of Cleveland basketball. My knowledge was shallow. Conversations with people who know more about Brown and his tenure there, including these with TrueHoop's John Krolik and ESPN.com's Brian Windhorst left me feeling better about his qualities as a coach and the results he was able to wring out of his teams. The resume he brings is strong, particularly relative to the field of available candidates.
Still, real questions remain, from how Brown's coaching philosophies mesh with current Lakers personnel to his ability to guide a more-or-less ready-made product filled with strong personalities individually and a long history collectively. (On the flip side, zero questions remain about Brown's ability to knock a job interview out of the park. He should write a book.) I wonder about the process by which he was hired and, even while acknowledging some of the drawbacks of Brian Shaw, what seems to be a driving need to sever the Lakers so cleanly from the Phil Jackson era. Jim Buss clearly sought to make a statement. Only time will tell if he did so for sound reasons.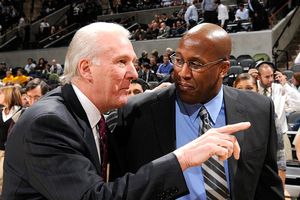 D. Clarke Evans/NBAE/Getty Images
Do you trust the guy on the right? What about the guy on the left? He's one of the guys who taught the guy on the right.
Nonetheless, the days of Mike Brown are here, and with them come a whole host of questions. Here are a few:
1. What will Brown do with the offense?
As Windhorst noted, give the offense to someone else to run. Among the members of his staff will be an "offensive coordinator." The idea the Lakers can't have a productive, high-end attack with Brown at the helm is belied by Brown's last two years in Cleveland, where his teams finished 4th and 6th, respectively, in efficiency. While his rep is rightly on the defensive side of the ball, Brown doesn't have a moral opposition to scoring points. The ineptitude of Cleveland's offense in Brown's early years can be attributed in large part to personnel.
Some of those guys just weren't very good. He won't have that problem in L.A..
It's hard to determine exactly what sort of attack Brown and his staff will look to create, but he was with Gregg Popovich in San Antonio when the Spurs were a frontcourt-driven team. While the triangle is no more, as Jackson and his staff frequently noted, many of the offense's principles exist in other systems and approaches, including the Spurs'. I'd be surprised if Brown and his staff try to completely reinvent the wheel with the Lakers. Expect an approach taking advantage of the team's strengths -- length, versatile ball movers, intelligence -- in similar ways.
Particularly given the likelihood of a shortened regular season, with compressed practice schedules and abbreviated training camps, teams able to hit the ground running will have an advantage. Again, that puts a premium on continuity and playing to strengths the team already has.
2. How will he get along with Kobe Bryant?
Welcome to the eleventy-billion dollar question.
Earlier in the week, Dr. Buss indicated in a radio interview that players -- this is code for Kobe, as opposed to, say, Devin Ebanks -- wouldn't be consulted when it came to hiring the new coach, echoing similar comments from the organization.
I get it. This is their team, not Kobe's, and as a very well-compensated employee, Bryant has an obligation to play hard and work constructively with anyone sitting in the big chair. But while the inmates shouldn't run the asylum, Bryant is hardly some stooge running his tin mug across the cell bars. A phone call making him part of the process, even with the clear understanding he wouldn't be the ultimate authority, would have been smart. Particularly since Bryant, like his teammates, had expressed support for Shaw.
The Lakers can't win a title unless Kobe buys whatever Brown is selling. There's nothing to indicate he won't, and I suspect Kobe will say all the right things, entering into the relationship with an open mind. In our conversation, Windhorst noted the depth of Brown's commitment. The dude grinds through tape, dots every "i" and crosses every "t." Kobe will surely respect Brown's work ethic and, frankly, doesn't have enough career left to waste seasons arguing with his coach.
But what happens -- and this is a when, not an if -- the first time Kobe goes off the script, doing what he thinks is right but running counter to Brown's directions? Or the second or third time? How will Brown handle the moment in which he needs to rein Kobe in? It took a long time for Jackson and Bryant to reach a place of understanding, and P.J. brought a lot more gravitas to his side of the bargaining table than Brown, who relatively speaking arrives unarmed.
Kobe will challenge Brown. How Brown handles it could determine his level of success in L.A.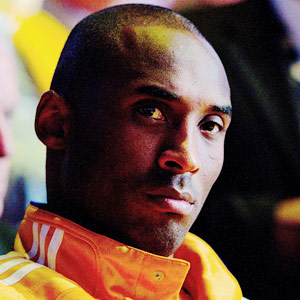 Icon/SMI
This could be the face Kobe wears while sizing you up, Mike Brown.
3. How big an overhaul do the Lakers need defensively?
No question, the breakdowns against Dallas, and to a lesser extent New Orleans, were profound, but it's easy to overreact. Overall, despite all the issues plaguing them throughout the season -- complacency, Andrew Bynum's early-season injury, and so on -- the Lakers were still an upper-level defensive team. Things fell apart not because they couldn't or wouldn't commit to playing hard on their own end, but because they were mentally and physically fried following three years of Finals runs, no longer capable of creating the cohesion required to lock down consistently.
(That, and a struggling offense, consistently putting them in tough spots.)
Standing in the locker room after Game 4 against the Mavs, Luke Walton noted the team never was able to figure out how to win while playing poorly. It's easy to win when things are going well, but winning ugly requires far more mental energy than doing so while things are going well. The Lakers simply didn't have it this year, but I believe the root causes were in circumstance, not coaching.
Brown's relentless emphasis on defense will likely help the Lakers keep points off the board (and hopefully help create them offensively), but the idea the Lakers need a coach such as him to elevate them into the league's defensive elite is patently false. They won a pair of titles on the strength of their defense, particularly in '09-10, when they were a fairly ordinary offensive group by championship team standards.
4. What does Brown's hiring mean in terms of offseason moves?
It's hard to say until we know more about Brown's plans and how he feels about the roster he's inheriting. This is before factoring in the landscape post-new CBA, whenever it comes.
That said, I suspect the offseason shopping list under Brown won't be much different than it would have been under Shaw, Rick Adelman or Mike Dunleavy. The Lakers need a shooter to help space the floor for their big men and to help create lanes for Kobe to penetrate or work more freely in the post. They could use another player capable of creating his own shot. They need more productivity at point guard, particularly if the new system demands a more traditional role at the 1 than the triangle.
More athleticism won't hurt, either.
Brown will obviously have his thoughts and preferences when it comes to individual players perhaps landing on the Lakers' radar, but in terms of skill sets the team needs to target, not much changes. At least not automatically.
5. Just how different will things be?
Very. Very, very, very, very.
Different squared, different cubed, different octaginaled.
The voice will be different, the energy in practice will change, too, which isn't necessarily bad, and could very well be good. Things aren't likely to be quite as entertaining, either. Brown isn't nearly the personality of Jackson, and while that could qualify more as an "us" problem than a "you" problem, I think fans will miss what Phil brought on that level. Basketball is entertainment, and Jackson knew how to deliver. Brown won't.
In that regard, I already miss Jackson deeply.
More importantly, the Lakers had grown accustomed to the security of knowing their coach was the most successful in NBA history, perhaps in the history of team sports. That was an enormous advantage. Mike Brown is just a coach. A very good coach in the estimation of many smart people, but not the best coach. They have one in the crowd, even if near the front. For the first time in a long time, a Lakers team with championship goals will be guided by a man whose credentials aren't ironclad. Coaching decisions will be scrutinized by fans, media and likely the players in ways they never were under Jackson.
In fairness to Brown, this would have been true of anyone the Lakers could have hired, but it is nonetheless the context of his new gig.
It's also, more than anything, what makes Brown's task so difficult.