The first in a series analyzing the biggest offseason needs. To begin, outside shooting.
Scale of 1-10 importance: 10
I consider outside shooting the team's most pressing issue; more than athleticism, positional upgrades (read: point guard), youth, depth, etc. During the regular season, the Lakers shot just 35.2 percent from behind the arc as a team, tying them for 17th in the league. (Even during a blazing 12-1 March, they connected at a paltry 32.9 percent clip, illustrating how at their best, outside shooting remained a hurdle.) Only one Laker (Derek Fisher) came within spitting distance of a 40 percent mark for the season, and his streaky nature made success difficult to bank on. During the playoffs, the drought grew comically bad: 28.9 percent, 15th out of 16 squads qualifying for postseason action.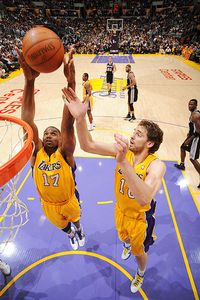 Andrew D. Bernstein/NBAE/Getty Images
To get the maximum "Timmy and David" from these guys, outside shooting will be needed.
And lest anybody decide the solution lies with a step or two inside the downtown stripe, think again. According to Hoopdata.com, the Lakers' 37.5 percent regular season mark for shots 16-23 feet ranked just 26th in the league. Bottom line, the further the Lakers ventured from the basket, the more fortunes decreased. Over the last four seasons, the Lakers have increasingly pushed their luck as an elite team lacking outside deadliness. The bubble finally burst this season.
During his introductory presser, Mike Brown shared his vision of an offense modeled after the Duncan/Robinson-era Spurs, which theoretically means Pau Gasol and Lamar Odom serving as The Big Fundamental and Andrew Bynum playing the role of the Admiral. (For those unaware, Brown was an assistant coach for San Antonio during their 2003 title run.) Well, as last season demonstrated, without shooters spreading the floor, defenders will pack the lane, neutralize the Lakers' considerable front court talent and dare Laker "marksmen" to beat them.
The Duncan-Robinson tandem worked best when San Antonio had proficient shooters. In 2000, Terry Porter (43.5 percent) and Mario Elie (39.8) stood out. In 2001, five Spurs averaging two or more three-point attempts connected at 39.9 percent or higher. In 2002, Steve Smith led the outside shooting gang with an absurd 47.2 clip from Downtown. Even in 2003, as Robinson took more of a backseat to Tony Parker's penetration, the Spurs were still armed with Bruce Bowen, who averaged a shade under 44 percent. Just one guy who can't be left alone can make a huge difference.
Looking beyond the San Antonio model, if elements from Brown's Cleveland stint carry over, again, shooters are required. According to ESPN Stats & Info, more than 20 percent of plays when Brown coached the Cavs ended with a spot up jumper. (Conversely, the Lakers topped out at 18 percent during the 2011 season.) Considering no Lakers beyond Kobe and Pau boast an established track record for wet jumpers from the elbow out, again, improvement is in order.
So how will this happen?
In a lot of ways, it begins with Steve Blake. The reserve point guard was acquired in part to make the Lakers a much better three-point shooting squad. Unfortunately, this never materialized, as Blake shot just 37.8 percent from distance, a notable dip from his career .391 mark. In part, the issue was Blake's failure to find a comfort zone while quarterbacking a new system. But also, he literally didn't shoot enough to develop a rhythm or become a threat, averaging just 3.9 attempts per game over 20 minutes. To put this in perspective, Trey Johnson played one regular season game with the Lakers as an 11th hour D-League call up and put up three shots in 13 minutes. Blake absolutely must provide more of an offensive presence next season, which means calling his own number more often.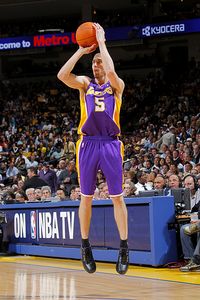 Rocky Widner/NBAE/Getty Images
Steve Blake must make -- and take -- more shots next season.
I believe Blake can bounce back next season. With the triangle essentially scrapped, he's by definition more likely to adopt a more "traditional" point guard role, which can only help the cause. However, it's also very important Blake prove my faith correct, because the logical candidates narrow beyond him.
Perhaps Odom can parlay last season's career high 38.2 mark, but considering he's a career 32.1 shooter from deep, a sizable drop can just as reasonably be expected. Ron Artest might do better than last season's 35.6 percentage, but matching his career-best showing (39.9, in 2009) could be a tall order. Kobe Bryant always been more of a timely -- and record-setting -- three-point shooter than consistently accurate. Derek Fisher is Derek Fisher. Without knowing the particulars of a new CBA (hard and/or lowered salary cap, what becomes of the mid-level exception, etc.), it's difficult to project realistic free agents. But even if things don't change one iota, the Lakers will be a team capped out with limited options.
Still, by hook, crook, trade, draft or squeezed dollars, adding a sniper must be treated as a top priority. That, and countless long-range shots hoisted all summer by everybody whose last name isn't "Bynum" or "Gasol." One way or another, the Lakers must resemble a team capable of playing balanced inside-out ball.