By a variety of measurements, through the 2010-11 season the Lakers had the least productive point guard tandem in the NBA. Worse than the 19-win Cleveland Cavaliers. Worse even than the 17-win Minnesota Timberwolves, who have turned themselves into a punchline thanks to an amazing ability to draft and sign PG's without getting one who is actually effective.
Via www.hoopsstats.com, the tandem of Derek Fisher and Steve Blake scored fewer points a game (10.9), had the fewest number of assists (4.9), the lowest field-goal percentage (38 percent), and by wide margins the worst ranking for efficiency and efficiency differential. Basically, had Andy and I traded off at the point for the Lakers this year, the team's end-of-season rankings wouldn't have been much worse.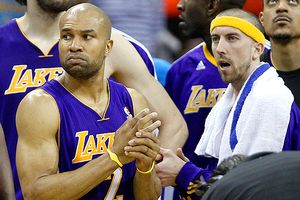 AP Photo/Pat Semansky
Together, Derek Fisher and Steve Blake were a monumentally unproductive pair this season for the Lakers at the point.
This is a bad thing.
The numbers, as they always do, come with caveats. Phil Jackson's system didn't (still getting used to the past-tense references) encourage point guards to pile up numbers in traditional PG stats. Meanwhile, it's not like Blake or Fish are or should be high on the list of offensive options for a team with Kobe Bryant, Pau Gasol, Andrew Bynum, and Lamar Odom. Blake, for his part, suffered a season as bad as he's had in a while, well off recent norms.
Defensively, neither sets the world on fire, but as I've written, the Lakers (basically code for Fisher) don't suffer as much at the position as the accepted narrative suggests. In the playoffs, Fisher had some of the better numbers against Chris Paul throughout the first round, relative to the cavalcade of defenders L.A. tossed CP3's way. As it was in the regular season, when the team operated well as a group, the point guards looked fine because in an NBA increasingly dependent on pick and rolls, pure one-on-one defense is overrated.
No question, Fisher's shortcomings (and Blake's to a different degree) put pressure on his teammates, and the Lakers absolutely have room to upgrade defensively from a positional standpoint. Still, I maintain the basement-level contributions offensively from Fish and Blake hurt the Lakers more than their combined work at the other end.
The Lakers can't go through another season with such a noticeable productivity vacuum at the lead guard spot. Particularly with the also-questionable Ron Artest projected to return at small forward. It leaves too much on the shoulders of Kobe and the bigs, and also makes it tougher for all of them to operate effectively.
Blake is a candidate for a bounce-back season, giving the Lakers at least one reason for optimism. He's a better player, and definitely a better shooter, than he showed through most of his first year with the Lakers. How Fish fits in now is much more an open question.
Both guys have potential value as spot-up 3-point shooters, but if Mike Brown, as he noted before the media Tuesday afternoon, hopes to make penetration part of L.A.'s game plan, he may need to look elsewhere. Blake had only 11 buckets in the paint all season, only four inside the restricted area, and has never been a noted attacker of rim. Fish was more successful in the lane (better than he's been in a while, actually) but penetration wasn't his strength at 27, let alone the 37 he'll be when the season starts.
With Jackson out and Brown in, the Lakers are almost surely going to use their point more traditionally. Still, there isn't automatically a need for an All-Star-caliber upgrade, something almost impossible to come by without making a major sacrifice from the core of the team. At his introductory news conference, Brown pointed to the twin towers San Antonio model, one he saw up close as an assistant coach from 2000 to 2003 as the one he'll likely use with the Lakers. None of those teams had a PG average more than a pre-eliteTony Parker's 5.3 in '02-'03, good for 23rd in the league.
The Lakers don't need to secure Paul, or Deron Williams, or throw Magic Johnson in a time machine to get the required boost. They don't need league-leading numbers. But whether through in-house options, free agents and trades, or a combination, they have to get better.
If the 2011-12 season is to have a happier ending, the Lakers need more production from their point guards.
Scale of Importance (1-10): 8.5
PREVIOUS "OFFSEASON NEEDS" POSTS: