During his introductory presser, Mike Brown acknowledged European coach Ettore Messina -- who most recently coached for Real Madrid and won Euroleague titles with Virtus Bologna and CSKA Moscow -- would be among those considered for his coaching staff. Well, according to ESPN The Magazine's Ric Bucher, Messina has been tabbed to join next season's staff, though while he'll be listed as an assistant coach, Messina's job will be more of a consultant. Whether his duties are similar to Tex Winter's former role with the Lakers or the responsibilities are more expansive remains to be seen. Also, nothing is official yet, thus a Laker spokesperson when asked didn't confirm the report.
Either way, Lakers Nation has its collective eye on Messina, so I reached out to Os Davis from BallinEurope.com (TrueHoop network), who was kind enough to answer some questions. As luck would have it, Davis is equally familiar with the current incarnation of the Lakers as he is Messina's career overseas, making his perspective that much more valuable. Here's what Davis had to say about Messina.
Land O' Lakers: How would you describe Messina's offense/system? More half court or wide open? What's the tempo? Does it have any principles or characteristics of the triangle?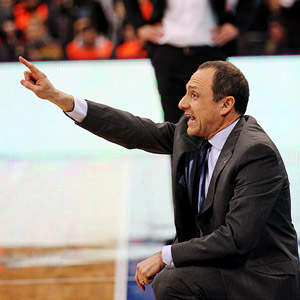 AP Photo/Darko Vojinovic
Can Messina's success overseas translate to a winning NBA coaching staff?
Os Davis: Messina's teams tend to play quite a slow tempo relative to that of most European leagues, particularly in Spain's ACB, where Messina was for the past two seasons with Real Madrid and where the floor is wide open. Of course, there are exceptions to this. His 2005-06 CSKA Moscow squad could go into fourth gear early and run the court for the entire match. (Of note, too, is that this team was the ultimate fruit of Mikhail Prokhorov's business labor, that CSKA dominated defensively in both the Euroleague and Russian Super League, and that Messina was named Euroleague coach of the year.) But the general rule on a Messina team is a slow tempo, half-court game on both sides of the ball.
Probably one of the bigger disappointments in his career -- and surely a source of extreme pressure on Messina from club management -- was Real Madrid's inability over the past two seasons to get past rivals FC Barcelona. Despite the fact the seriously flexible system of player movement among top European clubs made the 2009-10 Madrid roster a revolving door throughout the season, Messina & Co. just couldn't find the right combination of quick big men to counter Barcelona's relentless attack and ability to open the floor at will.
In addition to his preference in the half-court, Laker fans will certainly be cheered by Messina's specialty of working with the post. Nobody in Europe, where frontcourts tend to be notably smaller but the bigs typically have the complete skill set in shooting, really employs anything like a triangle offense. But if Mike Brown was serious when he implied that some stuff with the triangle would remain in the playbook, you can bet that some of those Gasol-Bynum double post plays will have been tweaked/modified/perfected with Messina's input.
Messina is also known for his defensive schemes, but again, this might not necessarily be adaptable to NBA play, as European teams basically always run zones.
LO'L: Would the Lakers roster as constructed flourish in Messina's system? Are there areas where they might be lacking?
OD: If only they could send Derek Fisher back in time a few years, he'd be the ideal Messina point guard -- thrives in the half-court, best at setting up plays there and starting them off, etc. It will be interesting to see what Shannon Brown might learn under Messina's tutelage.
Of course, one relationship that all will be watching is how Messina gets on with Pau Gasol. Can an All-Star get better? With his Continental resume and his most recent experience in Spain, Messina just might be the man to fully exploit all of Gasol's many (and from this perspective, distinctly European) skills. Andrew Bynum taking tips on defense and post play from Messina? That'll work. And as a big Derrick Caracter fan, I think he could be one to watch developing under Messina.
As for Kobe, Messina has coached some top stars, including Theo Papaloukas and some guy named Manu Ginobili, while employed in Europe and surely he has enough wisdom to handle the biggest name he'll have worked with.
Areas in which the Lakers are lacking, as you probably reckon too, are age and speed. I think any head coach, assistant coach or consultant might like to get a bit of help for these problems.
LO'L: What type of communicator is Messina? After so many years with Phil Jackson, his style could be important. Does he encourage players to figure things out for themselves, as PJ often did, or just cut to the chase and work operate more directly? Is there an NBA coach he reminds you of, whether in approach or personality?
OD: Most coaches in Europe could be accused of micromanaging in general both in terms of actual practice and transactions. In that 2009-10 season with Real Madrid, Messina habitually traveled out of the country during the season to scout and/or woo players to his squad, though he seems to be on the lighter-touch side of the scale with regard to individual players in comparison. If given leave, you can figure that he'll still be a bit more extreme in terms of hands-on advice than the typical NBA coach; based on his European track record and NBA culture, I'd guess as a coach he'd be something of a combination of Scott Skiles without so much of the nervous energy and Doug Collins without the loquacity.
LO'L: How familiar is he with the NBA game and culture, and do you think Messina will adapt well to it?
OD: Well, this is the interesting thing. Despite, for example, Toronto Raptors fans who are chomping at the bit to give the man the reins as head coach, Messina is startlingly humble about his possible limitations. After departing Madrid in March this year, Messina told CNNSI.com that, while it would be "interesting" to coach in the NBA, he wouldn't necessarily want a top job:
"I need first of all to see if I could be a good assistant after many years of not being an assistant. And then it would have to be made clear that I am not going there to steal anybody's job."
At 51 years old, Messina is not so much of an old dog not to learn new tricks, and the fact that he must fill in the huge gap between European and NBA styles and psychology combined with his championship resume definitely makes one think he'll adapt well in due (short) time.
LO'L: How good a hire would Messina be, if Brown has plucked him for the staff?
OD: As a fan of both European basketball and the Lakers, it's tough to have any pretense of objectivity on this one. But the truth is that Messina is a four-time Euroleague champion bringing refreshingly little egotistical baggage to a team that expects to win. And once the more historically minded guys like Fisher, Kobe, and Luke Walton find out more about Messina's career, he's certain to earn a bit of cachet before walking onto the court for the first time. Laker Land may rest assured that they got a very good one here.
Great stuff, and we thank Davis again for the help.
Among the points Davis raised, that Messina tends to slow down his offense appears to mesh perfectly with Mike Brown's track record and the Lakers' collective age and skill sets. As Brown noted while being introduced, you can't jam a square peg into a round hole when it comes to a matching systems and rosters. The Lakers certainly need to generate easier points -- and as Brown pointed out, get into their offense MUCH faster -- but at the end of the day, this is a team meant to operate in a half-court set. That's apparently Messina's bread and butter, should he play a role in designing the offense.
I also thought Davis' point about Messina perhaps tapping into the entire scope of Gasol's talents was interesting. Fantastic a career as Gasol has enjoyed, his image as a "finesse player" can sometimes alter how his skill set is viewed. When life is rosy, Pau is seen as exceptionally versatile. But when things go sour, he's "soft," and there's very little nuance. Even PJ, who grew close with Pau and fancied him a terrific player, needled his "Euro" tendencies. That Gasol is coming off an inconsistent regular season and a miserable playoffs speaks even further to the need for a coach who truly might truly understand Gasol, especially mentally. He has a lot of negativity to erase, and perhaps a connection with Messina could help.
For more on Messina, check out the post from our friends at Silver Screen and Roll.