Continuing our series on where the Lakers need to look this offseason in an effort to improve themselves...
Another Guy Who Can Create Off the Dribble:
Kobe Bryant can still make it happen, but not nearly with the same frequency as he once did. According to Hoopdata.com, Bryant's shot attempts at the rim dropped by nearly 1.5 a game this season, while his attempts from 3-9 feet jumped from 2.3 in 2009-10 to 3.1. By way of comparison, in 2007-08, those ratios were very different: 5.1 attempts per game at the rack, 1.5 from 3-9. Night to night, his free throw attempts have declined over the years, as well. All of this confirms what we basically already know: Bryant is much more a post up/jump shooter, not the unstoppable penetrating force off the wing he once was, certainly not over the course of a long regular season. He'll fire up the WABAC Machine from time to time, but picks his spots far more judiciously than the Kobe of yore.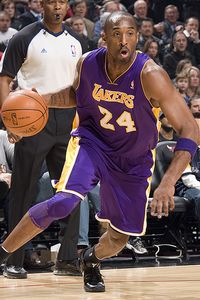 Andrew D. Bernstein/NBAE/Getty Images
Kobe Bryant can still create his own shot when needed. Unfortunately, the Lakers lack other guys who can.
Unfortunately, behind Bryant, the Lakers have a very limited number of guys capable of effectively putting the ball on the floor and creating good opportunities at the bucket with any sort of consistency. Very, very limited. Like Lamar Odom, followed by...
Tumbleweeds.
The problem is particularly acute in the non-Bryant portion of the backcourt. Put mildly, Steve Blake and Derek Fisher aren't particularly effective attacking off the dribble, nor is Shannon Brown, should he return. Like most, I don't want to see the Lakers rely too heavily on isolation sets, and don't think that's the sort of system Mike Brown intends to oversee. Still, it's one thing to not to rely on this sort of thing, and wholly another not to have the skill set available. Offenses break down, defenses make good reads. Players able to create their own shots provide a safety valve every time down the floor.
Moreover, the pick and roll, something the Lakers are likely to do more of next season, is far more effective when the defense must honor the ballhandler's ability to go all the way to the hole. More guys with the skill to do so means more viable p-and-r combinations and more pressure on the defense to adjust. There are other ways to address the team's offense, with a floor-spreading shooter topping the list, but players able to get to the rim can create havoc opening space for other guys, too, providing another reason to make the defense move. If you can't get better shooters, get the ones you have better shots.
In the end, for a variety of reasons starting with a need to take pressure off Bryant, particularly in late clock situations, and moving on from there, it would seriously be wise for the Lakers to find another guy capable of creating space and shots on his own.
Scale of Importance (1-10): 6
Previous Offseason Needs Posts: