As part of a continuing series, NBA players share the various ways growing up in L.A. shaped their game.
Los Angeles Clippers forward Craig Smith moved from South Central L.A. to the Miracle Mile area as a young kid. As a result, the Fairfax High School legend spent a lot of time playing ball on that side of town. In particular, he practically lived at places like Pan Pacific Park or Robertson Park (the latter with no less than current Wizard and fellow Angeleno Nick Young). On the surface, spots like these feel like a far cry from some of the presumably tougher courts around Los Angeles, but as Smith explained, don't judge a court by its zip code.
Andy Kamenetzky: Pan Pacific isn't necessarily a court people would naturally picture as potentially rough like a court in Watts or Compton. Is it tougher than it looks?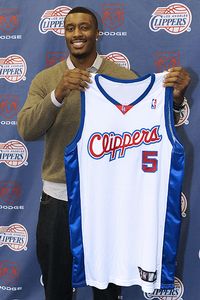 Juan Ocampo/NBAE/Getty Images
When Craig Smith was traded to the Clippers, it took the L.A. native full circle in his basketball life.
Craig Smith: Well, the new "Pan" is the one on Beverly. Everyone doesn't know about the old one that was close to Third and Gardner where they put in a senior citizen's home. Basically, it's like telling two totally different tales. Back in the day, Pan and St. Andrews (another Smith favorite, but much further south) were difficult and pretty physical. We were playing against some gang members who thought they can play basketball and other guys who enjoyed to play at the same time. So it would be a lot of arguing and a lot of physical toughness.
I played everywhere, though. I've lived in Compton when I was younger. I've lived in South Central. My mom was fortunate enough to upgrade her job to support us and put us in a nice situation. But I still had to fight my way against gang members. Nothing was easy.
AK: When you were playing in St. Andrews and Pan Pacific, were you typically among the younger guys?
CS: Yeah, I was definitely one of the younger players and there were a lot of guys who played collegiate ball or a couple of years in the NBA who came from St. Andrews Park as well. Hassan Adams. Brandon Heath, who went to San Diego State. There were a ton of guys coming into West L.A. There were a lot of guys who did D-1 and college. But everybody knows, the league isn't for everybody.
AK: Were there any locals you patterned your game after?
CS: I would say in the mold of Schea Cotton. He always a small dude, kind of like a (Charles) Barkley type. Those guys, they paved the gateway for us coming from toughness and coming from tough streets.
AK: Do you remember the first time you saw Schea play in person?
CS: Yeah, I was kind of overwhelmed. I was seeing somebody that was out there determined to try to be the best player on the floor. That experience in came out with always trying to put yourself in the best position possible and know this is a competition. And try to best at it in every aspect.
AK: Can you about the influence Fairfax High School basketball coach Harvey Kitani had on you?
CS: Harvey Kitani showed me how to keep my poise when people are out there talking on the floor. He showed me hard work and what it takes. Me and Harvey used to go back and forth because coming out of junior high, I wouldn't say I was the nicest kid or the kid that wanted the ball the most. I was kind of a bad ass and had a little bit of an attitude problem. But I loved playing the game. Sometimes I was just being hardheaded. He kind of told me the truth about things. Got me (in shape). We had to run to run on the track in September in 80 degree weather. (Laughs)
AK: Did the attitude problem you mentioned come as a result of playing in those rough games and needing to prove your manhood?
CS: Yeah. It's all about proving your manhood. It's kind of like, in a sense, somebody being in jail. You can't ever let them see you sweat. Even though I moved over into West L.A., there wasn't nothing soft about me. I'll always a South Central child, you know?
AK: You talked earlier about playing at Pan Pacific or St. Andrew's, do you remember a particularly epic run or fantastic game? One that stood out as my "Pan Pacific" or "St. Andrew's" experience?
CS: At Pan, I was about 13 years old. My friend Josh threw a lob and I dunked it and I broke the rim. The people who run the park ran outside. "Who broke the rim?" Everybody goes, "Craig did!" And I was like, "Wow! I have enough power to break the rim! I'm 12 or 13 years old!"
AK: Beyond the experience being just cool, did it speak to you about possibly being able to reach this level?
CS: Oh, yeah. Definitely. I always felt that within myself. I always felt like if you set your mind on anything you want, you can get it. Anything is possible. And as far as the beginning it definitely showed me, if I keep working hard and stay in gym and keep focusing, I can play with those guys up there. I can play with those (Charles) Barkleys, or (Patrick) Ewings. The (Kobe) Bryants.
AK: Do you see similarities unique to players from L.A.? Where you can watch someone play and say, "I can tell that guy is from L.A."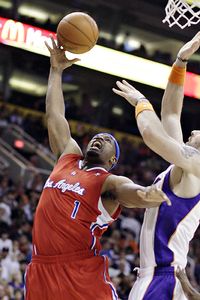 AP Photo/Paul Connors
Old curl?
CS: I guess it's more of a style thing. We're flashy, but at the same time, it's hard-nosed. We're tough minded. Whatever it takes to win. That's part of the perspective.
AK: So what is the move or part of your game that was specifically nurtured in L.A.? The "L.A. in your game?"
CS: I would definitely have to say, what everybody in my crew calls the "old curl." Around age 13 or 14. Even though we were at that age, we were around six-feet, six-two, and so we still had to go against bigger players. It was kind of like a floater, but at the same time, like a hook. In between a floater and a hook. I did a shot, and one of my friends said, "Man, that was like an old curl!" And everybody (sings), "Old curl! Old curl!" Every time we'd shoot that, you had to say "old curl" before it. I've been doing the old curl ever since. If you catch somebody off guard, nobody can really react to it. Even if you're a shot blocker, it's like a quick push shot.
Q: Where was the old curl invented?
CS: Where was I when that happened? Middle school, I think. It was John Burroughs Middle School. Man, John Burroughs! I'm glad that they cleaned it up. When we were younger, it was more gang-infested, but I think since they put those uniforms and stuff on (the students), it definitely changed. It's definitely better for kids. After school, they used to have gangs who would come up to the schools and try to jack people and try to jump people. It was crazy.
AK: Were you instantly using the old curl over and over?
CS: Oh, yeah. Over and over. Every time I played, there would definitely be three or four old curls.
AK: Is there anything about the way L.A. guys defend that prompted you to develop a move like that?
CS: Yeah. Everybody knows if you play basketball, you're really skinny and thin. But I'm tall with a little bit of girth. So after I would use my body to get a shot blocker off me -- the tallest player would always have to guard me -- I would try to have an advantage to use my creativity to get my shot over.
AK: And this is still a move you're using with the Clips?
CS: Definitely. It's so much more polished. Just being older and coming with wisdom, you can find different ways to just score and try to get your shot off.
AK: How fortunate do you feel having growing up in L.A., when it comes to basketball?
CS: So fortunate, man. It allowed me to share my love at any point of time of the day. If I was having a rough day, if I saw my mom and sister getting into an argument, or if I just saw one of my friends getting jumped, it was kind of a gateway for me. And by being out in California, the weather allows you to do anything you want to do outside. I could always find a court. It was like therapy time.
I still try to go around to parks. Just sit there and just watch. For perspective. Hey, I started her, too. It's cool to see the young guys out there excited, ready to play. Saying different people's names when they're shooting, like, "Oh, LeBron! Corner!" Stuff like that.
AK: How much does it mean to you to have your professional career here?
CS: Oh, man, it means a lot. The last time I played at home, as far as college and the start of the league. I was east coast and Midwest. Getting a chance to play in front of my family and friends as a professional? It's a totally different perspective. Very humbling, too.
Previous installments