I caught up with Lakers general manager Mitch Kupchak for about 20 minutes on Tuesday, and we spent the bulk of our time talking about the upcoming NBA draft. There were, though, a couple of topics I couldn't fit in the story.
Before talking to him, I looked back at the story I wrote when we spoke shortly after last year's draft, when he told me this about Devin Ebanks and Derrick Caracter, who the Lakers selected at Nos. 43 and 58, respectively: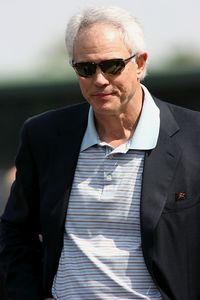 Jeff Golden/Getty Images
Behind those shades is a man who doesn't seem to expect much from next week's draft.
"In terms of a grade, I think you have to ask me that question a year from now," Kupchak said.
A year later, I reminded him about the quote, and he relented. Sorta.
"I would say both are incomplete," Kupchak began. "I feel like Devin showed great promise on a veteran team. He really did some things that led us to believe he can be a player in this league. But then he got hurt and ended up missing the last 2-3 months of the season. The offseason is going to be very, very important for him. But, he does have a position and he's got athleticism and skills that translate to the NBA game."
Ebanks averaged 3.1 points and 1.4 rebounds in 20 regular season games. He did not play in any regular season or postseason games past Feb. 25 because of a stress fracture on his left tibia.
Caracter played in more than twice the amount of games as Ebanks did (41), but put up similarly lackluster numbers, averaging 2.0 points and 1.0 rebounds per game. Like Ebanks, he did not play in the playoffs, but he still saw some action as he was arrested in the first round against New Orleans because of a late-night incident at an IHOP.
"Derrick probably played a little bit more towards the end of the season, but he's searching and we searched to find where he plays in this league," Kupchak said. "Is he a center at 6-8? Will he be able to play some power forward? Where is he going to flourish in the offense consistently? And he had his little occurrence during the playoffs. That certainly added to the grade of incomplete. But, he's shown great remorse in the last month or so and he's been coming into the gym and working real hard."
The Lakers have options on both Ebanks and Caracter for next season, but both won't necessarily be picked up. I've been told by a source that Caracter won't likely be a part of the team next year, and Kupchak made it clear when outlining the challenges facing the 6-9, 275-pound tweener, yet, the GM made a point to mention Caracter's work ethic remains strong. So, make of that what you will.
Here are a few other tidbits from our conversation…
On whether offseason movement (trades, free agent signings, options being exercised, etc.) was particularly slow this year with the Collective Bargaining Agreement set to expire on June 30:
"It's a little quiet right now. I'm not sure that's not normal, until the season ends which it just did on Sunday. I know myself just looking at today and yesterday, that there's a lot more activity so far than there was most of last week. So, I think it will ramp up and there will be some movement draft day, day before the draft, day after the draft, stuff like that."
On whether the draft is really as weak as everybody says it is:
"We'd like to have a top-five pick in the draft, because there are good players out there. Going into the draft, there doesn't appear to be a player with the hype that the previous drafts have had -- a Greg Oden, LeBron James, stuff like that -- but you really can't evaluate a draft before the draft. You really have to wait a year or two and look back on it. Typically, in the draft, a year or two down the road you look back and it will end up being a pretty good draft, probably."
On what type of players have been coming to El Segundo for private workouts with the team:
"We're looking at players that we think might be there in the 40s and 50s. Typically with those kinds of players, something may jump out at you, but the whole package doesn't ever really jump out at you, because if it did, that player would be a lottery pick. You may see somebody who's got a nice stroke, but he's a tweener in terms of size; or somebody that's got great athletic ability but can't shoot the ball; or great size and can't catch. When you're drafting in the 40s, there's compromises that you have to make and sacrifices. You end up looking at a lot of mid-sized players, 6-7 and less, because the big guys are just hard to come by … [big guys] that can play, anyway."
On the expectation of the results of having four second-round draft picks:
"It's unlikely that we'll think that we can draft four players that can make our team. We might not have the roster spots. And then it's unlikely that someone you draft at No. 58 makes your team. I'm not sure I would say it's likely we would use or pick four draft players that we would expect to make our roster next year. We may look to trade a pick for a future pick. We may look to pick and player and that player might go to Europe for a year or two. Stuff like that."
On the hiring process for Mike Brown's assistant coaching staff:
"I know he's working on it. Nobody has signed an agreement. I would hope in the next week or two that part of the staff will be in place. But, he's going through the process. He's got some guys he knows that he's comfortable with, and then he's going to interview some people and that's just going to take time."
On the Lakers offseason plans from a management perspective:
"There's certain things we know right now. We know we're so far over the cap, that we'll never have cap room [this summer]. We know we don't have a first-round pick. So, those are options that other teams may have to improve their team that we won't have. I guess you can say, maybe, you can get a [first-round] pick, but that's not contemplated right now. Then we'll just have to see in terms of maybe a trade that makes some sense or fill in [the roster] during the free agent season. Those are kind of our options right now."