The 2011 NBA Draft is Thursday afternoon (4 pm PT, ESPN). We've spent scads of time taking stock of where the Lakers stand heading into draft day, and now aim to catch up on the rest of the Western Conference.
Today, the Northwest Division...
Oklahoma City Thunder
2010-11: 55-27, lost Western Conference Finals 4-1 to Dallas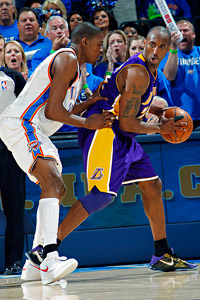 Layne Murdoch/NBAE/Getty Images
The Thunder are set to be a major obstacle in L.A.'s effort to reclaim the Western Conference.
Picks: 24, Round 1.
Where They Stand: Tall. After losing to the Lakers in the first round of last year's playoffs, the Thunder reached the Western Conference Finals this year, eliminated by Dallas in a series tighter than the five-game result suggests. The Thunder, they know they've lost only to the best, and looking towards next year remain the Western Conference franchise with the highest amount of upside. While there is some early speculation about the future of Russell Westbrook in OKC, he's under their control for two more seasons, meaning the core of Westbrook, Kevin Durant, James Harden, and Serge Ibaka is locked in, with role players like Kendrick Perkins and Nick Collison sewn up as well.
Really, the only question they have from a roster standpoint revolves around 3-point specialist Daequan Cook.
They don't need much, but if the WCF proved anything, the Thunder need another guy to facilitate the offense. As brilliant a young player as Westbrook is, Harden proved himself easily their best facilitator of the halfcourt offense. In those moments he couldn't play (after fouling out in Game 4 against the Mavs, for example), OKC suffered greatly. Westbrook should/must improve as a wheel-greaser, but adding another guy fitting the profile won't hurt.
OKC could use a little more shooting, as well.
Projections: Chad Ford, ESPN.com (Insider Required) - Nicola Mirotic (SF, Serbia). DraftExpress - Kyle Singler (SF, Duke)
Denver Nuggets
2010-11: 50-32, lost in first round to Oklahoma City, 4-1
Picks: 22, Round 1. 52, Round 2.
Where They Stand: Littered with options. Predicting exactly what the Nuggets will look like next season is like determining exactly where one of those Escher staircases ends. G.M. Masai Ujiri can go in any number of directions with his roster, depending on how he wants to use the assets gained in the Carmelo Anthony deal. Kenyon Martin and J.R. Smith are free agents, Nene has an $11.6 million player option, they have a decision to make on restricted free agent Wilson Chandler, and Raymond Felton is a hot name in trade rumors. About the only thing that can be said with confidence is that Denver won't let Arron Afflalo, also a restricted free agent, get away.
With so much uncertainty, the Nuggets have the luxury of drafting, and basically justifying on one level or another, whoever they want. Anybody -- literally anybody at virtually any position -- will have a good chance of addressing a need next season for George Karl, assuming a player of high enough quality can be had in the low 20's.
Projections (Round 1): Chad Ford - Tobias Harris (PF, Tennessee). Draft Express - Iman Shumpert (G, Georgia Tech)
Portland Trail Blazers
2010-11: 48-34, lost in first round to Dallas, 4-2.
Picks: 21, Round 1. 51, Round 2.
Where They Stand: In transition. LaMarcus Aldridge made the Great Leap this season, Wes Matthews proved a stellar pickup after a solid rookie season in Utah, and after a slow start following his acquisition in a deadline deal with Charlotte, Gerald Wallace grew increasingly more comfortable. Meanwhile, Brandon Roy is signed for big money through 2015, except his knees retired earlier this season, while restricted free agent Greg Oden's knees unfortunately never made the trip from Columbus. Andre Miller's nearly $8 million team option for next year makes him a very attractive trade chip, meaning he's on the block. Nothing new, considering Miller has basically lived on the block since signing with Portland in 2009.
Plus, they fired general manager Rich Cho, since hired by the Bobcats.
Like the Nuggets, the Blazers have enough flexibility built into their current and future roster to justify almost any selection, but the uncertainty makes a targeted, need-based choice tough. One place to start could be rebounding. Portland was an accomplished group of glass crashers offensively, but very poor at the defensive end. A little more shooting for a team ranked 21st in 3-point percentage this year wouldn't hurt either.
Projections (Round 1): Ford - Kenneth Faried (PF, Moorehead State). DraftExpress - Faried
Utah Jazz
2010-11: 39-43, missed playoffs.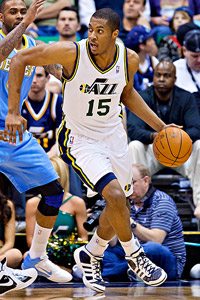 Russ Isabella/US Presswire
The Jazz need Derrick Favors to develop if they want to return to the NBA's upper tier.
Picks: 3, 12, Round 1.
Where They Stand: Rebuilding. Deron Williams is in New Jersey, Andrei Kirilenko is a free agent, Jerry Sloan is retired. The frontcourt is in good shape, with Al Jefferson, Paul Millsap, a (hopefully) healthy Mehmet Okur, and Derrick Favors, expected to develop into a franchise cornerstone after coming over from the Nets in the Williams deal. Last year's first rounder Gordon Heyward showed promise as the season went on, averaging nine points a game in the second half, and 16.4 in seven April games. What they don't have is much in the way of guards. Devin Harris and Raja Bell are the only ones under contract, and Bell was pretty bad last year.
Unlike their division rivals, the Jazz have real, tangible holes to fill in their roster, and picks high enough to be useful in a thin draft. It would be surprising if they don't come away from Thursday night with at least one guard, maybe two. Jimmer Fredette a) shoots the lights out, b) went to school in Utah and c) is named Jimmer. If David Stern calls his name, bells will ring in Salt Lake City. But whether it's Fredette and/or someone else, expect Utah to bolster its backcourt.
Projections (Round 1): Ford - Brandon Knight (PG, Kentucky), Chris Singleton (SF, Florida State). DraftExpress - Knight, Singleton.
Minnesota Timberwolves
2010-11: 17-65, missed playoffs in the NBA, NBA 2K11, and probably the NBDL, too.
Picks: 2, 20 (Round 1)
Where They Stand: Fallen, can't get up. At least with Ricky Rubio coming over, the Wolves don't have to continue throwing picks and free agent money at point guards. Add him to Kevin Love and Michael Beasley, and you get . . . a still very bad team. This is assuming any of those guys (Rubio excluded) is even on the team next year, since trade talk dominates any conversation about the Timberwolves these days, particularly in relation to the second pick in the draft.
What it will look like when the dust clears is anyone's guess, since David Kahn has essentially turned Minneapolis into the Island of Misfit Toys, stacked with lottery picks, some theirs, others cast off by franchises around the league. On a better team, some of their players have value, but as a group they lack in virtually everything enabling teams to win. Little stuff like shooting, defense, and passing, just to name three. The latest talk is of a desire to add an established vet to lead the younger players (hence all the Pau Gasol-to-Minnesota chit chat) but like many, I have no faith in Kahn's ability to reform the team in a way making any lick of sense.
Projections: Ford - Derrick Williams (PF, Arizona), Donatas Motiejunas (PF, Lithuania). DraftExpress - Williams, Tobias