For the record, I don't believe a deal sending Pau Gasol to Minnesota, whether for Kevin Love and the No. 2 pick in Thursday's draft; the pick and whatever flotsam, jetsam and magic beans with which the Wolves would try to entice L.A.; or any combination therein is going to happen. Accepting any offer not including Love would be monumentally bad for the Lakers, and while far be it for me to tell David Kahn how to do his job, I'm not really sure how shipping out the draft choice, Love and whatever other pieces required to obtain Gasol and make salaries match makes much sense from his end, either.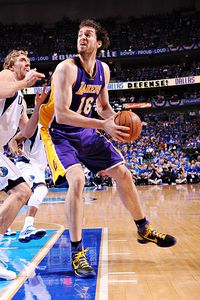 Andrew D. Bernstein/Getty Images
If you think Pau Gasol will bounce back from a horrible playoffs, a deal sending him to Minnesota lacks appeal. If not, you're probably recommending he buy a winter coat.
Strip away Love, and even if you believe Gasol the superior player (as I do), how much does he improve a 17-win team? Even if he and Ricky Rubio instantly developed a chemistry so profound the great Venkatraman Ramakrishnan wept in appreciation, unless Rubio really is the second coming of Magic Johnson, the Wolves are, what, a 30-win group for the next few years, by which time Gasol will be past his prime?
Congrats.
More interesting to me than the parameters of an almost sure-to-remain-hypothetical deal is how many have responded to the idea of moving Gasol in what is less a trade conversation than a referendum on Pau's fitness as a wingman. I'd love to say I'm surprised at the level of popular sentiment for moving him following this year's postseason meltdown, but I'm not. It was clear before the Dallas series even ended the summer would be a long one for Pau, only reluctantly accepted into the Fraternity of the Elite-Championship Mettle Division, despite his body of work over the team's two title seasons.
I don't agree, believing strongly Gasol will come back with a high-end campaign next year, but for a lot of people his playoffs put him right back to post-Game 6 in '08, or even to the guy who "couldn't win" a playoff game in Memphis.
The chatter speaks also to the level of doubt surrounding the team. A new coach; the perception at least of a quasi-new, definitely unproven figure in Jim Buss making big decisions once left to his father; questions about the time Kobe Bryant still has as a dominating franchise anchor and who would be next in the line of succession. Factoring the unknown elements of how a new CBA could impact high-salary, high-revenue teams such as the Lakers adds to the anxiety. Will there be a hard cap? How fast would it be implemented? Will the Lakers soon have to shed players for pennies on the dollar just to be compliant with the new rules?
Relatively speaking, the last few seasons (the last 30 years, really) have contained little to worry about for Lakers fans. The team was obviously very, very good and designed to stay that way for a while. But sustained calm and success means it takes very little to move the worry needle. It's a jittery town, having not experienced the level of uncertainty most cities feel with their basketball teams from year to year.
For Gasol, previously so consistent and predictable he threatened the monopoly held by death and taxes, to be a major trigger only makes it worse. Particularly once he proved himself against the Magic in '09 before redeeming himself against the Celtics a year later, Pau promised some degree of worry-free living. A nearly silent perpetual motion machine operating seamlessly around an oft-injured Andrew Bynum, the still challenging Kobe Bryant, the mercurial Ron Artest and so on.
Gasol wasn't supposed to be the guy going off the rails.
There's also a tendency to believe anything younger automatically solves the Lakers' quickness and athleticism problem. He may be older, but relative to Love, Gasol is damn near a decathlete. He runs the floor better and is a superior defender in space and in help situations. None of this is to say Love isn't a very, very good player. He obviously is, and even given the limitations of Minnesota's roster, there's a tipping point at which the Lakers should take a deal. I say this as one of the biggest Gasol honks in L.A.
A problem now for fans is the often conflicting desire to get younger and better simultaneously. It can be done, but isn't easy. If you believe Gasol's postseason performance wasn't an aberration, you move him for Love and the No. 2 or to a different team and get a return now. If you believe it was, it's difficult to get a better player in return. Anything the Lakers do must make them better, or at least no worse, today. They can't afford a decision benefiting the future at the expense of the now, at least not if the goal is to maximize the Kobe window.