Meeting the media early in the first round, long before the Lakers were on the clock, G.M. Mitch Kupchak indicated the Lakers would look for help in the backcourt. He wasn't lying. With the first of their four second round picks, L.A. selected Michigan point guard (and L.A. native) Darius Morris.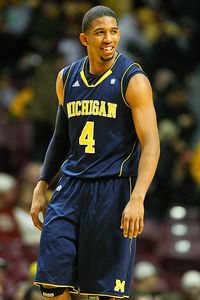 Bruce Hemmelgarn/US Presswire
Michigan point guard Darius Morris was selected by the Lakers with the 41st pick in the draft.
He's a big kid, listed at 6'3" in the NBA's official Draft media guide, 6'4" on the bio handed to us by Lakers PR, and 6'5" on TV. (A few more sources, and he might get up to seven feet.) He left Michigan after his sophomore season, and a lot of people who track this sort of thing believe he would have elevated himself well into the first round, perhaps into the lottery, had he stayed in school a little longer. From a scouting report on Morris by ESPN.com's Chad Ford, written last month:
"...Morris has improved dramatically since high school and may be the most improved player in college basketball. NBA executives tend to love big point guards, and Morris is the biggest true point guard in the draft. That was noticeable the second we walked in the gym. Morris is a legit 6-foot-5 in shoes. He has broad shoulders and has a power game that's reminiscent of a young Andre Miller. Anyone who has watched Morris play knows he can make the spectacular pass and really knows how to run a team. The question marks are around his jump shot and his lateral quickness. While Morris doesn't possess the shooting touch of Kyrie Irving or the speed of Kemba Walker, he showed on Wednesday that he's better at both than he's given credit for (video here). While he's not an elite athlete, he's quicker with the ball than you think and shows great control with his handle. Morris also showed off a terrific midrange jumper in drills. His NBA 3-point shot was solid but still needs work. Morris has elite size and may have the best court vision of anyone in the draft. Add in his defensive abilities and a great, supportive family background, and I can see Morris sticking in the first round.
Obviously the last part didn't happen, and Morris' shooting on the perimeter is basically non-existent (he shot 18 percent from three as a freshman, 25 percent this year) but at the very least the Lakers have found themselves a kid with high upside at a position of need, with a skill set differentiating him from other guards on the roster.
Solid work with the 41st pick. And as a side note, Morris went to Windward High in Mar Vista, where I once worked as a substitute teacher, so we have that in common.
If you'd like to watch some highlights, go here. Read his DraftExpress profile, here.
UPDATE: For more from Morris and his post-draft interview, click below...
On landing in L.A.: "I'm very excited to capitalize on an opportunity. It's truly a blessing for them to pick me."
On his strengths as a passer: "Being a playmaker and reading what the defense gives me. Also making players around me better is one of my greatest assets that I can bring to the team. Also, in terms of being a playmaker, I can also score, too, at times."
On things he needs to improve: "It would be the three-point shot, because it is part of the NBA, so it's something I'll really attack hard in my workouts in the offseason and really get that together."
Any regrets on coming out early? "No, not at all. God has a plan and everything happens for a reason, so regrets at all. I'm very excited to move forward."
How many teams did you work out for? "10."
On the feedback he received at workouts: "They gave us great feedback and like you said, a lot of teams in the first round thought I was a possible target. It just didn't work out that way. It wasn't because of my play, so I guess they were looking for something else. But I'm really glad the Lakers drafted me."
On dreaming of being a Laker growing up as a kid in Los Angeles: "Oh, man, never in a million years did I think I'd get drafted by the Lakers. I (always thought) I'd go and play in the NBA, but I never thought I would be playing for the Lakers in my hometown. It's really a dream come true."
What goes into improving your outside shot? "Just a lot of reps. [Michigan coach John] Beilein did a great job with my fundamentals, just getting in the gym and getting a lot of correct reps up. And also when the season does start, taking the advice from the coaching staff and just be ready to learn."
On whether he can guard both positions in the backcourt: "I provide a different look, being able to play a small guard but have the size of a big guard. On defense, can guard the one or the two, depending on the matchups. I'm kind of versatile in that aspect. And also on the offensive end, being able to take advantage of smaller guards and also being quicker than bigger guards."
Influences as a point guard: "Definitely, I'd have to say, when I'd watch videos of Magic Johnson, the way he passed the ball inspired me. But also every time I'd watch basketball, I watched it as a fan but also more importantly as a student of the game, and tried to take whatever I could from any good player or any good move that I saw. All the players that came before me, I definitely tried to take some parts of that and instill it in my game. They have a great veteran point guard in Derek Fisher, but I feel I can provide a different look than him, being bigger. I'm really excited, because that is a position they can add more depth, too."
On how leaving home for college helped him as a player: "It helped me grow up as a man on and off the court. It taught me how to be able to get through adversity. Sometimes when your family's not there, you just work through things. I just think it really helped me mature, which helped my skills as a point guard. As a point guard you gotta be very mature. So I think it helped me in the long run. Now I'm able to come back home and be focused and be on a mission.
On his favorite Laker in high school: "It had to be Kobe Bryant, the way he played and the things that he does out there. He's the greatest player in the world, so it had to be Kobe Bryant."