Dave McMenamin has the long-expected news.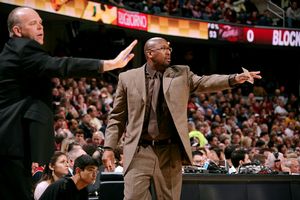 David Liam Kyle/NBAE/Getty Images
John Kuester will again join Mike Brown on the sidelines.
He'll be the lead assistant, and the man primarily responsible for organizing the offense. While an assistant with Mike Brown for two years in Cleveland, the Cavaliers did very well on that end of the floor (at least until critical moments in the playoffs), finishing fourth in efficiency in the 2008-09 season, then sixth in 2009-10. Sebastian Pruiti has done a great job over at NBAPlaybook.com breaking down what Kuester might bring to L.A. in terms of utilizing Kobe Bryant, as well as how Brown's San Antonio days could be reflected in the team's attack next season, assuming for the time being there is one.
The bigger question for some, one we've fielded multiple times over the last few weeks, is whether or not Kuester's disastrous tenure as the head coach in Detroit, with its massive losses, player mutiny, and disparaging pop culture references, should be of any concern for fans in Los Angeles. In that regard, I wouldn't worry. Had the Lakers hired Kuester as their head coach, it might have made sense to crack each others heads open and feast on the goo inside. But he's an assistant, meaning authority is ultimately with Brown. I don't anticipate issues, but if a player has a problem with Kuester, they basically have a problem with Brown, and it'll be his job to settle it.
Kuester, highly regarded as an assistant before landing in Detroit, is someone with whom Brown feels comfortable and trusts, and is by all rights a rock solid basketball guy. A solid working relationship between Brown and his staff only enhances the on-floor product.