In news none too shocking, Shannon Brown officially opted out of his contract with the Lakers and became a free agent. As he told Dave McMenamin, this decision doesn't rule out another go around with the Lakers, but the odds feel low. For two consecutive seasons, Shannon faded over the second half, perhaps hinting at a ceiling for an inconsistent player. He may also be ready for a change and a bigger role. Plus, the organization appeared to anticipate a parting of the ways. As Shannon noted, two guards were drafted in the second round. Even if Darius Morris and Andrew Goudelock aren't quite seasoned enough to replicate his role, thematically, it feels like handwriting on the wall.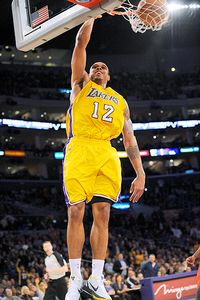 Noah Graham/NBAE/Getty Images
A familiar visual from Shannon's time in L.A.
I recently shared thoughts on the impact of Shannon's departure -- namely, who can pick up his slack -- so there's no need to repeat myself. In a nutshell, he's a replaceable player, although the options from within the roster as constructed are imperfect. But either way, Brown's time here was pretty remarkable in its own right.
By his own admission, Shannon was a "throw-in" with the Adam Morrison-Vlad Radmanovic trade, with zero expectations of PT as a late addition to an elite team. While he relished the chance at a ring, from a practical standpoint of trying to stay in the league, this wasn't necessarily the best place for him to land. However, he never allowed his personal situation to diminish his enthusiasm or work ethic, and when Jordan Farmar rebelled his way out of the rotation, Phil Jackson called an audible, which was Shannon's number. By the time 2009 playoff dust settled, Brown wasn't just a member of a championship team. For the first time in his entire career, there was a whiff of stability.
For a kid who spent the previous offseason worrying he wouldn't even have a job, this turn of events couldn't possibly have been predicted.
I don't think it's hyperbole to say getting traded to the Lakers saved Shannon's career. At the very least, it prevented a potential struggle. Some of the credit goes to PJ, a coach often criticized as rigid when it comes to young guys and midseason acquisitions. (Brown's gratitude towards Jackson made the 2011 playoff fizzle even more disappointing.) Shannon also has talked up the benefits of learning from Kobe Bryant. But ultimately, this was a case of a player with a great attitude making the most of an opportunity. Shannon got lucky with the perfect timing, but four leaf clovers only takes the beneficiary so far if taken for granted.
No doubt, Shannon arrived in L.A. an exciting and athletic, but flawed player, and remains the same to this day. His game has certainly improved, but his propensity to repeat mistakes on both sides of the ball were often maddening. Still, he ultimately made the most of a chance, which isn't always the case in the NBA, much less out of left field. As someone who got to know and respect Shannon, seeing that hard work and positive attitude parlayed into a legitimate career was pretty rewarding to watch. Even if he never quite developed as fans or the front office hoped, Brown's Laker story is a happy one.