For those depressed after seeing Brian emphasize the "thin" options for free-agent point guards, buck up, campers! The shooting guard crop is better. Granted, it's hardly overflowing with eye-popping candidates, but upgrades, however small, are still better, right? There are definitely some 2's feasibly acquired, if not necessarily the proverbial "missing piece."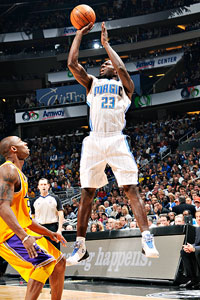 Fernando Medina/NBAE/Getty Images
If Jason Richardson were a pie, he'd be too high in the sky for the Lakers.
The "Unless they're so geeked to become Lakers a bench role and mid-level exception are amenable -- and mid-level exceptions still exist in the new CBA -- don't hold your breath" guys.
Jason Richardson (UFA, Orlando)

Jamal Crawford (UFA, Atlanta)
Even acknowledging both aren't likely to maintain their previous salaries, this wouldn't just be a paycheck below market value. We're talking the monetary haircut equivalent of Demi Moore in "G.I. Jane." Their roles could also be reduced along with their cheddar. On the flip side, those sacrifices would allow both to harbor less guilt over deficiencies (defense for Richardson, darn anything outside scoring for Crawford).
Between the two, Richardson is the better player and outside shooter (his three-point percentage hasn't dipped below 38 percent since 2007), but either can fill buckets at will. Hopefully, not at the Lakers' expense, since they're likely to remain opponents.
The "Not quite as expensive, but I still wouldn't hold my breath" guys
J.R. Smith (UFA, Denver)

Nick Young (RFA, Washington)

Arron Afflalo (RFA, Denver)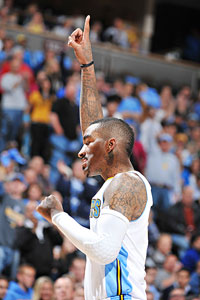 Garrett W. Ellwood/NBAE/Getty Images
J.R. Smith is talented, but like a renegade cop, is also something of a loose cannon.
For Smith and Young, mid-level-ish money is perhaps more realistic. The bigger headache, however, likely comes after inking them. True, there's a desperate need for another wing not named "Kobe" or "Bryant" who can create for himself, and these guys score in their sleep. However, wild shot selection, erratic decision-making, and porous D are part of Smith's package. And the equally undisciplined Young offers literally no other skill set beyond scoring. Similar to how Lamar Odom's is often described as a Swiss Army knife because of his versatility, Young's tunnel vision gunning makes him a spork.
For his part, Afflalo actually qualifies as a legitimate two-way player, not to mention a high character, steadily improving Karl favorite to boot. Thus, I'd be stunned if Denver allowed him to walk under any circumstances other than an astonishingly big offer the Lakers can't pony up in the first place.
Anyhoo ...
The "Didn't you used to be a star?" guys
Tracy McGrady (UFA, Detroit)

Michael Redd (UFA, Milwaukee)
Last offseason, I was intrigued by the idea of a cheap flier on T-Mac, and that was before he reinvented himself as a point-forward type in Detroit. A cursory glance at last season's stats won't pop eyes, but his splits reveal solid January and February results after taking on PG duties, plus a 10/4/4.5 line as a 27 minute role as a starter. And as SI's Zach Lowe noted, his defensive stats panned out surprisingly well, even with a mandatory grain of salt consumed.
The shooting percentages were low and it's understandable if fans were nervous at T-Mac reuniting with John Kuester after participating in the player rebellion. Nonetheless, McGrady could be among the best bargain signings capable of addressing -- if not solving -- issues like point guard depth and second unit scoring punch, whether at the 1 or 2.
Plus, in a world where social media and wacky Photoshop are King, shouldn't this pic merit at least a front-office discussion?
Meanwhile, Redd was once among the NBA's best marksmen and the Lakers could certainly use a spot-up threat. Which works out fantastic, since the long-time Buck may not be able to do much besides park himself in a corner. He's played a total of 61 games over the last three seasons and wasn't exactly famous for his defense or athleticism before two knee injuries. Still, if the stroke remains pure, Redd would easily be the best shooter on the Lakers.
The "Realistic, and by extension, less exciting" guys
DeShawn Stevenson (UFA, Dallas)

Mo Evans (UFA, Washington)

Roger Mason, Jr. (UFA, New York)

Marco Belinelli (UFA, New Orleans)

Anthony Parker (UFA, Cleveland)
Of this grouping, Stevenson could be the prime pickup. He's the best defender, has championship experience and is fiercely competitive. And while he's not a steady enough three-point shooter to merit a signature celebration, Dallas' title run occasionally featured Stevenson on a roll. Plus, a team-first attitude and penchant for hilarious quotes make him a fantastic locker room addition on several counts.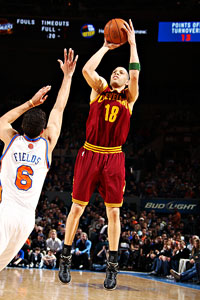 Nathaniel S. Butler/NBAE via Getty Images
I'll get ya courtside seats, sis!
Lakers fans are familiar with Evans from a previous tour of duty during the Smush-Kwame years. Mo's the poster boy for "solid NBA journeyman," but teams seeking a conscientious defender with credible enough shooting range could do worse. (Better, too, but also worse.)
Mason can serve as the Lakers' "break glass in case of emergency" point guard and isn't far removed from back-to-back seasons with 40+ percent clips from Downtown. Unfortunately, he's also coming off back-to-back seasons of declining production and barely registered a blip in New York, which makes you wonder if his best days have in fact passed.
Belinelli is a pure shooter. So "pure," in fact, he's apparently determined not to blur that label by bringing anything else to the table. Last season, his combined assists, rebounds and steals clocked in at a stellar 3.5. But a career 42.7 percent clip from behind the arc remains a career 42.7 clip from behind the arc.
Parker could be worth a flier as a sleeper among these bargain basement cats. A career 40.9 percent three-point shooter, he's also a decent play-maker and an effective defender, so his presence could help on a few levels. The swingman is also familiar with Mike Brown, having played a season under him in Cleveland. Plus, he and sister Candace playing in the same building would be absolutely adorable. It's like when BK and I blog together, only with people you'd actually pay to watch do something.
Similar players to consider: Willie Green (UFA, New Orleans), Marquis Daniels (UFA, Sacramento), Daequon Cook (RFA, Oklahoma City), Von Wafer (UFA, Boston).
Conclusion
Obviously, shooting guard is an area in need of fortification, with Kobe's years and injuries piling up and Shannon Brown unlikely to return. If need be, Matt Barnes, Devin Ebanks (who could be developed as a guard) and Andrew Goudelock (roster spot presumed) offer a by-committee approach, but I doubt anyone would relish entering the season that way. Another body would be nice. Unfortunately, with only so much dough available and other areas equally in need of addressing, Mitch Kupchak is living between a rock and a hard place.
Assuming a newcomer is signed, he'll likely be of the B/C-list variety and like everyone else, will need to step up his game.