If there was a benefit to last year's bottom-of-the-barrel production at the point, it's that it provided a nice distraction from the relative wasteland at small forward. Purple and gold 3's ranked 23rd in efficiency differential, 25th in field goal percentage, and 19th in 3-point percentage. This despite that Kobe Bryant guy soaking up some minutes there. The main combination of Ron Artest and Matt Barnes wasn't up to snuff. Some of it was circumstance: Barnes was playing well, providing more or less exactly what the Lakers expected (offensive rebounding, off-ball movement, energy, defensive effort) until hurting his knee in January, and never fully bounced back. At least he had an excuse. Artest, healthy enough all season, fell off at both ends of the floor relative to his first year in L.A..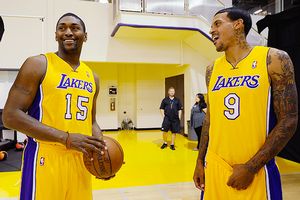 Kevork Djansezian/Getty Images
The combination of Ron Artest and Matt Barnes didn't exactly set the world on fire last season.
It's reasonable both to expect a healthy Barnes to once again look more or less like the perfectly useful player he was starting last season and to wonder if Artest's slide will continue. A new system could benefit Ron Ron, but then again, it isn't the system making it tough to slide a deck of cards under his feet when he jumps. The decline in his explosiveness is worrisome. How the Lakers might juggle things if they're willing and able to add another small forward is an outstanding question, but fair to say from a productivity standpoint, even if Barnes bounces back there's room for improvement.
As it was with the shooting guards -- some of whom could also slide to the 3- the free agent rolls provide a few pinkie-to-the-mouth options.
Here's how it breaks down:
THE YOUNG, INTRIGUING, AND TOTALLY UNREALISTIC
Thaddeus Young (Restricted Free Agent, Philadelphia)

Wilson Chandler (RFA, Denver)
After showing promise in his rookie and sophomore seasons, Young seemed to backslide in his third year. Fair to say he ended that trend in his fourth. As a guy who drafted Young in the late rounds of his fantasy draft, I can attest firsthand how well he played last season. Career highs in field goal percentage (54.1) and points per 40 minutes (19.6) and an improved rebound rate. Only 23, Young is a great athlete who should continue improving. Some might say he's more accurately listed as a power forward. For our purposes here, I say the distinction is irrelevant, because the Lakers can't afford him. Philly has made a $4 million qualifying offer, and would easily match whatever L.A. can present. Chandler, young, athletic, and smooth to the bucket (with an improved outside shot) is also not a viable option, financially.
IF YOU SQUINT HARD ENOUGH, IT'S SORT OF POSSIBLE TO SEE THE POSSIBILITIES
Caron Butler (Unrestricted Free Agent, Dallas)
He's coming off a major knee injury, right? Teams will be scared off, right? And Butler, with good skill offensively and tenacity at the other end, was tight with Bryant during his one year in L.A., right? He'd be a nice fit playing a supporting role for a good team, like he did in Dallas last season, right?
All true, except while Butler will certainly take a haircut off the $10 mil-plus he earned in '10-'11, Mark Cuban is a fan, is interested in bringing him back, and the feeling appears mutual. Other teams would likely be interested in Butler, seen by some as the best SF available, meaning he'll likely be priced out for the Lakers unless they decide to overpay in contract length (unsound), or Butler decides to take less to play in L.A. The former seems highly unlikely, the latter still-but-less-so... but it does provide a nice segue to:
COME, SAGE VETERAN, LET US TEMPT YOU WITH OUR CHAMPIONSHIP POSSIBILITIES
Grant Hill (UFA, Phoenix)

Shane Battier (UFA, Memphis)

Tayshaun Prince (UFA, Detroit)

Andrei Kirilenko (UFA, Utah)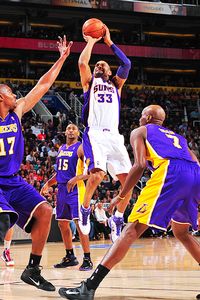 P.A. Molumby/NBAE/Getty Images
He may be an old man by NBA standards, but Grant Hill can still play. Not just the piano, but basketball as well.
When he entered the league in the '94-'95 season, the NBA had only four divisions, Michael Jordan was playing baseball, the Hornets were in Charlotte, the Thunder were still the Sonics, the Wizards were the Bullets, and the Raptors and Grizzlies didn't exist. In short, Grant Hill is old. But while the Lakers are rightly looking to add a little youth, the bottom line is this: Hill can still play. At 38, he remains a solid defender, makes smart decisions with the ball, moves well without it, and over the last two season has drastically improved his 3-point shooting. The obsession among many fans is for the Lakers to get younger, but in reality, the obsession should be to get better. If youth comes in the process, gravy! Hill would represent a significant upgrade to the team's overall depth, and could perhaps be tempted with a short term, low wage contract offering a chance for his first ring.
Oh, for those keeping track, the once oft-injured Dukie has missed all of three games over his the last three seasons.
At 32, Battier isn't quite the defender he once was, but remains a plus shooter from downtown, moves the ball extremely well, and would fit in well with a high IQ Lakers squad. He wouldn't, however, raise the level of athleticism on the wing, a knock against him for sure. Like Hill, he has earned plenty of money through his career (over $47 million) and should things turn sour with his finances has that Duke education to fall back on. Perhaps he could be tempted to take a little less cash in pursuit of a ring. The atmosphere in Detroit may have been toxic last season, but Prince still played pretty solid ball. Still a willing defender (at least in theory-- given how bad the last two Pistons squads were, it's hard to tell) with good court vision, Prince would provide scoring punch, and could very well be rejuvenated by a chance to join a winner, assuming any lingering tension with John Kuester can be resolved. I suspect he'll cost more than Hill or Battier, very possibly too much, but like those two would represent an upgrade for the rotation if willing to trade cash for crack at another ring.
Plus, being from Compton, Prince is eligible for our "L.A. In My Game" series, and being local makes it easier for him to get to us. A tempting bonus, for sure.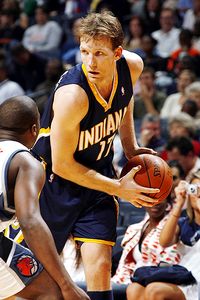 Kent Smith/NBAE/Getty Images
Mike Dunleavy woudn't excite many Lakers fans, but might be a good addition to the bench for the right price.
Kirilenko can play either forward spot, and while he's not the uber-dynamic AK-47 of old, is still an athletic, versatile player who could open up a variety of options for Mike Brown, in ways similar to Lamar Odom. He's a good passer for his position, blocks shots, and by this measurement at least, is still very productive relative to other small forwards. More than any other player on this list.
I'm intrigued.
Frankly, I have no idea what the market for Kirilenko will look like in the NBA's eventual new world order, though I suspect he'll remain well out of L.A.'s price range despite a spotty health history and very questionable haircut. Could the city's thriving Russian community be enough to nab him at a discount? Or would a still-high price tag combined with concerns about his body be too large a deterrent?
THE IMPERFECT BUT POTENTIALLY USEFUL, PARTICULARLY IF THE PRICE IS RIGHT
Reggie Williams (RFA, Golden State)

James Jones (UFA, Miami)

Peja Stojakovic (UFA, Dallas)

Mike Dunleavy (UFA, Indiana)

Josh Howard (UFA, Washington)
Without grossly overpaying, Williams might be tough to pry away from the Warriors, who have already extended him a qualifying offer, but he'd certainly address the Lakers' lack of reliable bench scoring in a hurry. Dude can fill it up, averaging over 18 points per 40 minutes, thanks in part to a sweet stroke from beyond the arc. Jones only does one thing, but does it extremely well, hitting over 40 percent from downtown for his career. Stojakovic, like Jones, is totally one dimensional, but still very good at the one dimension.
Dunleavy is limited athletically, but sees the floor well, moves the ball and himself, and has a high hoops IQ. Before deciding he sounds like Luke Walton 2.0, consider Dunleavy has when healthy quietly been a pretty productive player. Last year, he drastically improved his outside shooting. And as SI's Zach Lowe notes, the Pacers tended to be a much better team when he was on the floor. The same rankings that like Kirilenko also put Dunleavy in fairly solid territory when compared to other options.
Having been almost comically overpaid for a while now-- almost $60 million in career earnings-- Dunleavy could be interested in joining a contender for a low wage. Like Jones, he's an imperfect addition, particularly defensively, but would clearly add something to the rotation, especially with his ability to fill in at shooting guard.
Howard is a wild card. He's played a grand total of 22 games in the last two seasons, and hasn't been a significant contributor since the '08-'09 season. But at 31, he's arrived at the classic "do-or-die" stage of an NBA player's career, where many often re-dedicate and re-invent themselves in an effort to prolong their shelf life. It's a long shot, but likely not an expensive one, either.
The SF pool has a few other similar names out there, but these are the highlights. There are guys capable of addressing some of the team's weaknesses, some better than others. How the market eventually plays out is a mystery, but there still could be some useful names available, especially if some are willing to play here for less.