If there's a position on the floor where the Lakers have quality depth, it's power forward. When reigning Sixth Man of the Year Lamar Odom is the backup, clearly things are going well. Between L.O. and Pau Gasol, L.A. likely sports the league's best two-man rotation at the 4. Still, it wouldn't hurt for them to find a viable third PF for the roster, not so much to bolster the Gasol/Odom combo -- though someone to lighten the load is always welcome -- but as a hedge against injury, whether at the 4 or the 5.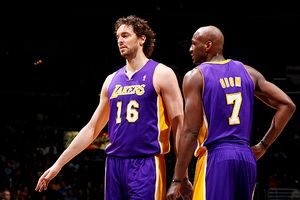 Ned Dishman/NBAE/Getty Images
It's hard to do much better at power forward than a rotation of Pau Gasol and Lamar Odom, but more depth can't hurt.
The time Andrew Bynum spent sidelined last season proved pivotal, sucking heaps of energy from Gasol's legs and setting the table for what would eventually become a physical and mental meltdown in the postseason. While he has a chance to start next season healthier than virtually any in his career, Bynum still can't be counted on to stay that way. The Lakers have to assume he'll miss some games, meaning they clearly need a backup center more viable than Theo Ratliff proved last season. It also means a little more support at PF could constitute a reasonable use of roster space and resources, even while representing a lower rung on the priority ladder.
We've touched on the point guards, shooting guards and small forwards. As is always the case, it will be virtually impossible for the Lakers to land any of the pricier names available without a major discount or a sign-and-trade. Unlike other areas of need, though, attracting higher end talent, even players starving for rings, will be tougher because available playing time at power forward is so limited. A little positional flexibility-- meaning a guy who can shift between either the 4/5 or 4/3 -- would be a nice touch, helping open some options. Still, without serious structural changes to the current core, it's a tough sell.
So without further ado...
HEY, THESE GUYS ARE GOOD AND/OR WANT/DESERVE BIG ROLES! MEANING THEY WON'T BE IN L.A. NEXT SEASON, UNLESS THE LAKERS MAKE MAJOR CHANGES!
David West (Unrestricted Free Agent, New Orleans)

Carl Landry (UFA, New Orleans)

Jeff Green (Restricted Free Agent, Boston)

Glen Davis (UFA, Boston)

Kenyon Martin (UFA, Denver)

Kris Humphries (UFA, New Jersey)

Chuck Hayes (UFA, Houston)
West is coming off serious knee surgery, but is a former All-Star and when healthy is clearly the best player on this list. Landry would never give up the opportunity to continue his habit of eviscerating the Lakers by actually signing with them. Davis isn't a starter, but remains a very valuable role player who is too good for the role the Lakers can offer. Green has been extended a $5.9 million qualifying offer by the Celtics, meaning he's already been priced out of L.A., not that he's an overwhelmingly attractive option, anyway. Martin is not a guy you want sitting on the bench, potentially becoming unsatisfied with his role. He played center in Houston because the Rockets didn't have any other options, but his size makes PF Hayes' natural spot. Either way, he was among the more underrated players in the NBA last season. Again, too good for what L.A. can give.
Humphries is flawed, but is 26 and coming off his most productive season. That Odom is soon to be Humphries' brother-in-law doesn't change the landscape.
IN A REASONABLY PERFECT WORLD...:
Craig Smith (UFA, LA Clippers)
"The Rhino" isn't someone you want on the floor in heavy minutes thanks in part to a questionable commitment to fitness over the course of his career, plus an average defensive profile and a tendency to foul, but is probably my favorite 12-18 minute player the NBA has to offer. He can be remarkably productive in short doses and, particularly coming off an injury-marred season with the Clippers, is the type of guy unlikely to earn a long deal from anyone and could very well fall through the cracks.
As an L.A. native, the Lakers might have appeal, even though his role would be smaller here than with another team.
FOR ONE OR TWO (OR THREE OR FOUR) REASONS, THESE GUYS COULD BE BE AFFORDABLE, THOUGH FIT COULD STILL BE AN ISSUE:
Chris Wilcox (UFA, Detroit)

Reggie Evans (UFA, Toronto

Shelden Williams (UFA, New York)

Troy Murphy (UFA, Boston)

Yi Jianlian (UFA, Washington)

Josh McRoberts (UFA, Indiana)
While it seems like Wilcox has been around since the dawn of time, he's actually only 28, and despite playing for four teams in five seasons on a per-minute basis, at least, he's still a reasonably productive player. Last season was his best for rebound rate, and he was far less careless with the ball. Wilcox a shoddy defender and won't stretch the floor in the slightest, but as a "break in case of emergency" big, you can do a lot worse. Williams is the anti-Wilcox. Does all the dirty work with screens, rebounding, consistently hustles, and puts in an honest effort defensively. What he doesn't have is any offensive skill or high end athleticism, and in extended minutes would become a real drag. Of course, if in purple and gold Shelden Williams was pressed into real PT, likely the Lakers have far bigger problems.
Want a guy who rebounds at an almost freakish rate, but does nothing else particularly well (save fouling and turning the ball over)? Evans is your man.
Murphy had a horrible 2010-11, but over the course of his career has been a productive player, particularly as a rebounding and floor-extending big. He moves the ball well, too. Put mildly, Murphy isn't much of a defender and would do nothing to improve the team's overall athleticism (actually, he'd do the opposite), and an argument can be made the Lakers have too many players who fit the same profile-- heady, multi-faceted, but without much hop. One more may not be a great idea. Assuming last season was a blip, he's probably too good a player to fill the role the Lakers would want. But because last season happened and Murphy is into his 30's with a spotty health history, he might fall to a very, very reasonable price tag.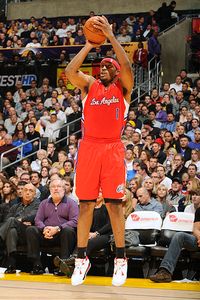 Evan Gole/NBAE/Getty Images
Craig Smith is a sneaky-productive player who doesn't get much love around the league.
Yi is still young and as a mobile seven-footer will always generate a certain level of intrigue, but the bottom line is he's never managed to put together a sustained run of quality play since entering the NBA. Maybe playing a very specific role on a high caliber team could provide the structure and direction he apparently needs... but I doubt it. McRoberts is another poor defender, but has good skills offensively and can swing between PF and C. His price tag is dependent on how much teams are willing to pay for a one-way big man, though I suspect between his age (24) and the recent upswing in his production, he'll want more, both in PT and cash, than L.A. can give.
THE WORLD TRAVELERS, AND SO ON:
Josh Powell (UFA, Atlanta)

Leon Powe (UFA, Celtics)
Powell enjoyed his stint in L.A., and Kobe Bryant is a fan. He'd understand and accept the role, having played it before, which is a plus. But obviously the skill set is limited. Powe, who overcame serious knee injuries at Cal, had a promising start to his career in Boston but has run into problems with his knees. That'll drive down his price, and if he bounces back the team signing him will get some real bang for the buck. Or, they could find themselves needing a backup power forward, because theirs is on the shelf.
Guys like Malik Allen and Joey Dorsey also fit this category.
One name I haven't mentioned, of course, is Derrick Caracter, who filled this role last season. The hope was he'd eventually grow into a quality rotation player, and still could. Whether it happens with the Lakers, though, is a wide open question. Unlike Devin Ebanks, who will almost certainly make the team next year, Caracter is on far more shaky ground.
He has skill, and clearly the Lakers could use some young prospects to develop, but between Ebanks and now Darius Morris (also overwhelmingly likely to stick), space for what Phil Jackson used to call "learners" could be limited. Caracter could have used an offseason in El Segundo, working close with the coaching staff and working his body into better condition. Instead, he gets the lockout, and in the end it could cost him.