The Lakers entered last season with, at least in theory, a decent plan of attack in regards to center depth. Theo Ratliff had all the trappings of a perfect third center: A ring-seeking veteran who would be happy with his role (unlike D.J. Mbenga), a long track record as a shot blocking defensive presence, and just enough skill at the other end to serve as a reasonable stopgap should he be pressed into extended minutes for a game here or there.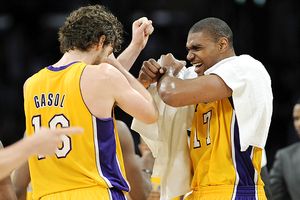 AP Photo/Gus Ruelas
What exactly are Pau Gasol and Andrew Bynum doing? Not sure, but I'm guessing it means, "Don't get hurt, Andrew, and see if you can get Mitch to sign a real backup just to be safe."
Plus, he was cheap, an important consideration given the team's cap constraints.
Oh, the best laid plans. Turned out Ratliff was a disaster, not because he played poorly but because for all intents and purposes, he didn't play at all. 71 minutes spread over 10 games. His absence, combined with Andrew Bynum's slower-than-expected recovery from knee surgery following the 2010 playoffs forced Pau Gasol into far more time on the floor than the Lakers wanted. A season that started with Pau in the (very) early conversation for MVP ended with a mental and physical postseason disaster, leaving a huge swath of fans across L.A. wondering if he's cooked for good.
It lets Gasol off the hook too easily to pin all his late season instability to the minutes piled up while Bynum and Ratliff were sidelined, but it likely laid the foundation. All the spry from a summer of rest was sucked out of his legs, and he never had a chance to nurse his own hammy and knee tweaks.
In short, the Lakers season was scuttled in part because a player who wasn't supposed to play anyway, couldn't. Erosion from the bottom, not the top.
Even with Bynum expected to start next year healthy, leaving the Lakers a robust twosome on the block, they'd be insane not to bolster the center position this offseason. It's not their only need, but is higher on the list than most would suspect. The good news is, in contrast to say point guard, where the list of available free agents is more depressing than a Morrissey anthology, there are actually a relative glut of solid 5's on the market, meaning the Lakers could very well get a higher quality solution at a cut rate price.
So without further ado, here are some of the really, really tall people the Lakers can shop this summer/fall...
THE "PLEASE DON'T LEAVE US LETTERS IN OUR INBOX ABOUT THESE GUYS" GUYS:
Tyson Chandler (Unrestricted Free Agent, Dallas)

Nene (UFA, Denver)

Samuel Dalembert (UFA, Sacramento)

Greg Oden (Restricted Free Agent, Portland)

Spencer Hawes (RFA, Philadelphia)
Life is too short-- for me and for you-- to explain why Chandler and Nene, both coming off top shelf campaigns, probably wouldn't be happy serving as Bynum's backup at a reduced salary. While you may have spent the last year or so thinking Dalembert's first name was actually "The Expiring Contract Of," he's still grossly overqualified for the gig, and even at a major reduction from the $13.5 million he earned last year, likely too expensive. The $8.8 million qualifying offer extended to Oden by Portland already puts him out of L.A.'s price range, and call me crazy, I wonder if as an insurance policy on Bynum, could be viewed as a shaky choice. Maybe it's just me. The Sixers aren't letting Hawes, at 23, a decent shooter who improved his rebound rate last season, go. Not for what the Lakers can offer.
YES, THEY'RE OLDER, BUT WITH AGE COMES WISDOM, RIGHT? WISDOM, WITH A SIDE OF "WILLING TO PLAY 10 MINUTES A NIGHT":
Jeff Foster (UFA, Indiana)

Joel Przybilla (UFA, Portland)

Kurt Thomas (UFA, Chicago)
In a perfect world, the Lakers could acquire a young, athletic, highly durable center with great potential, one they could groom for what might be a bigger role down the road. In this one, such a player isn't as realistic an option. Instead, most neatly fitting the job description are older vets seeking a chance to contribute on a championship caliber team.
Foster was once one of the most underrated bigs in the league, a ferocious rebounder and tenacious defender. Back problems limited his productivity for a couple seasons, but last year he produced per minute numbers stacking up pretty well to his career norms. In a non-34 year old package, he'd still merit a larger role than what L.A. has to offer. But Foster is nearing the end, has made plenty of money, and wants to win. One more thing to consider: Ron Artest worships the guy. Having him around could be a boost.
I'd be shocked if Mitch Kupchak didn't put in a call.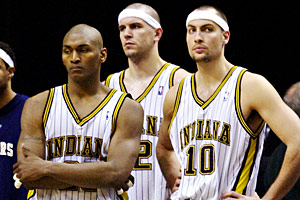 AP Photo/Darron Cummings
Ron Artest has incredible respect for Jeff Foster (right), formed during their time together in Indiana. Brad Miller is just a third wheel.
Thomas wasn't quite as productive as Foster last season and at 39 also half a decade older, but also fits the profile as a tough defender and rebounder. What he won't provide is even a lick of offense, but at the veteran's minimum only so much can be expected. Przybilla is the youngest of the group, but probably the most questionable from a health standpoint, having played only 66 games over the last two seasons.
IN A PARALLEL UNIVERSE, MAYBE THIS COULD WORK:
Kwame Brown (UFA, Charlotte)
His second season with the Pistons was, even by his standards, a total embarrassment. Last year, however, Kwame returned to "form" with the Bobcats. "Form" is a relative term, of course, in this case meaning a solid low post defender with mobility and great strength, along with hands like feet and zero instincts at the other end. Basically, he was exactly the same guy we all got to know during his stint in L.A. Ugly times, yes, but if he returned the context would be totally different. Kwame wouldn't be a starter, but a third stringer. A situational lefty, if you will, by definition subject to fewer fumbleitis-related death stares from Kobe Bryant because he'd spend most of his time on the bench. Plus, Brown would be working with a new coaching staff without the institutional memory of the first go round.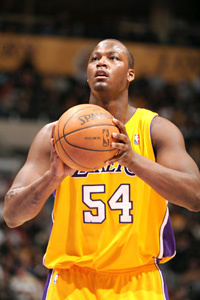 Andrew D. Bernstein/NBAE/Getty Images
The Lakers wouldn't go down this road again, would they?
If he could, like a masked wrestler or someone in an XXXL version of this outfit, operate in anonymity, maybe it works. Unfortunately, while Brown's skill set might be fine for the available job, the rest of the profile isn't. "Failure Watch!" would begin the moment his contract was signed, and if pressed into service because of injury-- a reasonable expectation-- who is confident Brown would respond well?
THEY DON'T SET THE WORLD ON FIRE, BUT FOR WHAT THE LAKERS ARE ASKING CONSTITUTE REASONABLE OPTIONS:
Aaron Gray (UFA, New Orleans)

Dan Gadzuric (UFA, New Jersey)

Nenad Kristic (UFA, Boston)
Only actual lumber might be more lumbering than Gray, but as he showed against the Lakers in the playoffs last season, the guy can play a little. He's absolutely huge (7'0", 270 lbs.), and while it hurts him on the move (best timed with a sundial from baseline to baseline), Gray is a solid rebounder with a reasonable amount of offensive skill. Gadzuric, a UCLA lad back in the day, still runs the floor reasonably well, is an active rebounder and gives an honest effort defensively. Staying healthy has always been an issue, but as far as cheap, experienced third centers go, there are certainly worse. While he sports among the league's worst heads of hair, Krstic spreads the floor with a strong mid-range game. But beyond that, his game is limited. Krstic doesn't rebound or block shots, and his overall defense ain't good. He still belongs on an NBA team, but it's important to understand what you get, and what you don't, with him.
UPDATE (12:50 pm PT): Apparently while I was out watching fireworks on the 4th of July, Krstic signed a deal with CSKA Russia. Thanks to reader Rob Schaffer for the heads up. Also going overseas is former #1 pick Hilton Armstrong, a favorite of mine because his is one of the great rich guy sounding names of all time.
There are a few other names out there. Kyrylo Fesenko is young and massive, but has shown no ability to play at the NBA level. A monument to unintentional comedy when playing for another team, I suspect fans wouldn't find him so funny on theirs. Jason Collins is a veteran who sticks in the league on his size and defensive rep. D.J. Mbenga is again on the market. Solomon Jones is a little younger (27) but hasn't shown he belongs anywhere but at the end of a bench. The rest of the field are your basic Melvin Ely types, led by Melvin Ely, but including Francisco Elson, Erick Dampier, and Tony Battie.
UPDATE II (3:19 pm PT): Sadly, Fes might be out of the running, too, reportedly heading back to Ukraine.