As part of a continuing series, NBA players share the various ways growing up in L.A. shaped their games.
It goes without saying Tina Thompson is a women's basketball icon. The WNBA's all-time leading scorer, she has been a member of the league since the 1997 inaugural season. But she's also a Los Angeles basketball icon. The Culver City resident was slated to attend Palisades High School, but the desire to play elite basketball prompted a transfer to the famed Morningside High School in Inglewood. ("When I tell you they're worlds apart," says Thompson of the schools and the demographics, "they're worlds apart.") She enjoyed a storied career -- right on the heels of fellow legend Lisa Leslie -- after which she graduated as the 1993 California AAA Player of the Year, with over 1,500 points and 1,000 rebounds in her pocket. At USC, teamed with Leslie for one campaign, her four seasons concluded with her as the fourth-leading scorer and third-leading rebounder in Pac-10 history.
Most strikingly, Thompson learned the game as a kid on the courts at Robertson Park in West L.A. For most elite ballers, this process represents a rite of passage rather than a particularly unique step. For a girl, it's teeth cut the hard way. She first arrived at 10 years old and wasn't even allowed run in the actual gym for a few years. From there, even more respect had to be earned, whether absorbing the physical play of a man or simply convincing them she was worth guarding. It wasn't easy, but that experience made Thompson a tougher, confident player by the time she began carving out a place in the record books.
"Who I was as a basketball player happened way before I came to Morningside," explains Thompson of her years at Robertson Park. "I pretty much knew who I was."
Andy Kamenetzky: When you first started playing at Robertson Park, you were basically tagging along with your brother T.J.
Noah Graham/NBAE via Getty Images
Thompson's childhood days at Robertson Park laid the groundwork for her eventually joining the Sparks.
Tina Thompson: Yeah. It was me and all his friends. My brother was young, too. He's only three years older, but he and his friends were really good. They could play with the men in the gym and have no problem. But I was younger. I was thin as a rail. And I was also a girl, so actually trying to get play in our gym was tough. Guys didn't want to lose because the likelihood of them getting back on the court anytime soon were slim to none. That's how many people would be in the gym. You had guys like Cedric Ceballos and Chris Mills. And other guys that didn't play in the league but were very good. The talent level was really high. A lot of kids played on great high school teams or went to college and played for Division I universities. The competition was pretty sick.
AK: Initially, they used to make you practice outside while everyone else played in the gym.
TT: Yeah, it's classic playground. If the ball goes to the other end, guys would just shoot on the other end. The ball would come back to that end and you run off the court. I started trying to do that, and I think maybe one time, which happened with several people, I didn't get the ball in time and it might have interrupted the game. My brother was like, "Get out!" Like, "If there's going to be a nuisance, it's not going to be you. Get outside. If you want to play basketball and you want be good, you gotta practice."
Of course, playing outside, cement, metal backboards, chain-link fence, it wasn't prestigious at all. Not very many people played outside. It was just the older guys. But it kind of gave me a toughness. Basically, it was a challenge. I wanted to prove them wrong. In the evening, my brother and his friends would play later in the night. So we would be there until after midnight playing at the park. And one of the guys who used to play with my brother is David Fizdale. He's now an assistant coach with the Miami Heat. We would meet on a corner early in the morning, walk into the gym and stay there until very late hours. Just practicing and putting in the necessary work was second nature, being a product of that park.
I had also played in a league at the park that my brother and his friends played on. I was on the team, but I never played. [Laughs.] I got to practice and stuff, but I didn't get any minutes in the game unless it was a complete blow out. Then they told me to reverse the ball and never shoot or dribble it. I was pretty restricted. [Laughs.]
AK: What was the feeling when you first were allowed in that gym for the real runs?
TT: Well, first of all, it happened because, on that day, there weren't enough people. There was no one else, so I got to play. I think they kind of realized, "She's pretty good. She's been working on her game." So it was great. You go from being kicked out of the gym to actually being picked up.
Guys who hadn't been at the park for a long time or new to the park, they're kind of like, "Who has the girl? Who's guarding her?" They took me lightly. Then after I scored two or three baskets, they're like, "Oh, man. You have to guard her." It was definitely an experience. It gave me a toughness I don't think I would have gotten in any other situation. It's not something that you can make up.
AK: How did the men play you, in terms of physicality?
TT: Guys that were familiar with me, from the neighborhood or whatever, they would play me seriously. They would play me tough. They would foul me. They would hit me. Sometimes they would foul me and wouldn't give me the call. Just like, "Toughen up. Get over it. We don't call those types of fouls." But of course, they were fouling me harder than they would foul my brother. And he would get the call.
AK: Did you dish it back?
TT: Oh yeah! It got to the point where I got pissed off and I was fouling hard back. So they were kinda like, "Oh ... okay." And then a guy would try to call a foul and my teammates were like, "Seriously? You're calling the foul on the girl?" I slowly but surely started getting respect.
I was really small. When I left high school going to college, I weighed like 148 pounds. So I was really thin, especially at [a younger] age. But that's how I developed a jump shot. All I would do is shoot and shoot and shoot. The more physical it got or if they would guard me close to the basket, I would back up. That's how I developed range. Shooting a normal 3-pointer was nothing for me because I had to shoot them all the time. If you met me at the 3-point line, maybe I had to stop a couple of steps before that. I'm taking jumpers that someone else, it might be [assumed] they're not gonna take it. But for me, especially with someone who's not familiar with playing at the park, they're not gonna guard me all the way out there. I'm standing out there just launching them.
It took a little while and they would still sleep on me, because you know guys and the ego. [condescending tone] "Yeah, I got the girl." And then they'd get overzealous, so they're fouling the heck out of me. But by that time, I'd gotten a little respect, so I was getting calls.
AK: Were there any all-girls pickup games?
TT: There were no games. None. I was the only girl in my neighborhood who consistently was at the park every day of the summer. There was one other girl, Shannon, who came every now and then. She was pretty good. But I was the only girl [regularly]. Literally, the only girl.
AK: Did that make it weird when you first began playing girls basketball in junior high?
TT: It was very weird. It was totally different. The [girls] game was a little slower. Sometimes I was being too physical. Other times, it wasn't enough. I had to find a happy medium. And then the adjustment to the ball. Even now to this day, as long as I've been playing women's basketball, I'm more comfortable playing with the men's ball than I am playing with the ball we have. My hands are big. I handle the ball better. There's just a comfort level. I learned the game with that ball.
AK: Was it intimidating to follow so closely behind Lisa Leslie at Morningside? Did you feel pressure?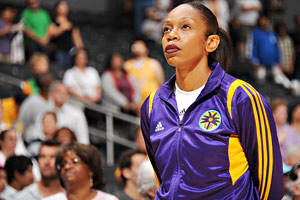 Andrew D. Bernstein/Getty Images
By the time she became a Spark, following Lisa Leslie was old hat for Thompson.
TT: Not at all. We were different. She was 6-5 and predominately under the basket. We were totally different players. Also, one of my other teammates, Jeannette, had actually played with Lisa and they were expecting her to be the next best thing. She had played with Lisa two or three years or something like that, so they were grooming her to be the next person in line.
They were one of the first high schools that [said], "You're pretty good." Other high schools were recruiting me, but Frank Scott and Morningside was the first high school that was ever like, "You should come to our school." So I'm [telling] my mom, there's this coach at this school in Inglewood and he asked me if I would come play there. They're supposed to be very good. But I didn't know they were very good.
My basketball mentality was, "I play because I love it. I'm an extreme Laker fan of the 80's. I'm doing it because Magic Johnson and James Worthy and my older brother do it." There was no thought of going to college, getting a scholarship. None of this stuff. So me leaving Palisades and going to Morningside was simply because the basketball team was so bad and I'm thinking, "Okay, I'll get a great education here or whatever. Of course, I'll get good grades, because that's what I do. But there's no way I could play with these [Palisades] kids. I would score a whole lot of points, but we would never win." My whole mentality was, "I want to win."
It was not until maybe my junior year or the end of my sophomore year where I was like, "Oh my gosh! If you play really good, colleges will let you go to your school for free and they'll pay for everything!" I had no idea. Seriously!
AK: How did Frank Scott shape your game?
TT: One thing that was great about Coach Scott is you could talk to him. He allowed me to be myself. So allowing me to be myself and play the way I was comfortable playing, it made me open to any or all of his suggestions. He would say, "I worked on these things with Lisa to help improve her post game and make her post game consistent." Coaches forever have been trying to make me into this post player, but never really teaching me. And of course, the idea that Lisa scored [101] points in one half. If it worked for her, I'm sure it's gonna work just fine for me.
I was like that way anyway. I would take in whatever. My brother's friends were extreme ball handlers. So I would try to do the things they would do, like dribbling with tennis balls and golf balls. I was open to everything because I wanted to be good. It's a process even to this day. I'm forever growing. I'm always open to suggestions. Sometimes people suggest things that don't necessarily work for you, but whenever you decide that you have enough and you can't grow and you don't need to learn anything else, you're capping yourself out. And everybody else around you is getting better. I've never reached the point where I can't grow or add something.
AK: Was there a particular highlight to your career at Morningside?
TT: Well, we were a successful team, but I don't think we achieved our full potential. Morningside had very winning ways. They had won so many championships, I was kind of a little disappointed that we had won CIF championships but we never won a state championship. I felt, not that we failed, but we never reached our full potential of winning a state championship.
AK: What drew you to USC?
TT: It was close to home. And education. Before I even started narrowing down the schools, USC and Stanford were one and two. Stanford was actually No. 1 and USC was No. 2. Education was first and foremost. There wasn't a professional league, so I didn't have any intention of playing overseas or anything like that. The only basketball I was going to play was USA basketball. I needed to get the best possible education I can and put myself in a position to get a great job. My final decision came after I met Marianne Stanley and Barbara Saxton. I just felt like for my personality, they were the best fit for me.
And my senior year, Lisa and I had become more familiar with each other. We had gotten close. We were working out and things like that. We had good chemistry and rapport. I think we had played in this league called "The Female Classic." It was easy for us to play with one another and pretty much that was it. But definitely Coach Saxton and Coach Stanley sealed the deal.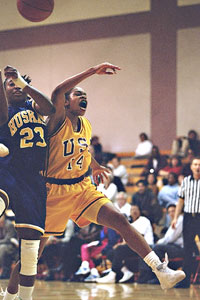 Todd Warshaw /Allsport
Growing up playing with men made Thompson a better perimeter player, and a tougher player.
I never had an opportunity until I came to the Sparks to be coached by Marianne Stanley. She had a Title IX dispute with the university and by the time I got there, her contract had run out. They didn't renew it. This whole big thing. Of course I was disappointed about that but I got coached by Cheryl Miller and by Fred [Williams].
Cheryl was great. It was her first time coaching, so she wasn't a big X's and O's person. But her motivational level was ridiculous. She could give a pregame speech that would pump anybody up. She has extreme charisma. That's a great word to describe her.
We also had a veteran team. I was the only person in our starting five that wasn't a senior, so they had played with coach Stanley their entire career. I think one of the best parts about Cheryl coming in, being a first-time coach, she wasn't cocky. She didn't use the fact that she was "Cheryl Miller" as a vice. She went to Lisa and those guys and would ask them, "What do you guys think? What are you comfortable with? Does this work for you?" Because they were so comfortable and familiar, they had success in Coach Stanley's system, she left a lot of things Coach Stanley had done.
AK: What is "the L.A. in your game," the part of your game that most reflects growing up out here?
TT: We're West Coast, so finesse. I think me being 6-2 shooting 3-pointers like I'm a guard, it adds to the finesse of being a West Coast kid. Playing in L.A.
AK: What does it mean to you to be a basketball player from L.A.? To be a part of that fabric?
TT: It's wonderful. There's a group of guys here called "The L.A. Unified." It's all the guys that grew up [here] and are playing basketball professionally at some level. I'm a part of that group now. Most of those guys are my friends or guys that I know. It feels great to be successful, first of all, but to be a part of such large of people that have grown up in this area and found success. It's an awesome feeling.
Previous installments