As part of a continuing series, NBA players share how growing up in L.A. shaped their game.
For Raptors forward Amir Johnson, who grew up mainly in East L.A., but also Harbor City and Watts, being an athlete came naturally. The game of basketball itself, however, required work, and getting his high school into gear took even more. His freshman year was split at two schools (Pacific Hills, Narbonne), neither of which featured him on the court. From there, he enrolled in Verbum Dei, where he enjoyed a solid inaugural season of high school ball. He then transferred to powerhouse Westchester -- famous for producing, among others Trevor Ariza -- but allegations of recruitment violations resulted in a 2004 postseason ban. Johnson was also forced to sit out his junior year.
That left Johnson making up for lost time during his senior year, but he made the most of it. California's Mr. Basketball. A state title in 2005. And a strong enough showing that, despite still operating at a raw level, he got drafted straight out high school in the second round of the 2005 draft by the Detroit Pistons.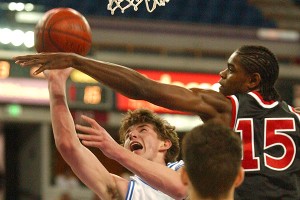 AP Photo/Rich Pedroncelli
Amir Johnson's high school career featured turbulence, but ended with a state championship at Westchester in 2005.
Andy Kamenetzky: Which parks did you play at regularly growing up?
Amir Johnson: I actually played in a church league. It was a Baptist church in Inglewood. My mother and my father [signed me up]. I wasn't really into basketball like that. My first sport was track. I was a good track and fielder and I was really into it. I kind of got into [basketball] a little bit more and more.
AK: I imagine a church league atmosphere is different than a park or a rec center court.
Johnson: I just wanted to play. I just wanted to have fun. I was just a kid, just running around. I didn't really know how to play the game. I was bouncing the ball, then shooting around. It was fun for me.
AK: When did you first start taking it seriously?
Johnson: I was about 12 years old. My father started putting me in a lot of travel leagues. That's when I started learning the game a little bit more. My first travel league team was [with] ARC. That's when I first started getting into it a little more.
AK: Was there anybody on that team who either made it to the pros or played at a high level in college?
Johnson: Mike Mercer. He was pretty good. I think he made it to the pros.(AK's note: Mercer never reached the NBA, but has played in Canada.) Bryce Taylor. He was on the team. There was a couple of other guys, they're overseas now.
We traveled down to Florida. There was a big tournament, I think we made it to fourth place or third place. There were, like, 100 teams.
AK: You sat out your freshman year at Pacific Hills because of academic eligibility issues, correct?
Johnson: I wasn't really academically ineligible at Pacific Hills. It was mainly I transferred schools because of our travel. We couldn't get there because it was so far from where we lived. I was with the JV team back then. I felt like, because I'd been playing travel ball, I was ready for the next level. So I kind of went to a different school after that my ninth grade year.
I finished out my ninth grade year at Narbonne High School and that's when my grades started to go downhill. Then I transferred to Verbum Dei. My grades went up and I finished out my tenth grade year there. I was more focused. There was no distractions. I focused on my grades and my game and it helped a lot.
AK: Could you feel yourself growing as a player at Verbum Dei, even with just one year of high school ball?
Johnson: Absolutely. I guess I had some people come see me play and they thought I had talent. There were coaches that helped me work on my game. It felt like I was getting better and I could get pretty good, so I listened to whatever the coaches had to say and I worked on it.
AK: What kind of player were you at that stage?
Johnson: I knew I could run and jump. That was the only thing. I was just, like, a major athlete. Run the floor. Catch the ball. That's pretty much where I was standing. I had to work on my skills. I had a soft touch, [but] I didn't have no jump shot. I had to work on that stuff. I was definitely an athlete.
AK: Why did you transfer to Westchester?
Johnson: I had friends that were going there from my travel ball team. I played on, like, a million travel ball teams. That's all my parents did, kept me busy with travel ball teams. I had friends who were going there and I begged my mother and father to death if I could go there. The only reason I went there was my grades were finally showing improvement. She finally let me back into public school and my grades continued to skyrocket from there.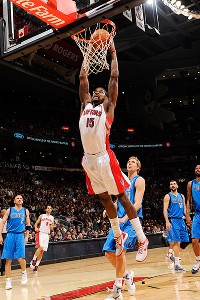 Ron Turenne/NBAE/Getty Images
Athleticism always came easy to Johnson, but learning the game took work.
AK: There were accusations of recruiting violations with your transfer, which led to Westchester getting banned for playoff competition in 2004. Did you feel like you did anything wrong? And either way, how frustrating was it to be in the middle of that situation, with people forming opinions about you?
Johnson: It was very frustrating. I felt like I didn't do nothing wrong. I didn't really understand it, so I didn't think it was that serious. They ended up cutting a year out with me not playing. I remember being upset and all I had do was really work on my game and stick with my travel ball team. That's all I did during that time.
AK: You even testified to your side of the story and they still didn't believe you.
Johnson: Yeah, they didn't, so...
AK: Were you worried about your high school career not really taking off at this point? You didn't play your freshman year. Now you're missing another season.
Johnson: I wasn't worried at all. I knew I had my travel ball and I knew I was gonna work hard and do whatever the coaches say. I was very coachable back then, man. I was willing to listen to whatever anybody had to say. So I just put that behind me and moved on to the next thing I had to do.
AK: The ban interrupted a streak of state titles for Westchester. How bad did you feel about that?
Johnson: We felt bad. I know the team felt bad, but we just said to ourselves, "Man, we gonna get it next year." That's all we did. We put it behind us and we worked next year and we won the state championship.
AK: Did it create a team bond?
Johnson: I think it did. We all stuck together as a team and just said we're gonna get it next year. We actually just said, we're gonna win this next year, without a doubt. And we did that.
AK: Were you allowed to attend the games?
Johnson: Yeah, I was allowed at the games. It's not like NBA, where you can't go into the gym. That was cool.
AK: Were you an enthusiastic spectator?
Johnson: I was, man. I was on the bench. I was like a cheerleader, man. I wanted to hop into the game sometimes, but I knew I couldn't.
AK: You were finally eligible to play your senior year, but broke your foot to start the season. So there's another interruption.
Johnson: It was very frustrating. Luckily, I got through that injury pretty quickly. I knew it was my senior year. I knew I was getting ready to play college. I worked my butt off to get back into the season. It went by pretty quick. All I could do is work on getting my foot back strong.
AK: Were there ever any "why me?" thoughts?
Johnson: Nah. For me, every time something happened, I just thought to myself that I had to work my way out of it. Dig myself out of the hole. I just gotta work. I was never down on myself, even though they cut out one year and I hurt my foot. I never got down. I just worked my way up to the top.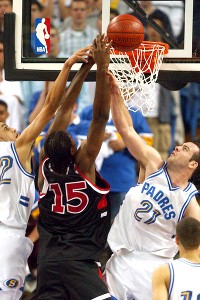 AP Photo/Rich Pedroncelli
Johnson and the Comets were too much for San Mateo Serra.
AK: Did all the tribulations help you in the long run?
Johnson: Absolutely. That had a lot to do with my attitude. My mother and father taught me to always be humble. I think it helped me as a kid growing up. I still have that attitude. I always listen and I always work hard.
AK: You eventually won Mr. Basketball Honors for California and led Westchester to a state championship. What was reaching that point like after everything leading up to it?
Johnson: It feels good. All I could do is just smile. I had to tip my hat. It was all worth it. It paid off.
AK: Beyond the state title, was there any particular highlight in your mind to that season?
Johnson: Our rival was Fairfax and we were playing at their court. We had a good game going back and forth. I stole the ball and went down for a monster windmill dunk. That kinda turned the game our way and the crowd went crazy. I just remember that one dunk. I don't want to cuss, but I dunked the s--- out of the ball, man. That got our momentum and we beat our rival team, so that was a moment that stood out.
I wish I had it on tape. At Westchester, they might have it on tape, but I haven't seen it. When I went back to school, in the newspaper, they had [a picture of] me with the ball way back. It was crazy.
AK: You guys beat San Mateo Serra for the state title, and during the third quarter, there was a 17-0 run that essentially put the game on ice for Westchester. Do you remember anything about that run or how the momentum was created?
Johnson: Man, I couldn't even tell you. (Laughs) Azzam's offense and defense was pretty much pass the ball around. Pressure the ball, trap, pressure the ball. We probably just scared them with our defense. Our defense, you had to trap the corners. We were all the place, man. We didn't let up on these teams, so that's probably what got our run up.
AK: How did Coach Azzam shape your game?
Johnson: He worked me hard. He was the type of coach, he didn't care where you come from or who you are. You had to come down there and work and do as I say. He had that mentality in my head, like you gotta work hard no matter what. We did a lot, man. He made us run the beach. I think he did some stuff other high school coaches wouldn't. We did these things called "ladders." Even though we were good, we still had to, go the extra mile and work even harder. That's one thing he taught me.
AK: In terms of skill sets, what did Azzam help improve? Shooting touch. Defense? Anything in particular.
Johnson: In high school, I was a post player, so I didn't really work on my outside game. That was something I had to develop myself [later]. I was basically in the post, working on power moves. Drop steps. Jump hooks. That's where I developed my post game.
AK: Azzam has been kind of a controversial figure, in terms of recruiting and the trouble Westchester has gotten into. Is he misunderstood on any level?
Johnson: I never heard of him as a controversial guy. I thought he was a great coach, man. I haven't heard anything bad about him.
AK: People have wondered about his tactics with recruiting and things like that.
Johnson: It was not him that was doing the recruiting. I think they had a good bunch of players there and everyone wanted to know what the hype of Westchester is about. And Westchester had all the girls there and everybody wanted to go there. And that's what I think brought a lot of players that wanted to come to Westchester High School. (Laughs)
AK: So the girls were the main attraction.
Johnson: (Laughs) Pretty much. You could probably ask anybody about it.
AK: What part of you game reflects most having grown up out here and learning the game in L.A.?
Johnson: I don't know. I have to say, I think I put in the work myself. It was all me, because I wasn't really a basketball player. I was a track star and I kind of had people help me play basketball. I couldn't even tell you what describes my game. I was just kind of an athlete that kinda fell over to basketball. I kind of developed by listening to coaches. My [first] year playing with Detroit, that's how I kind of developed a game.
I always worked hard, man. I'm the type of person that wanted to do better. I always wanted to beat the person in front of me.
AK: If someone asked you to describe an L.A. player, what would you say?
Johnson: Man, I don't know. If you would describe myself: Very, very finesse player, but still busting your a-- and working hard.
AK: What does it mean to you to be a player from L.A.? To be a part of that lineage?
Johnson: It feels good. I know they have a lot of great players out of L.A. They're starting to get a lot of people to come out here and play in the Summer League and the Drew Leagues and all that. It feels like you got L.A. as one of the main attractions. Kinda like the Rucker in New York. It feels good to be a part of that.
Previous Installments: