On Friday, the Basketball Hall of Fame will induct its 2011 class. Among those honored will be Tex Winter, best known as the longtime assistant coach to Phil Jackson, and the architect of what became known as the triangle offense. In addition to shaping a system at the center of 11 championships for the Bulls and Lakers, Winter also enjoyed success as a head coach in the college ranks, most notably with Kansas State University. (Similar to coaches in the era of PJ's Bulls and Lakers, Winter had the unfortunate luck of running into Wilt Chamberlain at Kansas and the John Wooden dynasties.)
In the eyes of seemingly everyone -- save the HOF voters, of course -- a spot in Springfield has been a given for the former USC player. Nonetheless, Winter has endured a painfully long wait. Thankfully, the honor has arrived in time for Tex, in poor health, to enjoy the ceremony in person.
For more perspective on Winter's career, I spoke with basketball historian and author Roland Lazenby. A longtime friend of Winter's, Lazenby shared thoughts on Tex's innovative nature, his relationships with Jackson, Kobe Bryant, and fellow 2011 class member Dennis Rodman, plus his take on the current state of the Lakers.
The entire interview can be heard by clicking the box to the right, but here are some choice quotes:
On the roots of Tex's and Phil's relationship and why it flourished:
"It was a series of things. First of all, Phil's great mind. The fact that Tex is everybody's uncle. That he has a tremendous enthusiasm for the game. It's boundless. That may be his greatest gift. And then the third thing, they were brought together to coach the Bulls summer league team. Tex had first become alerted to Phil even before they coached that team when Phil came in as this guy who'd been an NBA player. He'd been in the CBA. Phil had to do the advanced scouting. Tex was blown away and this takes a lot, because Tex is really hard to impress. Phil would come back with these incredibly detailed scouting reports. They were immaculate.
"And then as Tex got to know him, they coached together, he began to see that Phil possessed this total recall. I mean, the guy could remember all kinds of things. It was just unbelievable. Tex told me that Phil had total recall virtually on every moment of his career. Playing and coaching.
"They had this symbiotic relationship. Their personalities are very different. Tex is this very willful, excitable person who is just so obsessed with his offense. And Phil was just this very bright guy who could process everything. Tex, having had years in college coaching, had this ability to jump in and confront players and say, 'No, you're not doing this right!' L.A. fans are very aware of Tex's clashes with Shaq because Tex wanted everything so precise and that just wasn't Shaq's nature. So they formed this relationship where Tex was the teacher. For years together, Tex was teaching Phil. Breaking down game film for him. Organizing his practices for him. Doing all these things. And then confronting the players when they needed to be corrected. He did a lot of that. More of that in the early years than in the later years, of course."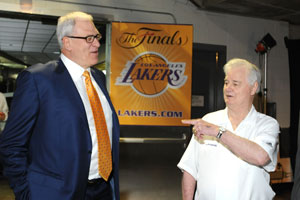 Andrew D. Bernstein/NBAE/Getty Images
No, you da man, Tex.
On the sometimes complicated nature of the relationship:
"It grew more complicated once Phil got to Los Angeles. He really became a popular culture figure in Los Angeles and a lot of people worshiped him. And Phil changed a bit . . . I think Tex for a while was worried that Phil was trying to sort of mute the influence Tex had on him. I think Phil has been very generous in a lot of ways, but there's no question. It's not like it's all about Tex or it's all about Phil. It was just a perfect meeting of some very special minds and some very special people. This is just about all of them getting their due."
On Kobe Bryant's longstanding admiration for Winter:
"I was rebounding some free throws for Kobe. He was there with those Lakers teams with Del Harris. He was a lost and lonely puppy and he told me he'd always dreamed of having Tex Winter as his coach. Not Phil Jackson. Kobe told me Tex Winter. He knew that he was bound for greatness. As he told me, he didn't know how he was gonna get there, but he knew that having Tex as his Yoda, as Kobe likes to call him, was the key. He wanted Tex's phone number. Tex was an assistant coach for the Bulls.
Tex called Kobe and he said, 'You know, all of your concern about the lack of organization with the Lakers is dead on. Yes, everybody is giving you this grief and you're impulsive, you're a young guy. But you really do have to have a system of play to sort out this modern NBA environment where the defenses are so physical. The defenses clearly for a number of years got the upper hand in the NBA."
On Tex's relationship with Kobe during the turbulent three-peat era:
"He was his confidant. He was his mentor. He was on Kobe's side. That didn't mean he excused Kobe from the tongue lashings. Tex knew Kobe had not played at the University of North Carolina in a system the way Michael had, and this is what Tex said repeatedly. Kobe had so much of these types of instincts, this perfectionist drive and this tremendous ability. Tex really admired Kobe's game because all of the polish in that game doesn't just happen. It came from incredible hours of work. So Tex knew that he was getting Kobe at a young age and he had a lot of work to do. But Kobe was such a willing learner and such a sponge. It was a perfect situation."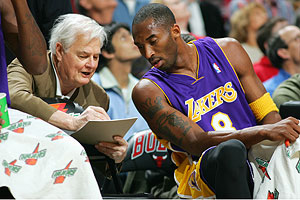 Garrett W. Ellwood/NBAE/Getty Images
As a youngster, Kobe dreamed of bending Winter's ear.
On why it took so long for Tex to enter the Hall of Fame:
"It's funny. Tex created system basketball, but he's really always been sort of a rebel and an outsider. He's always been very frank. The Lakers would beg him not to talk to me and he'd just say, 'No. I'm talking to that guy.' And this went on the whole time he was there. They would say, 'Do not tell him this and do not tell him that. Why don't you back off?' He said, 'Nope. I like that guy and I'm telling.'
"Tex did want to be in the Hall of Fame. Tommy Heinsohn, I asked him about it, and there was this attitude of, 'If they ever have a Hall of Fame for assistant coaches, we'll be sure to name Tex.' But you know, I've walked the entire Hall of Fame. I've interviewed 91 of the Hall of Fame members. I've walked that whole circle and looked at every bio there. Tex's coaching record in college with two Final Fours and all of his success was better than many of the coaches who gained access. It's just extremely political and Tex is not a great politician. But eventually, his accomplishments and he's done so much for so many people, there's just no way [to exclude him.]
"It's like Jerry Krause would always say. 'If they don't have Tex Winter in the Hall of Fame, then they might as well not have a damn Hall of Fame.' "
On what being in the Hall of Fame means to Winter:
"Everything. Everything. He's the outsider. He [coached] Kansas State. He battled Wilt. He battled Kansas. He got into the Pac-10, he battled Johnny Wooden. He was always this fierce, determined guy. His life has been a battle for respect. He was retired and didn't have that respect. Then when he came back to help the Bulls, there was still no respect. This is the acknowledgment of the game, that he mattered in a huge way."