Or more accurately, "the Compton in my game," as it pertains to Brandon Jennings. Milwaukee Bucks point guard's So Cal ties are specific to Compton. It's a reminder of his unique path to the NBA, just like hitting the court against real competition at the tender age of five. Or transferring to Oak Hill Academy in Virginia, despite already playing at Dominguez High School, a basketball force in its own right. Or bypassing college for a professional stint in Italy, the first American kid to make such a leap. Jennings has always been his own person and the foundation of that confidence was built in Compton.
Andy Kamenetzky: Which parks were you a regular at when you first began playing?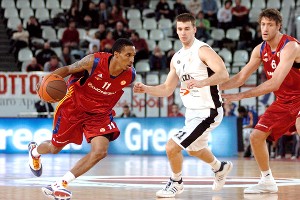 Luca Sgamellotti/Getty Images
Going straight from high school to Italy was another example of Jennings doing things his way.
Brandon Jennings: Rowley Park in Gardena. That's where I really started playing. That's where I came back this year during All-Star weekend. I went up there and [renovated] the basketball court. There were a lot of great players growing up coming out of there. The atmosphere was crazy. Back then, AAU wasn't really that big yet. Especially for me, because I was younger. So everyone played in the park in the recreation league.
I started when I was about five at the park. I was playing in a seven-and-under [league] and I was five, so I was the youngest on the team. They told me as long as I can get the ball up to the rim, then I could play.
AK: How intimidating was that at age five?
BJ: It wasn't intimidating at all. I felt like I could play with the best kids. As long as you put me out on the court, I was gonna play hard.
AK: How did you manage to hold your own at such a young age?
BJ: I was faster than all the other kids, and back then, I had a pretty good handle with the left hand.
AK: Is this one of those things like Tiger Woods and his clubs as a little kid? You picked up a basketball and it automatically felt right?
BJ: Well, I started playing basketball when I was about three years old. After that, everything else just came naturally. I had older cousins that used to let me hang with them, so I got my toughness from them. They said I could play as long as I don't cry. That was their main thing. No whining and no crying. Just go out there. If they knock you down, get back up and keep playing.
AK: How did starting out so young against bigger guys shape your skill set and development?
BJ: I was able to pick up a lot of things faster than most kids, because just being around older kids and seeing some of the things they did. Also, just watching some of my favorite players back then. I was a big Allen Iverson fan and a big Kobe Bryant fan. Kobe Bryant used to have the afro back in the day, so I used to have all his sneakers and AI's shoes.
AK: The situation with your father's suicide happened when you were about seven or eight. How did that affect you as a basketball player? Did it change the way you approached the game, in terms of what you wanted from it?
BJ: I just knew that I would have to be the man of the house. When I was about 12 years old, I knew I had to take the game more seriously if I wanted to be able to provide for my family. I knew this was my way out. It made me realize that if this was something I wanted to do, then I would have to be serious about it and I would have to work hard every day to be able to be one of the best players.
AK: That's when you really began to take basketball seriously?
BJ: Yeah. When I was 13, I won the AAU Nationals in Midgets and ever since then, I just took off from there. I never looked back.
AK: I was gonna ask about the AAU days. What were the highlights?
BJ: Me and DeMar DeRozan was on the same team, a travel club, when I was 13. The South Coast All-Stars. We actually knew each other when we were 12 years old, and then we played together when I was 13. We went down there and won the 13-and-under Nationals and then played together when we was in 8th grade. Then he kind of went his way. I kind of went mine.
AK: So you guys have a pretty long history playing together and against each other.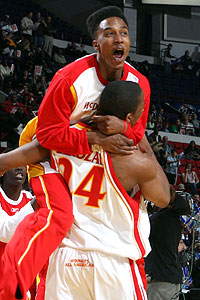 Brian Spurlock/US Presswire
Jennings' and DeRozan's NBA careers have roots in Compton.
BJ: Oh, yeah. For sure.
AK: Later, you played for the SoCal All-Stars with, among other guys, Kevin Love, USC guard Daniel Hackett, Renardo Sidney. I've seen it described as one of the most stacked AAU teams in recent memory. Do you remember some of the players on teams you beat?
BJ: Yeah, we beat O.J. Mayo. We beat Derrick Rose and Eric Gordon. I mean, we beat everybody. It didn't matter who it was. We beat them and we beat them good.
AK: When you're playing on a young team with that much talent, how do you keep everyone happy?
BJ: Our main thing was just trying to win, knowing people said we probably wouldn't be able to do it. I think just being unselfish and everyone coming together and just getting it done.
AK: Why would anyone think a team that looks so good wouldn't be able to win?
BJ: Probably too many egos. Too many guys trying to be the top player. If you think about it, Kevin Love was probably top-5 in his class. Renardo Sidney was number one in his class. We had a bunch of guys who were top players in their classes.
The main thing for me was just to prove everybody wrong. To prove to everybody that I could run this team. That I could take them all the way to victory. I had to sacrifice my game, also. My scoring and things like that. Just make sure everybody else was happy.
AK: What you arrived at Dominguez your freshman year, what type of player were you? What was your role on those Dominguez teams?
BJ: I was a leader. I was the point guard. I was a freshman playing varsity and then coming back my sophomore year, I had to come back and help the team win.
AK: What kind of challenge is that for a young player trying to lead older kids in a good basketball program?
BJ: It was just another challenge I've been facing my whole life. Ever since I was 13. It's no different than any other one. The older you get, the more the egos come and you have to learn how to come at certain people in the right way.
AK: What do you consider the highlight to your time at Dominguez?
BJ: My freshman year, I started at the Westchester tournament at Westchester High School. This is when Westchester was the number one team in the country and we're playing them in their tournament. And I felt like we had no chance of winning the game. We wasn't gonna win at all. We went in there and we won the game.
AK: Was there anything in particular about the way the team played offensively or defensively, or even the way you played individually, that allowed you to beat such a powerhouse?
BJ: For me, being a freshman, being out there in crunch time running a team, helping them get the victory and not being scared in the big moment. Being able to take big shots, whether I missed or not. Just being able to maintain my composure during the tough times in that game.
AK: What kind of influence did Russell Otis have on you as a player?
BJ: He was my first coach who actually made me play defense. A lot of other coaches didn't care too much about defense, but once I got to Dominguez, [they] were a defensive school and the only way you were gonna play is if you D'ed up. And just letting me in a big time game in a hostile environment as a freshman.
AK: Why did you decide to transfer?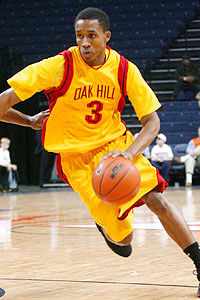 Geoff Burke/US Presswire
Jennings took his game to the next level at Oak Hill.
BJ: I think because it was a good opportunity for me and I was able to play on a higher level. Oak Hill, they play 40, 42 games a year and every game counts. You have to bring your A-Game every day and then put in a high level schedule.
AK: Was Oak Hill a culture shock, whether with the surroundings or the basketball itself?
BJ: For me, it was crazy to see how far basketball could take you and all the different places it could take me. So I was more excited about it and I was happy about it. But it was a culture shock at first, because there was nothing around there. It was just basketball, a bunch of trees, a school campus and that was about it. The nearest thing was probably a McDonald's and a "Catfish," which were an hour away.
AK: Did it make you realize how much you needed to grow as a basketball player?
BJ: Both on and off the court. I felt like I matured a lot faster. Living on my own. I was doing things on my own. Washing my own clothes. Making sure I had my homework done every day. I was on my own at 16, so that was totally a big difference for me.
AK: Do you think you could have made that leap to Italy straight out of high school without those two years at Oak Hill?
BJ: I don't think so at all. I think Oak Hill kind of helped come to my decision of going overseas and it was a little bit easier for me.
AK: Before you ultimately decided on Italy, you initially committed to USC, then you ended up switching to Arizona. Why did you change your mind?
BJ: During that 'SC situation, I felt like I was pressured into it and I wasn't ready. Plus, I signed when I was only in 11th grade, so for me, I just didn't feel like I was ready. And Arizona was the spot for me, because of Coach Lute Olson and his style of play. I just felt like [USC] wasn't the right situation. And the people they were recruiting at the point guard spot, I just felt like, if you're recruiting me, then why are you recruiting other players?
AK: What is the "the L.A. in your game," the part of your game that most reflects growing up in the L.A. area?
BJ: To tell you the truth, I don't really know. I've never really been told my game reflects like I'm from Los Angeles. I'm always told that I have more of an east coast type game. A lot of people that I know say [I play like] Kenny Anderson and Nate Archibald, so a lot of it is east coast to me.
AK: Do you agree?
BJ: Yeah, yeah. Mos def. Even like with the summer ball and everything that's going on, I haven't been playing on the west coast at all. I've been playing on the east coast. I just love the whole east coast flavor.
AK: When you think of L.A. players, which guys or what styles comes to mind?
BJ: I'd have to say to Baron Davis. He's probably the Godfather of Los Angeles basketball for us, because everybody grew up looking at BD and he was the one who made it out. He was the one that always came back to Los Angeles and kind of took care of everybody. [Davis] is the first thing that comes to my mind when you mention L.A.
AK: What is about Baron that makes people gravitate towards him or imitate his style?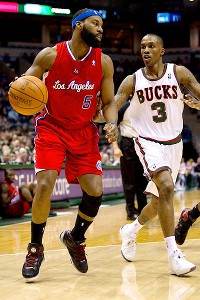 Jeff Hanisch/US Presswire
The Godfather and Jennings.
BD: I think the fact that he's always in the community, always doing something positive and always comes back to his hometown. You can text BD right now, he'll pick up the phone. [On the court], pound for pound, a healthy Baron Davis, he's one of the top-five players in the NBA. He can do it all. He can rebound. He can shoot. He can score. He can pass. He can run a team. He can play defense. He's just has the total package.
AK: Was he an influence on you growing up?
BD: A little bit, but I was more of an Allen Iverson fan growing up. I thought Allen Iverson was the best player in the world. Also, when I was in 8th grade, I got a hold of this Kenny Anderson tape. And ever since then, I was like, "Kenny Anderson is, like, the best player in the world to me, too."
AK: Did you pattern your game at all growing up after any local players who were really good but for one reason or another didn't make it the professional level?
BJ: Yeah, I would have to say Wesley Stokes, who went to Long Beach Poly, but [I'm] left-handed. A Left-handed Wesley Stokes. Keilon Fortune. Kenny Brunner. You could just keep going on now. There are a lot of guys, but those are the three point guards. They always got the crowd hyped. They played hard. They could score. They can do it all.
AK: That swag you've always had on the court, where do you think comes from?
BJ: I think I'm just different. I try to do my own thing. I try to be a trendsetter and just do my own thing. I don't really follow nobody else's stuff.
AK: What does it mean to you to be a player from L.A. and part of that lineage of players people think about from this city?
BJ: Well, first of all, a lot of people say "L.A.," but I claim "Compton." I claim the city of Compton hard, because there's not a lot of players that came out of Compton. A lot of players didn't really come out of Compton that made it. When people say "L.A.," I say, "Oh, I'm from Compton." Being from the city of Compton and growing up in a rough community, it means a lot to me to be able to make it out of there. A lot of players came through there. Tayshaun Prince came through there. DeMar DeRozan. Tyson Chandler went to Dominguez for four years. I went to Dominguez and I grew up out of there, so for me, that's really big. To this day, there's nothing like it, to be able to come out of Compton and make it to the NBA.
Next year, hopefully, when the lockout ends and we can get things rolling, I really wanna dig back into the community of Compton and also Gardena. Because those are the places where I grew up and where I hung out. That's all I really know. So hopefully, next year, we can start a league in Compton or Gardena and we can do our own little thing.